Good news, feline-frenzied friends! There are places to which you can flee! If you reeeally love cats, then these places will certainly love you back.
1. Rome's ruinous cat play pen
Largo di Torre Argentina is a historically important town square in which four stately Roman temples once stood. Julius Caesar was killed here. Mussolini commissioned excavations here. Now it's just full of frickin' cats. Two hundred and fifty of the critters roam around in sunken ruins behind some gates-- it's that effect where you look at the broken pillars and porches and don't think you see any cats, but then you notice one. Then another. Then another. Until OMG THIS PLACE IS LITERALLY FULL OF CATS! The gattare, or cat ladies, feed and care for them.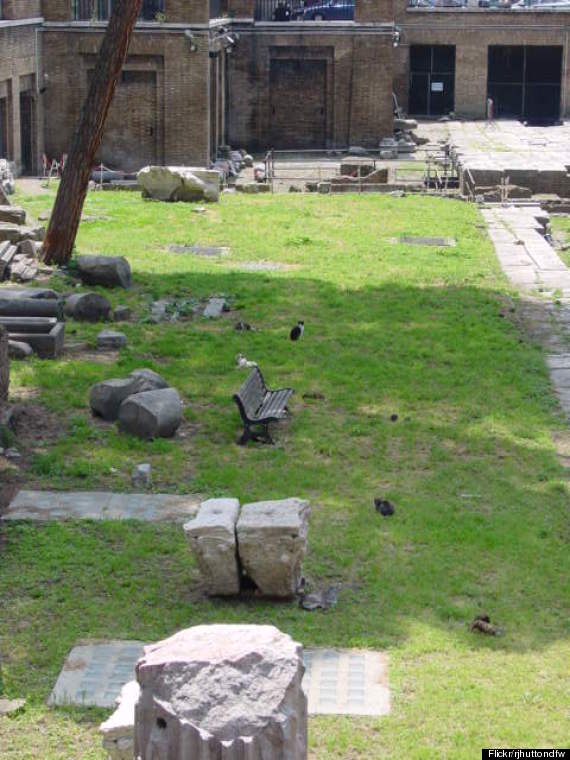 2. A skateboarding cat show in Moscow
The Moscow Cats Theatre consists of one old Russian gentleman and his 120 cats, who travel the world in a series of stage performances. While their friends are out touring the planet, cats at the original Cats Theatre show in Moscow perform regular routines of sliding around on skateboards and popping out of boxes. A famous act called "The Cat in the Pot" involved a cat -- you guessed it -- jumping in and out of a pot. Pay extra attention to cats named The Navel and Sausage.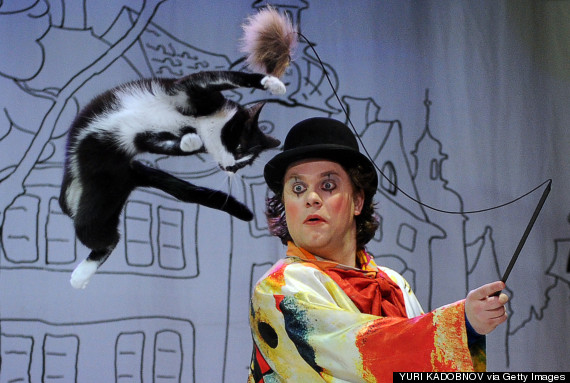 3. The Cat Cabinet in Amsterdam
De KattenKabinet -- literally translated "Cat Cabinet" -- is a museum dedicated to all things feline, and to the curator's cat named Tom. In this converted canal house, you'll visit rooms and rooms of cat-related lore, from Picasso paintings to abstract wooden sculptures. A brood of real-live cats also resides in the mansion, imbuing it with that distinct, cat-y scent we all know and love. As a tourism website explains,
"Five exquisite cats live at the museum premises. You will feel their fragrant presence since you enter the building."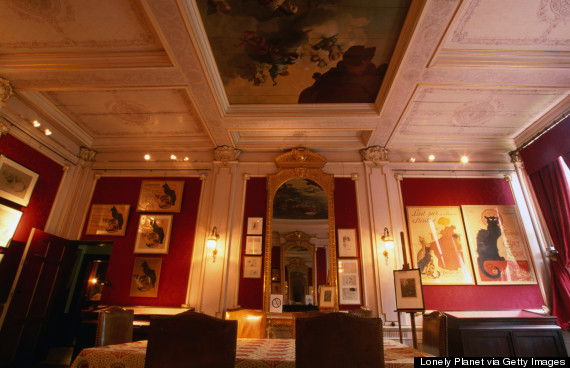 4. Japan's by-the-hour cat rentals
How has this not happened in America yet? All over Japan and Korea, you can walk into a "cafe" full of cats and pay to snuggle one by the hour-- typically for about $8. The cafes do sell drinks, but people come for the kitties, who are strewn gleefully about on the floor just waiting for a cuddle or a flutter of the mouse toy. In an effort to be creative, some places throw "fat golden retrievers" or goats into the mix.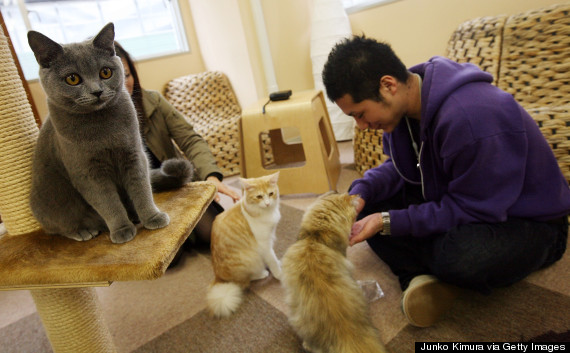 5. Ernest Hemingway's mansion for six-toed cats
In Ernest Hemingway's old house on Key West, you can see his chandelier collection, some Broadway prop furniture, and a 17th-century Spanish wood chest. But who cares when there are forty to fifty SIX-TOED CATS running around?! Apparently, some ship captain gave Hemingway a six-toed cat named Snowball at one point. Then one thing led to another, and now Hemingway's house is overrun with mutant kittens. It's weird, it's wonderful, and all of them are named after famous people.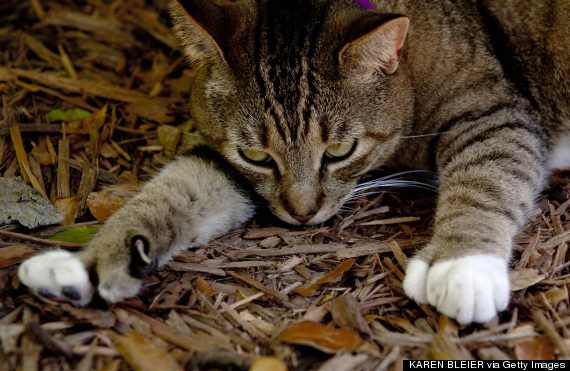 6. Belgium's cat-throwing festival
Back in the day in the town of Ypres, Belgium, cats were brought into the Cloth Hall tower to keep mice away from precious wools stored there. In springtime, when the wools were sold and the cats were no longer needed, people threw them out the windows of the tower. What a tradition for the modern citizens of Ypres to commemorate! Join them in their creepy ode to the cat throwing during the Festival of the Cats, held every May. Locals dress up like cats, mice and witches before chucking stuffed (thank goodness!) kittens out of the very same tower.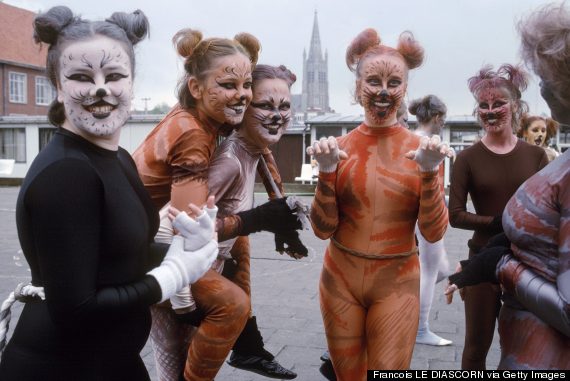 7. Cat Heaven Island in Japan
Nope, your wildest dreams are not just dreams. There is an island full of cats on this planet, and it's off the coast of Japan. On Tashirojima -- better known as Cat Heaven Island -- there are about 100 humans... but they are a population minority in the face of hundreds and hundreds of wild cats. Fishermen think the cats' behavior might give clues to weather and fishing patterns, so they just keep on feeding them.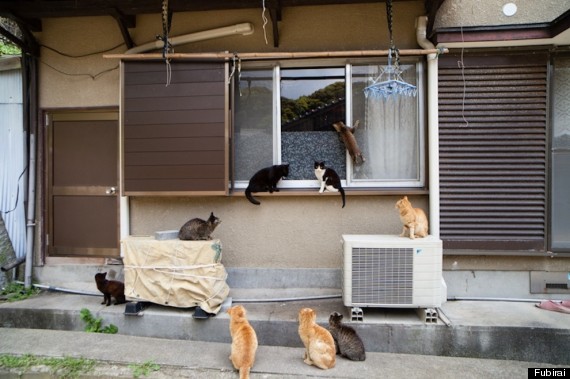 8. The Cat Museum in Malaysia
Leave the real world and walk through a giant cat mouth into this Malaysian smorgasbord of all things cat. At the Kuching Cat Museum, you'll find a hodgepodge of pictures, sculptures and taxidermy that document the 5,000 year existence of the feline race. There are weird cat headstones, cases of cat carvings, and one of those giant photo-taking stations where you can stick your head through a hole to become -- duhh -- a cat.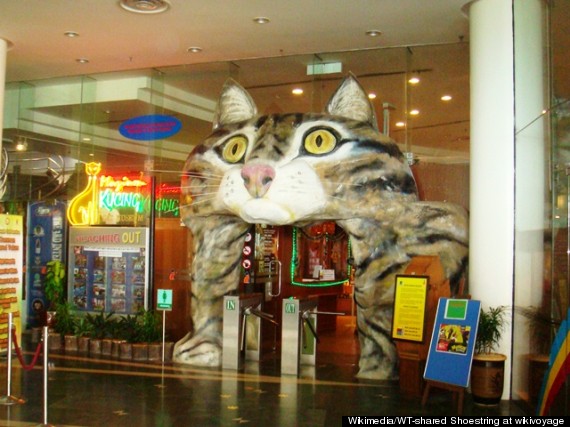 9. A boat full of cats in Amsterdam
De Poezenboot is a bunch of rescued cats on a boat, and they're up for adoption. Need we say more?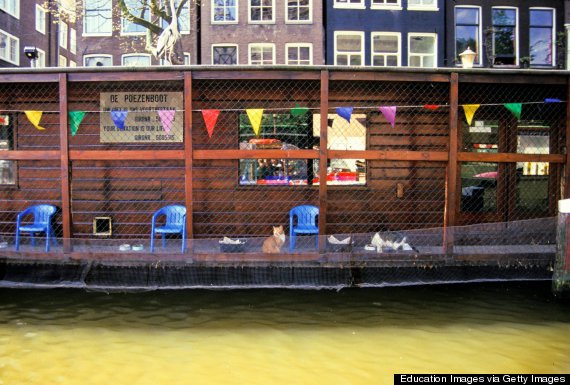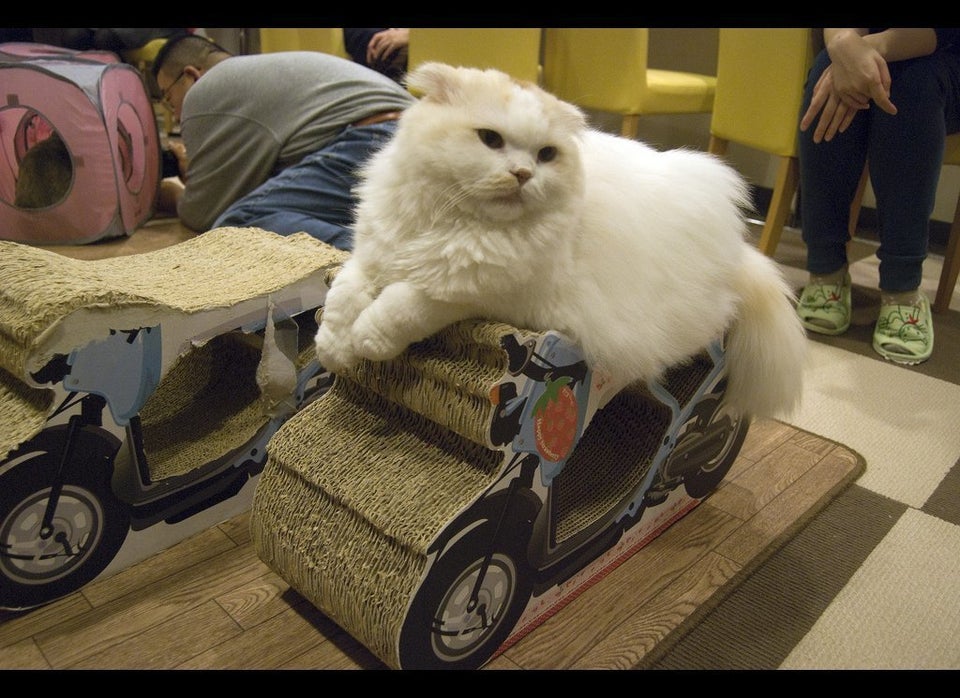 Craziest Places for Cat Lovers