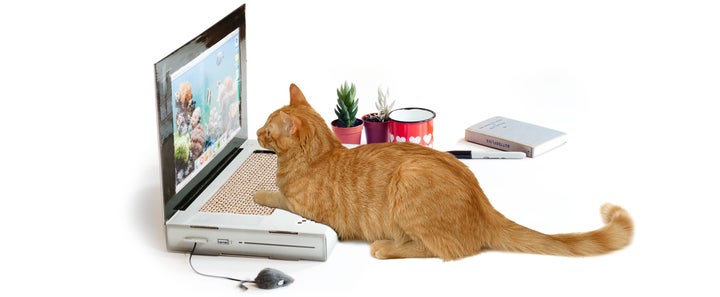 Is your cat obsessed with your laptop? Does it paw at the screen and the keys, scratching up the device's shiny surfaces? Sounds like you need a device specially made for your furry friend to play with and destroy as it sees fit. 
Look no further. United Kingdom-based shopping site Suck UK has come up with an ingenious new toy called the Cat Scratch Laptop. It can't connect to the Internet, and it won' let you play Solitaire, but it might distract your kitty while you watch Netflix on your real laptop.
It's "designed to be attacked by felines," Emma Royston, Suck UK's brand manager, told The Huffington Post of the toy.
Measuring 13 inches high, 11 inches wide and and 9 inches thick, and weighing just under 0.8 pounds, the Cat Scratch Laptop is made from recycled paper and cardboard and comes complete with a "scratch pad keyboard" of corrugated cardboard, on which cats can sharpen their claws. There's even a fluffy toy "mouse" plugged into a fake USB port. Amazing.
The Cat Scratch Laptop is also customizable: You can change the desktop background by printing out a new image on paper and sliding it into the laptop screen's frame. 
The durability of the toy depends on how much the cat plays with it, Royston said, noting that it's "a resilient product but ... could be destroyed in a few months if the cat loves it enough."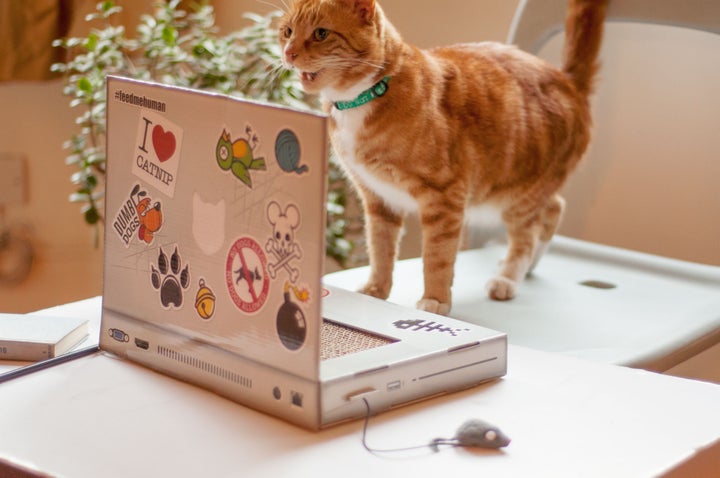 PHOTO GALLERY
Cats On Computers
Calling all HuffPost superfans!
Sign up for membership to become a founding member and help shape HuffPost's next chapter