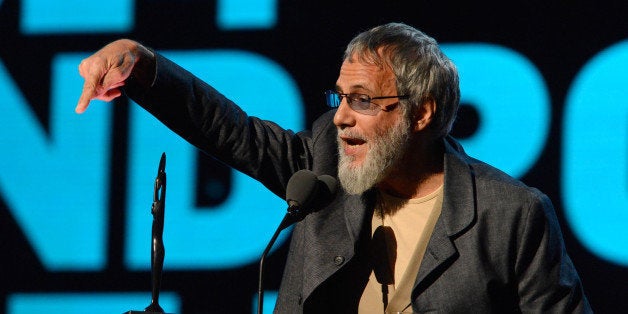 From his days as a prodigious art school songsmith penning such tunes as "First Cut is the Deepest" and the Tremeloes' "Here Comes My Baby," to his role as the deeply introspective cornerstone of the singer-songwriter movement of the 70s, to a spiritual and musical emergence as Yusuf Islam in the 90s, to a return to pop stylings in the aughts, Cat Stevens has walked among the most powerfully poignant rock and roll journeys - one refreshingly devoid of the genre's many trappings - sharing his gift of music and life with generations. Friend and fellow Hall of Fame Inductee Art Garfunkel inducted Stevens, noting: "He played with his persona the way he played with chord changes... The most sincere seeker, a loving man with an ever-expanding embrace, my friend Yusuf Islam, the artist we call Cat Stevens." After delivering a stunning showcase of what Garfunkel called "sensitivity with a bass voice" and hits from his catalog, Stevens took to the stage and shared these thoughts on his storied career.
I never thought I'd be on the same stage as KISS, to be honest ... I am very happy to be here representing my band on behalf of Cat and father -- my father and my son -- and by moon shadow and the rest of the group ... We are very honored to be inducted.
Musically, let's face it: we are all infamous. Something inspires us. One of the first things that inspired me was my sister's record collection. She had Beethoven -- my god yes. The best pop song ever written was the 9th Symphony ... Then the man who kind of turned classics into a modern form: Leonard Bernstein, [who] to me, was one of the best. "West Side Story" turned my life around. Then of course there was the other side, which was the blues. You had Lead Belly who's the grandfather of the blues ... Then came of course Bo Diddley, and one of his lookalikes, Buddy Holly, god bless him. And then, the Beatles. They all really inspired us. And then Bob Dylan.
Now, just one last point, a little riddle, questioning the compatibility of this strange thing called rock and roll with the detached and heavily fraternity lifestyle, which I still belong to, and considering that the judges have actually voted for someone who doesn't' drink, doesn't smoke and, you know, doesn't throw televisions out of hotel rooms and only sleeps with his wife. I'd say it was a very brave decision, and one which was unexpected, and strangely, outrageously rock and roll! Peace!
PHOTO GALLERY
Artifacts From the Rock and Roll Hall of Fame
Calling all HuffPost superfans!
Sign up for membership to become a founding member and help shape HuffPost's next chapter