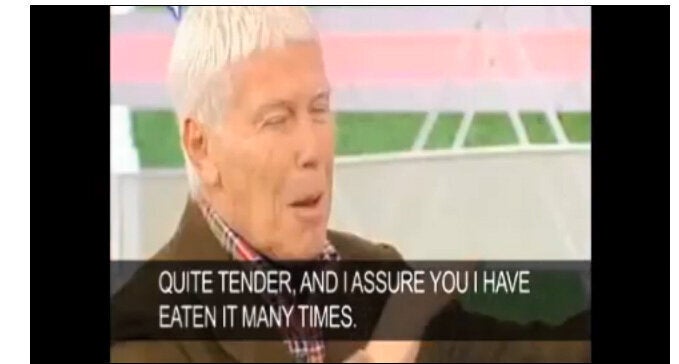 Leading Italian food expert, writer and TV host Beppe Bigazzi has been suspended indefinitely from his TV program for curiously recommending a cat stew to viewers, and explaining a rough method of preparation. Bigazzi's spectacle occurred on a recent episode of his midday show, La Prova del Cuoco ("The proof of the cook"), which appears on Italy's main public broadcasting channel, RAI.
Said Bigazzi, as his co-host (and cat-owner) Elisa Isoardi nervously looked on, "I've eaten it myself and it's a lot better than many other animals. Better than chicken, rabbit or pigeon... I've eaten its delicious white meat many times."
Leading animal rights groups in Italy are predictably enraged. The Italian Animal Protection Agency has called for his firing, explaining, "anyone who goes on television to promote the taste of cat meat is guilty of instigating viewers to commit an act of cruelty to animals, a crime punishable by up to 18 months in prison."
Italy's Deputy Health Minister, Francesca Martini, decried Bigazzi's rant as well, saying it was "absolutely unheard of for a public service broadcaster to tell people how delicious cats are to eat" and "offensive to the growing number of people who care about the way we treat animals." She also noted that "cats are pets protected by law [against] cruelty, maltreatment and abandonment."
Bigazzi, previously the author of "Cooking with Common Sense," has since explained that he was joking, although he indeed has enjoyed feasting on cat. "Mind you, I wasn't joking all that much. In the 1930s and 1940s, when I was a boy, people certainly did eat cat in the countryside around Arezzo," he explained.
WATCH: Beppe Bigazzi extolling the tastiness of stewed cat:
Support HuffPost
The Stakes Have Never Been Higher
Related
Popular in the Community