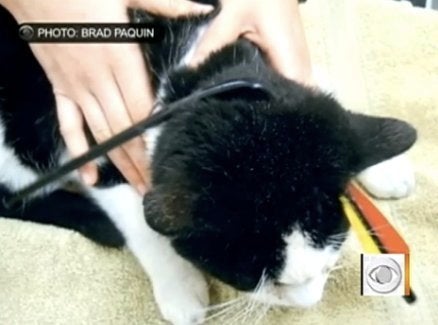 LOS ANGELES (Dan Whitcomb) - A northern California cat that survived being shot through the head with an arrow was recuperating from surgery on Tuesday, apparently little worse for the wear, authorities said.
Max, a three-year-old black and white cat owned by a Santa Cruz area couple, was apparently shot with the arrow sometime over the weekend, a fact his owners discovered on Sunday evening.
"According to the owners, the cat had been missing for two days and when they opened their front door the cat came in," Santa Cruz County Animal Services Manager Todd Stosuy told Reuters.
"That's when the owners, much to their shock, saw an arrow sticking out of the cat's head," he said. "The cat was acting normally, eating normally. It almost looked like one of those fake arrows."
Stosuy said Max was taken to a veterinary hospital that night to have the arrow removed, under anesthesia.
"It went in one side of the cat's head, went through the ear and then out the top, it doesn't look like it hit the animal's brain at all," he said.
Authorities so far have no suspects in the shooting, but Stosuy said an animal control officer working full time on the case and canvassing the neighborhood had already developed a few leads.
He said if anyone was found to have shot Max intentionally, that person would likely face animal cruelty charges.
In the meantime, he said, Max's brush with death has made his owners more cautious.
"The cat is actually a very rambunctious guy and trying to get back outside," Stosuy said. "But the owners have decided that he's an inside cat now. He's under house arrest."
(Editing by Jerry Norton)