The Catalogue for Philanthropy, Washington's trusted "go to" source for finding organizations with meaningful impact, has compiled this year's "best of" list of charities serving local veterans and their families. These select nonprofits have given descriptions of their services as well as opportunities to both donate and volunteer. The full list is available at www.cfp-dc.org/veterans.
The Catalogue, a nonprofit that has raised over $40 million for small nonprofits in the D.C. Metro region at no cost to those organizations, has vetted these charities in a thorough process that involves a program review, financial review and site visit. This means donors can feel confident that they are supporting organizations that make the Washington region a better place to live for everyone.
Here's one of the highlights from the Catalogue—ThanksUSA: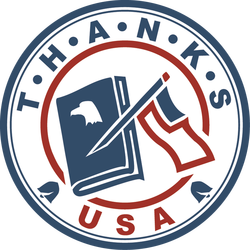 In 2005, Virginia sisters Rachel and Kelsi (then ages 10 and 8) saw first-hand the hardships faced by a military family when a friend's father returned from Iraq severely injured. In appreciation of the family's sacrifice, the sisters launched ThanksUSA the following year. Through its scholarship program, it empowers military families – children and spouses of military personnel – to expand their education and skills through college, technical school, or vocational training programs. Some scholars train in new, higher-earning fields, while others enroll in college for the first time, or seek out more "portable" careers in real estate, healthcare, and education. Priority is given to families of the wounded and fallen, and while all scholarships are based strictly on financial need, scholars go on to earn an average 3.5 GPA.
In its second decade, ThanksUSA is expanding its mission to help thousands of military spouses and children achieve both their educational and career aspirations. Through an innovative program called Pathways for Patriots, ThanksUSA is working with industry leaders to create pipelines of talented military spouses and children interested in pursuing post-secondary degrees, certifications, and ultimately careers in occupations that corporations are eager to fill. This new initiative not only presents an opportunity for companies to support our military families, but provides return on investment beyond philanthropy with respect to diversity hiring. Corporations that take part in the Pathways for Patriots program are being matched with our nation's best and brightest military children and spouses with proven track records and unique life experiences that help them succeed in the private sector.
To date, scholarships totaling more than $10 million (with 11.5% awarded in DC, Virginia, and Maryland) have helped say "ThanksUSA!" Now you can, too.
Related
Popular in the Community