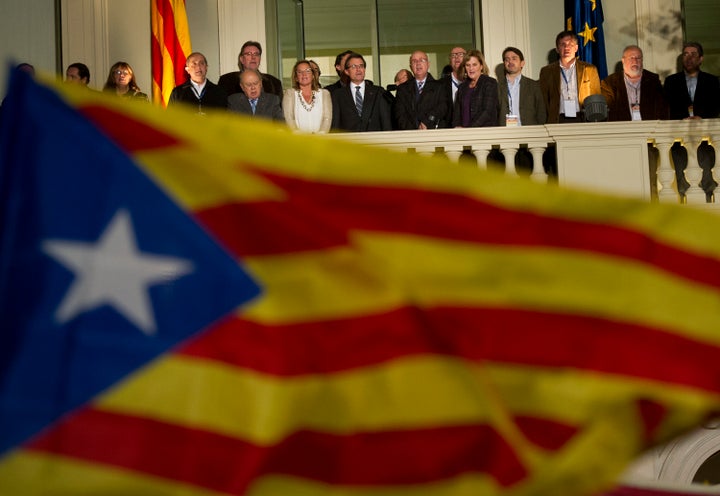 By Fiona Ortiz and Braden Phillips
BARCELONA, Spain, Nov 26 (Reuters) - Separatists in Catalonia won a large majority in regional elections but a poor result for the biggest local nationalist party complicates a push for a referendum on independence from Spain.
A deep recession and high unemployment have fuelled separatism in Catalonia, which represents a fifth of Spain's economy, piling political uncertainty on top of Prime Minister Mariano Rajoy's economic problems.
Flying pro-independence flags - a lone star against yellow and red stripes - Catalan voters on Sunday handed 87 seats, almost two-thirds of the local parliament, to four different parties that want a referendum on secession.
But voters also punished the movement's figurehead, Catalan President Artur Mas. His Convergence and Union alliance, or CiU, remains the biggest party in the local parliament, but it lost 12 seats and Mas will have to form an alliance with another party to govern.
Mas had tried to ride the separatist wave after hundreds of thousands of people demonstrated in the streets in September, demanding independence for Catalonia, which has its own language and sees itself as distinct from the rest of Spain.
But Mas only recently backed Catalan independence, and while he stirred up enthusiasm for the idea, in the end he drove voters into the arms of parties seen as more genuinely representative of the separatist cause.
With a population of 7.5 million people, Catalonia has an economy almost as big as Portugal. But it is labouring under a load of debt and Catalans think too much of their taxes go to the rest of Spain.
Mas, who has implemented tough austerity measures to rein in Catalonia's steep public deficit, said the situation was more complex now but he would still push for a referendum.
Unlike in Scotland, where the government of the United Kingdom has agreed to a 2014 referendum, a Catalan plebiscite on breaking away from Spain could trigger a constitutional crisis and the central government has vowed to block it.
The push for a referendum will be more difficult now since Mas fell far short of his aim of winning an absolute majority, or more than 68 seats.
"Having a large majority would have made the path towards independence easier. It will be more difficult to put pressure on Madrid now without that majority. In these processes it's important to have a single leader, a leader with whom people identify," said Jesus Gilabert, a supporter of Mas's CiU.
In Madrid, where the ruling People's Party and the opposition Socialists have said they will block a Catalan referendum, political leaders read the Catalan result as a failure for a referendum.
"Mas wanted the Catalans to decide and they have. They have said no to his absolute majority and the separation of Catalonia from the rest of Spain," said Alicia Sanchez-Camacho, the leader of the People's Party, or PP, in Catalonia.
Catalonia's traditional separatist party, the Republican Left, or ERC, was the big beneficiary of Mas's independence rhetoric. The party more than doubled its presence in the Catalan parliament to 21 seats.
Mas could team up with the Republican Left to continue to foster the independence cause. But it will be a difficult alliance, because the ERC will not support his plans to achieve fiscal stability.
The Socialists took 20 seats and the PP 19. Three other parties, including two that want a referendum on independence, split the remaining 25 seats.
Catalans travelled home from around Europe to vote in the election, which had a high turnout of 68 percent, 10 percentage points higher than in the previous vote two years ago.
Spains' borrowing costs rose and shares fell after the election result, reflecting some concern at the separatists' successes, but price moves were modest with investors focussed on efforts to solve Greece's debt problems.
No matter what the election outcome was, the revival of Catalonia's long-dormant separatist movement will eventually force Spain to rethink the model it chose after the Francisco Franco dictatorship ended in the 1970s.
The 1978 constitution gave significant self-governing powers to the country's 17 autonomous regions, partly to appease centuries-old dreams of nationhood in Catalonia and the Basque Country.
Catalans and Basques have continually tried to push the system for more autonomy, especially for more control over their taxes. But in recent decades Catalan nationalists like Mas had taken a moderate line of seeking more self-governance but not a split from Spain.
Mas broke with that tradition in September when he made a big bet on a referendum, tapping into a centuries old Catalan dream of independence that is rooted in the Middle Ages when there was a Principality of Catalonia.
Wary that separatism could spread to the Basque Country and beyond, Rajoy said the Catalan election was more important than general elections.
"The Catalan issue is an opportunity to discuss a model that has been under debate since its inception. It's about the territorial model for Spain," said Antonio Barroso, political analyst with Eurasia Group
Under the current model, Catalonia shares some tax revenue with the rest of Spain and many Catalans believe their economy would prosper if they could invest more of their taxes at home.
The growing Catalan perception that the tax system is unfair has been a big reason that the independence movement has flared up again after several decades of dormancy.
Barroso said Rajoy, who earlier this year refused to negotiate with Mas over taxes, would have to take up talks with Catalonia over modifications to the revenue sharing system.
Home to car factories and banks and the birthplace of surrealist painter Salvador Dali and architect Antoni Gaudi, the region also has one of the world's most successful football clubs, FC Barcelona.
Enthusiasm for independence could subside as voters contemplate the economic realities of a split from Spain, especially if the price to pay is leaving the European Union.
Leaders of separatist movements in Flanders, Scotland and Catalonia have been lobbying the EU to be able to remain in the bloc if they break away from Belgium, the UK and Spain.
Gerolf Annemans, parliamentary leader of Vlaams Belang, a far-right separatist party in Belgium, said the vote in Catalonia was a good result for separatists who want to reshape Europe.
"Europe will exist if it allows for a new map, otherwise it won't exist. There is no paradox between a European Union and a new make-up of member states," he said.
With the election over, Mas will have to turn back to coping with Catalonia's deep economic troubles.
After a decade of overspending during Spain's real estate boom, Catalonia and most of the country's other regions are struggling to pay state workers and meet debt payments.
Catalonia has 44 billion euros of outstanding debt and the ratio of its debt to its gross domestic product is 22 percent, the highest among Spain's regions.
Mas was one of the first Spanish leaders to embark on harsh austerity measures after Catalonia's public deficit soared and the regional government was shunned by debt markets. He has also had to take billions of euros in bailout funds from the central government.
REAL LIFE. REAL NEWS. REAL VOICES.
Help us tell more of the stories that matter from voices that too often remain unheard.
BEFORE YOU GO
PHOTO GALLERY
Catalan Election