By Sonya Dowsett and Sam Edwards
BARCELONA (Reuters) - Separatists looked set on Friday to regain power in Catalonia after voters rejected Prime Minister Mariano Rajoy's attempt to neuter the independence movement to defuse Spain's biggest political crisis in decades.
Spanish markets recoiled at a surprise result that is also a setback for the European Union, which must now brace for more secessionist noise as it grapples with the disruption of Brexit and simmering east European discontent.
By risking an election in the wealthy region, Rajoy appears to have made the same mistake that leaders such as Greece's Alexis Tsipras, Britain's David Cameron and Italy's Matteo Renzi have made in recent years: betting that voters would resolve their troublesome domestic conundrums for them.
With the count from Thursday's Catalan parliament election almost complete, separatist parties had secured a slim majority, sending stocks down around 1 percent on fears that tensions with its richest region will hurt the euro zone's fourth-largest economy.
Catalonia accounts for a fifth of Spain's economy. More than 3,100 firms have shifted their headquarters out of the region since the independence drive boiled up this year into a referendum that Madrid declared unconstitutional.
"More companies leaving, less economic activity there - and worse for everyone," said the chief executive of a major listed Spanish company, speaking on condition of anonymity because of the tense climate of the independence debate.
Rajoy, who called the election after sacking the previous, secessionist government, had still not made a comment, some 12 hours after the outcome became clear. He is due to make a statement at 1300 GMT.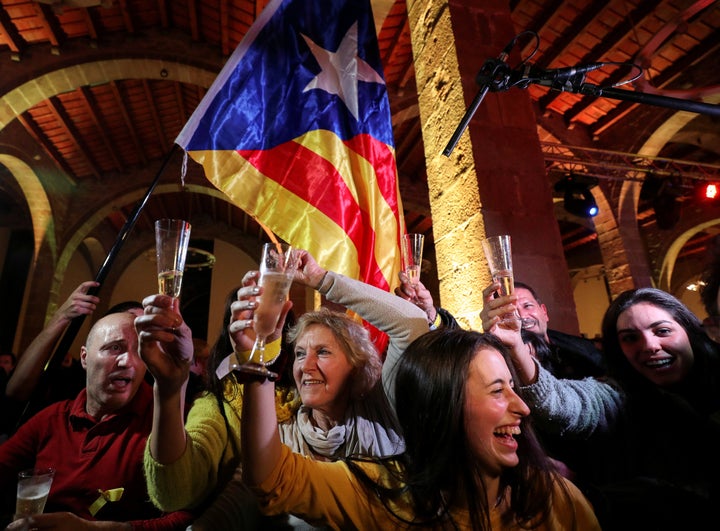 REJECTION FOR RAJOY
Rajoy had hoped to mobilize hitherto quiescent supporters of union with Spain and so deal separatism a decisive blow.
Instead, his own party performed miserably, and the result raises the question of a return to power for the Catalan president he had deposed.
Carles Puigdemont campaigned from Belgium after fleeing Spain to avoid arrest for sedition, and he faces the prospect of arrest if he were to return home.
Puigdemont is due to speak in Brussels at 1100 GMT.
"Either Rajoy changes his recipe or we change the country," he said on Thursday night in a televised speech, flanked by four former cabinet members who fled to Brussels with him.
At jubilant pro-independence rallies around Barcelona, supporters chanted "President Puigdemont!" and unfurled giant red-and-yellow Catalan flags as the results came in.
Puigdemont's spokesman told Reuters in a text message: "We are the comeback kids."
Catalonia, a former principality with its own language, has stepped up its push for independence in recent years as its economy has boomed. Secessionists say it pays an unfair share of taxes to Madrid, but investors fear independence would knock the indebted region out of the EU and the euro zone by default.
Spain has trimmed its growth forecasts for next year because of the crisis, and official data shows foreign direct investment in Catalonia was down 75 percent year-on-year in the third quarter.
GERMANY AND FRANCE BACK RAJOY
The EU's major powers, Germany and France, have backed Rajoy's anti-independence stance despite some criticism of his methods at times.
On Oct. 1, national police used tear gas and batons to prevent some Catalans from voting in the banned referendum.
When the Catalan parliament declared independence after the referendum, Rajoy invoked constitutional powers to impose direct rule from Madrid. He promised to restore Catalonia's autonomy regardless of the election result, but could re-impose it if a new government again pursued secession.
Puigdemont's attempts to gain international support in Brussels have failed so far. He has called the EU a "club of decadent countries" for declining to mediate a solution.
But Europe now ends the year having struggled to build on the integrationist Emmanuel Macron's victory in the French presidential election in May. Germany faces months of political limbo, Brussels is mired in a nasty dispute with Poland's right-wing government and a far-right party has just entered the government in Austria.
A German government spokeswoman called on Friday for reconciliation in Spanish society and hoped that divisions could be overcome.
Catalonia's separatist parties won 70 of the 135 seats, with Puigdemont's Junts Per Catalunya (Together for Catalonia) retaining its position as the largest separatist force.
The unionist party Ciudadanos (Citizens) won the most votes, but other unionist forces ― Rajoy's People's Party and the Socialist Party ― registered a dismal performance.
"It's a bitter victory," said Paloma Morales, a 27-year-old student at a Ciudadanos rally. "It means four more years of misery."
(Additional reporting by Jesus Aguado and Andres Andrés González in Madrid and Robert-Jan Bartunek in Brussels; Writing by Angus Berwick and Ingrid Melander; Editing by Kevin Liffey)
Calling all HuffPost superfans!
Sign up for membership to become a founding member and help shape HuffPost's next chapter