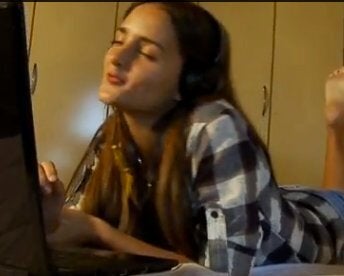 Catarina Migliorini became a viral sensation last week, when news broke that the beautiful 20-year-old Brazilian student was auctioning off her virginity to raise money for impoverished families in her country.
Early bidding quickly topped $190,000.
But the organizer of the auction has told HuffPost Weird News that he was shocked when she told various media that she was doing it for charity. He thought it was for profit and self-promotion.
"I was surprised she said that because in all my dealings with her, she made it clear that it was a business decision for her," Australian filmmaker Justin Sisely said in an exclusive interview.
"Now, given how big this story is in Brazil, she's trapped. If she doesn't give any money to charity, she's going to look bad."
For the last two years, Sisely has been working on "Virgins Wanted," a documentary film that follows male and female virgins attempting to get over that particular hump, so to speak.
As part of the project's climax, Sisely has been holding a pair of online auctions in which people can bid for the chance to deflower Migliorini, 20, or Alex Stepanov, a male.
GALLERY: CATARINA MIGLIORINI (Story continues below)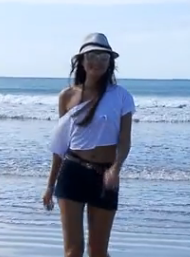 Catarina Migliorini
The auction ends Oct. 15. To date the current high bid for Migliorini's virtue is $190,000, while Stephanov has received a high offer of $1,300.
Once the auction ends and the deal is consummated, the two virgins will lose their respective virginities on a plane, Sisely said, as a way to circumvent laws against what basically amounts to mile-high prostitution.
But it may be hard to find a charity willing to take cash from a person who got it by selling her virginity to the highest bidder, according to Cleon Daskalakis, a former Boston Bruin who now runs NetRaffle.org, a company that raises money for charities on the Internet.
"This type of transaction is setting a dangerous precedent, not to mention a call for global prostitution on a one-time basis," he told HuffPost.
"To those of us who promote professional and successful fundraising vehicles, this is a disgrace. I can't imagine any legitimate charity would want to be associated with this type of promotion."
Migliorini is actually the second female virgin Sisely has recruited for his film since he started work on the project.
"It's been difficult finding girls, because anytime we cast one, their friends and family would do these interventions, tease them and get them to pull out," Sisely said.
He admits there have been difficulties getting permission for Migliorini to enter Australia, so she is currently in Indonesia waiting for the auction to end so she can enter the next, non-virgin, stage of her life.
But first, Sisely said, Migliorini will be examined by a gynecologist to ensure the person who purchases the privilege of having sex with her is really getting what he (or she) has paid for.
"There is apparently a test that can tell if a penis has been inserted into her," Sisely said.
VIDEO: MEET THE VIRGINS(Story Continues Below)
"Basically, let me wrap this up as I see it: An unheard of director is working with an unheard of producer. Two years ago, they floated out the idea of auctioning off virgins and filming the sexual encounters. Two years later, they are back and say the sex will happen by the end of the month," he wrote on his website.
Sisely said he understands why people suspect a hoax but insists the whole project is on the up-and-up.
"I have sponsors who've invested lots of money in this project and wouldn't have if it was just a hoax," he said.
In 2008, Natalie Dylan, claiming to be a virgin, announced that she was going to auction off her virginity online and that the act would be consummated at the Moonlite Bunny Ranch in Nevada. Dylan told reporters at the time that she decided to do it in part because her older sister earned good money working as a prostitute at the Bunny Ranch, and also to change public perceptions of virginity.
Many people have denounced Dylan's auction as a hoax, but Dennis Hof, owner of the Moonlite Bunny Ranch, a legal brothel near Carson City, insists Dylan was legit.
"It didn't work out, but she still made $250,000 out of the deal," Hof told AOL News in 2010.
Sisely, whose prior films have included an award-winning surf film, said his project is not a hoax, but is rather a cinematic exploration about how peoples' lives can change.
"This is about transforming life," he said. "I've seen Alex change over the past two years. These people will be different afterwards. Their lives won't be the same. Catarina is the biggest story in Brazil right now. Where will she go after this?"
CORRECTION: An earlier version of this story incorrectly spelled William K. Wolfrum's name as William K. Wolfram.
Support HuffPost
The Stakes Have Never Been Higher
Related
Popular in the Community