The woman who became an Internet sensation by auctioning off her virginity for $780,000 now says that she was tricked and exploited -- and that she's still a virgin.
Catarina Migliorini, a 21-year-old woman from Brazil, told The Huffington Post by email that the highly publicized Internet auction last October, organized by filmmaker Justin Sisely, has turned into a giant fiasco.
"I felt I was a victim ... I was misled by Mr. Justin Sisely," Migliorini said. "I believe he is trying to defraud me and others."
VIDEO: (Story Continues Below)
Sisely was supposedly filming a documentary entitled "Virgins Wanted," which would explore the lives of Migliorini and Alex Stepanov, a male counterpart who was also auctioning his virginity.
A 53-year-old Japanese millionaire who identified himself online as "Natsu" placed the winning bid for Migliorini. But when she went to meet him in a restaurant in Sydney, Australia, he didn't match the description Sisely gave her. Nor did they ever have sex.
What's more, she claims Sisely didn't cover her traveling expenses or give her the money promised.
Sisely denies Migliorini's claims. "We have the footage to prove otherwise," he told HuffPost by email. He also says she breached her contract as an actress.
"Justin made me believe this was a serious documentary about young virgins and said that there might or might not be an auction at the end of the documentary," she said.
But after Sisely and Migliorini met in Bali, the auction had already been publicly announced, forcing Migliorini into a corner.
"I agreed to go along with it, because Justin said it would be the best way to draw attention from the media about the project," she said.
In exchange for her participation, Migliorini said she was supposed to receive 20 percent of documentary sales and all of the money from the winning auction bid of $780,000. Neither has materialized, she claims.
Migliorini now believes that "Natsu" doesn't exist. She never had sex with him, and proudly describes herself as a virgin.
GALLERY: CATARINA MIGLIORINI: (Story continues below.)WARNING: Some photos may be NSFW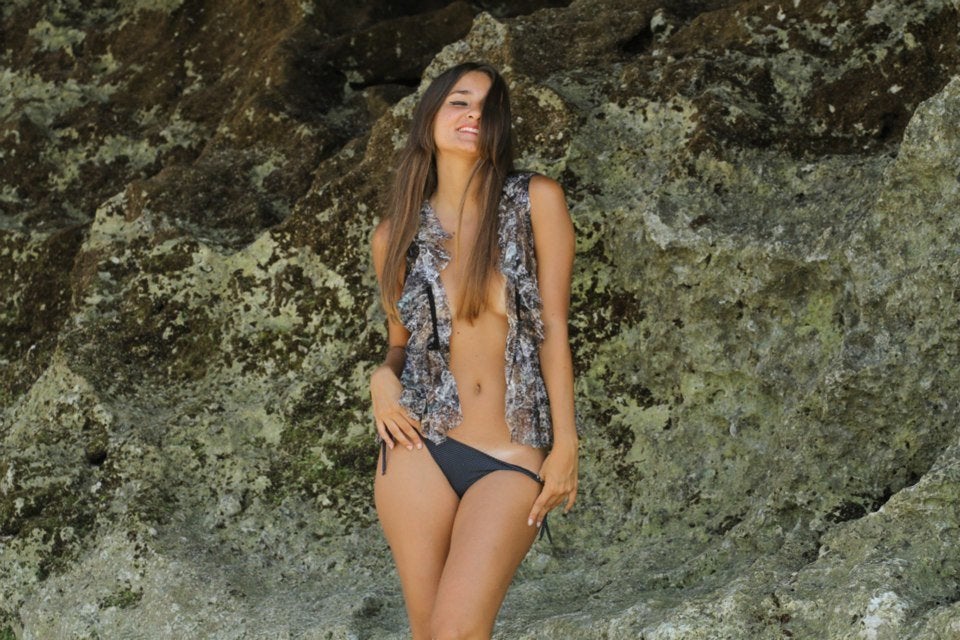 Catarina Migliorini
Sisely said he won't get into particulars about the documentary, which he is now turning into a full-blown reality series. However, he said Migliorini was responsible for two major contract breaches that are included in the film, which will debut in October at MIPCOM, an entertainment trade fair in Cannes, France.
"Aside from that, she failed to show up on filming days on several occasions. After being warned," he said. "After two years and three visa refusals trying to get her to Australia, she left the country for a fashion show in Brazil during filming."
But Migliorini said when she got to Australia, Sisely started trying to add fictional elements, such as making a male friend of hers act more like a boyfriend to add "drama."
"He wanted to forge words and phrases, situations and even feelings that did not exist," she said. "For a while, I agreed but then I disagreed. To me, a real documentary must be something spontaneous."
In November, after the auction, Brazil's attorney general, Joao Pedro de Saboia Bandeira de Mello Filho, said the filmmaker could face sex trafficking charges if the "deal" between Migliorini and Natsu took place.
Sisely responded by saying Migliorini and Natsu would have sex aboard a plane, outside the jurisdiction of Brazilian law.
Migliorini called this "pure fantasy" on Sisely's part because he didn't even have enough money for a car or to pay her expenses during her two months in Sydney.
Migliorini maintains she got the spread on her own, but that Sisely used it as bait to attract other virgins.
"[He used] the large impact that occurred in the case of my virginity, such as Playboy -- 80 percent of which was negative -- to deceive people into believing the Virgins Wanted project will transform their lives or make them rich and famous," she said.
WATCH: CATARINA MIGLIORINI'S PLAYBOY SHOOT (Warning: NSFW)
Migliorini says she and Sisely have had no contact since December, and is warning others against participating in this project.
Sisely said Migliorini is only boycotting because she and her mother were unsuccessful in buying film footage that they wanted to use in their own project.
"Sorry I can't go into further detail," he said. "I do not want to spoil the important elements in the series."
Related
Popular in the Community