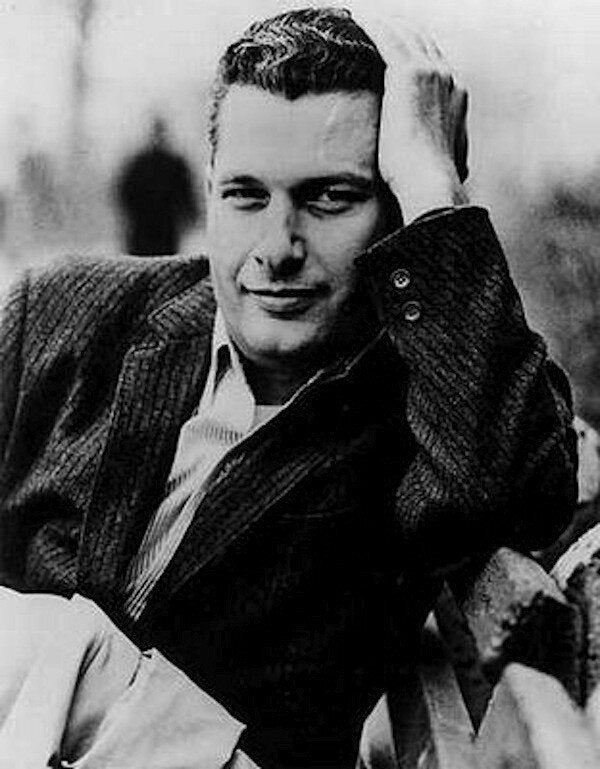 On Tuesday, October 10, 1961, I got up as usual, went to public school, came home with a swollen jaw after being punched by a school bully (a not uncommon occurrence), came home, sat down in the kitchen with my brother, had a snack and we did our homework. Unbeknownst to us, however, the trajectory of our lives, that day, had changed.
Catch-22, my father's other "child" (with a gestation period of nine long years), was published that day. A hardcover copy cost $5.95 and 7,500 books were printed.
As for my own relationship with Catch-22, it was love at first sight.
The first time I saw it, I fell madly in love with it. But I was only nine years old, and read only about three pages before putting it down. And although I've tried many times to finish reading it, I'm actually only reading the whole book for the first time now.
This was never planned. The truth is, I never set out not to read Catch-22; there was never any kind of deliberate tactical avoidance. As it happens, I sat down with it more times than Yossarian flew missions, but then always halted midway. Something invariably came along to distract or deter me and inevitably, confoundingly, I let it. I wasn't in the mood for a "war book," hadn't read Norman Mailer or James Jones on the subject, so why read this? Why, indeed.
During my entire life I have been urged, prodded by boyfriends, professors, dentists and one stubborn Dutch ex-husband to go ahead, take the plunge and risk the unknown journey between Catch covers. But the more they insisted, the more I resisted. At some point, a few years became many. Suddenly Catch-22 was a teenager, had grown up, entered its 20s and 30s. Today, it has, astoundingly reached 50. One day, barring the success of certain cynical, mean-spirited Republicans, Catch-22 will be old enough to qualify for Social Security.
In my defense, one teetering at best, is the fact that the inscription Dad wrote in my copy of Catch-22 in 1961 read: "To Erica Jill, With the hope that when you read this book in ten or fifteen years you will love it at least a little--and you will love me too. Daddy, September 3, 1961." Somehow I mistook this for amnesty and figured there was no rush. But 50 years?
Unpopular at first, my father's book caught on and has sold more than 10 million copies. So now it's 2011 and Catch-22 is still, amazingly, everywhere. I popped into my neighborhood Barnes & Noble the other day and spotted it without trouble. (Not so for my recently published memoir, Yossarian Slept Here, When Joseph Heller Was Dad, the Apthorp Was Home, and Life Was a Catch-22, a fact which kept me grumpy for days.) This surviving chain store, once the Goliath to small, independent neighborhood bookstores, is now the David to Amazon. It's on the Upper West Side, near the Apthorp, where I live, where I grew up and where my father wrote much of Catch-22.
It was there, in apartment 2K South, a cramped, somewhat sunless space overlooking the building's circular courtyard, that Dad began spinning the threads of his circular logic. Irony was never in short supply.
When Catch-22 was published, JFK was president. The New York Yankees took the World Series over the Cincinnati Reds. Elizabeth Taylor won an Academy Award for her role in Butterfield 8. The electric toothbrush had just been invented. This was the year the jaunty, crooked little red man first hopped across Dad's bright blue-and-white book jacket. Fifty years however, turned out to be insufficient time for my father's daughter to have read the book that gave birth to this ubiquitous, now essential phrase so at home in our lexicon. So essential that once, a physician just I'd seen for the first time, many years ago, asked me to autograph his copy. When I refused, telling him I had not written Catch-22 so could not "sign" it, he came flying at me with a huge crumbling dictionary opened to the appropriate page, asking me, his eyes pleading, to please sign it in the margin. (I refused.) Being in the dictionary, after all, is certainly a colossal little piece of real estate, it just didn't belong to me.
Now as it turns out, the first book Dad wrote is the last of his I'll read. And as for why I haven't read it before, a question that has buzzed about in my own brain for many years and one to which I've given a great deal of measured thought, my best answer is that reading it means relinquishing the anticipation of reading it. Once I have plumbed the mysteries of Catch, they will no longer be mysterious. Will I love it? Hate it? I am anticipating the former, but that is almost inconsequential. What I won't have anymore is the feeling that this half-century old surprise is still there, waiting to be unearthed. Nothing about this makes sense and yet, in true Hellerian form, it all adds up.
Meanwhile, now seems to be the time when many of the writers of my father's generation have sons and daughters crafting their own tales, stepping gingerly from the brooding shadows to tell the back stories of our great 20th century writers: Vonnegut; Cheever; Salinger; Jones. Most recently, Alexandra Styron wrote a book called Reading My Father, about growing up with Dad, Bill. Now, into this already crowded arena I offer my own, about growing up with Joseph Heller, a man who was brilliant, cryptic and side-splittingly funny. In fact, he was known for laughing loudest at his own jokes. (It helped immeasurably that his were always the funniest.)
But where Alexandra Styron has "read" her father, I have not, or at least not Catch-22. She has said that she understands her father more after writing about him, but I cannot make such a claim. While foraging for information about Dad, all I've come to understand is how little I understand, to know how little I know. My father was like a magnificent mansion with a thousand doors, each with a thousand locks, opening up a thousand more.
Sometimes saving the best for last comes at a price, and in my case, not having read what many revere as Dad's greatest book (he, however, was partial to Something Happened) means that now, when I do read it, I can never tell him what I think of it. Then again, such opinions would have been moot. Whenever he was asked why he hadn't ever again written a book as good as Catch-22, he'd eye his interlocutor as if his or her head were on fire, while delivering his customary stinging riposte: "Who has?" It wasn't bragging. It was a serious question to which he never received a satisfactory response.
When my father was poor, living in Coney Island and still in grade school, his mother, a Russian immigrant, told him that he had a twisted brain. But who can say what constitutes twisted? And if I'm not crazy for never having read it before, does that make me crazy for reading it now?
So be it. To the first book that emerged from that twisted brain, I say Happy 50th Anniversary, Catch-22. Long may you live and continue to dazzle twisted brains everywhere.
And may my own finally be among them.
Erica Heller's book, Yossarian Slept Here: When Joseph Heller Was Dad, the Apthorp Was Home, and Life Was a Catch-22, is out on Simon & Schuster
Support HuffPost
The Stakes Have Never Been Higher
Related
Popular in the Community