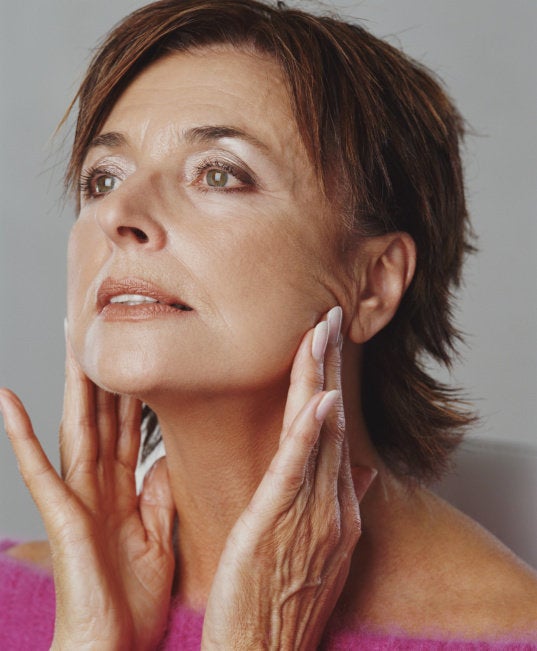 Take a moment and imagine what you would feel if you heard that Michelle Obama routinely uses botox to keep her skin looking smooth. Or if Meryl Streep revealed that she had her eyes "lifted," -- the surgical procedure her character fled from in "It's Complicated." How would you react if you learned that Governor Schwarzenegger doesn't just work out to serve as a fitness role model, but has surgical work done to enhance his image? Or if Rob Lowe's seemingly natural good looks were the result of unnatural intervention? Would you be disappointed? Surprised? Angry?
Anger, surprise and more was felt when Rush Limbaugh touched on the topic of Hillary Clinton's looks on his radio show. During her run for the Democratic candidacy, Limbaugh asked, "Will Americans want to watch a woman get older before their eyes on a daily basis?" The comment incensed those who questioned how far we had really come if being fit for office required a youthful appearance. On the other hand, many wondered if Limbaugh had a point. Would our media driven political world be more focused on her aging process on the screen than her policies?
And how comfortable would she be -- and is she now -- with all that scrutiny? Not even the Secretary of State is immune to the feelings provoked by an aging appearance, especially with the world watching. No doubt everyone has been watching, not only to see if she succumbs to the pressures of world affairs, but to botox, restylane and the like. Hearts go out to Clinton as she bears not only the burden of wars waged against unfriendly nations, but the one she wages against our youth obsessed society.
To be sure, I don't know anything about the cosmetic choices made by Obama, Streep, Clinton or any of these celebrities, (nor do I feel it's my business), but I am intrigued by our reaction to them. My work as a psychologist, and former professional dancer and model, has led me go underneath the surface of our experience of beauty. I work with public figures and everyday men, women and I know that aging in today's culture is a challenge for us all. My goal is to help them understand what they really feel about this issue so they can make more honest -- and hopefully better -- choices when it comes to their own aging appearance.
Take the recent admission by British actress Helen Mirren, when she openly shared her thoughts about going under the knife. She said, "if I wasn't on camera, I would have done it years ago, I'd think about it even more if I was in a different profession ... it's the full-on for me. Suck it all up, tie it up and cut it all off." Women all around the world had strong, ambivalent emotional responses. Some were relieved -- even Helen thinks about cosmetic surgery! Some were disappointed -- no not her too! Many thought that her very consideration had let down an entire generation of women hoping she would be one of the last holdouts.

Or, remember how the blogosphere was filled with mixed emotions when Jane Fonda, stunning at 72, confessed to another round of plastic surgery. On her own blog, she said, "I got tired of not looking like how I feel," and admitted "I wish I'd been brave enough not to do anything." Just a couple of years ago, Fonda had sworn off more such alterations. But clearly her resolve wore down as she exclaimed "Jowels Away!" But far from feeling victorious, Fonda's means of dealing with looking older seemed to evoke feelings of failure.
So this is my point. We are quick to judge the cosmetic choices made by celebrities and public figures. It has become a regular hot topic in almost every popular magazine, on news shows and websites. We tend to criticize those who fall victim to surgical intervention, dismissing them as weak and fake, as if they have somehow personally betrayed us. We applaud those who go au natural and even root for them as they struggle against the pressures to defy their aging looks. And then we react to them all with, "oh my, he/she looks so old."
In truth, isn't it our own ambivalent feelings that get played out as we watch others struggle with their aging so publicly. I call this phenomenon, the Beauty Paradox. On one hand, we were brought up to strive toward being authentic and true to ourselves. On the other, our culture encourages us to denying the reality (or at least not let it show) that we are aging. We want to feel proud of our accumulated years of experience, yet we are made to feel uncomfortable as those years show up on our faces. It's a catch 22. Choose to take advantage of cosmetic options to look younger and we betray the more lofty goals we worked so hard to achieve. Choose to age naturally and our culture tells us we might lose our mates, our jobs or even worse, become invisible. Perhaps "Catch 55" is the more accurate term for the baby boom generation facing the Beauty Paradox?

The fact is, we are living longer with more and more advances -- cosmetic and medical -- that we can benefit from if we can only learn to mesh these options with the other values we hold dear. I hear mid-lifers say, "I feel better and more vital than I have ever before, but I don't like what I see." "I am in great shape, happier, more productive, but when I look at myself in the mirror, I look tired, sad, not like myself."
So, this is our challenge: we need to find ways to achieve an internal/external harmony about our aging appearances. We need to allow ourselves and others -- including those in the public eye -- come to terms with this challenge in their own way. Aging was never a walk in the park, but a little less criticism, judgment, shame and disappointment would make the journey easier on us all.
What are your thoughts about the "Catch 55," that our public figures (and we) face?
Copyright 2010 Vivian Diller Ph.D., author of "Face It: What Women Really Feel as Their Looks Change"
Vivian Diller, Ph.D., is a psychologist in private practice in New York City. Dr. Diller was a professional dancer before she became a professional model, represented by Wilhelmina, appearing in Glamour, Seventeen, national print ads, and TV commercials. After completing her Ph.D. in clinical psychology, she went on to do postdoctoral training in psychoanalysis at NYU. She has written articles on beauty, aging, eating disorders, models, and dancers, and served as a consultant to a major cosmetic company interested in promoting age-related beauty products. Her book, "Face it: What Women Really Feel As Their Looks Change" (2010), written with Jill Muir-Sukenick, Ph.D. and edited by Michele Willens, is a psychological guide to help women deal with the emotions brought on by their changing appearances. "Today" co-host Hoda Kotb called it "a smart book for smart women."
For more information, please visit www.VivianDiller.com.
Related