 "After the University President and the Vice President for Diversity and Community Engagement released statements denouncing the event we planned as violating the university's honor code, I spoke with our chapter's members, and they are both concerned that the university will retaliate against them and that the protest against the event could create a safety issue for our volunteers," Young Conservatives of Texas-UT Chapter Chairman Lorenzo Garcia said in a statement Tuesday.
The UT chapter of Young Conservatives of Texas announced the event Monday, saying it would have several people marked as "illegal immigrants" on campus Wednesday and would award $25 gift cards to anyone who "caught" them. Around 150 people said Monday afternoon on Facebook they would attend, and that number climbed to 556 as of 9 a.m. Tuesday.
"Our students, faculty and the entire university work hard both to promote diversity and engage in a respectful exchange of ideas," Powers said. "The Wednesday event does not reflect that approach or commitment. ... I ask YCT to be part of that discussion but to find more productive and respectful ways to do so that do not demean their fellow students."
The university Faculty Council unanimously endorsed a statement that called the game "inflammatory and demeaning."
UT Vice President for Diversity and Community Engagement Gregory J. Vincent warned that YCT's game, if carried out, would be "willfully ignoring the honor code and contributing to the degradation of our campus culture." Violations of the honor code could lead to punishments from the university, including expulsion.
Opposition to the event on campus continued to grow.
By 5:30 p.m. EST Monday, 1,951 people planned to attend a counterprotest in response to the YCT game. That number rose to 4,100 by 9 a.m. Tuesday.
More than 2,800 people also signed a petition asking the university to stop recognizing YCT as a registered student organization.
In 2005, the UT at Austin chapter of YCT said a similar event planned by students at the University of North Texas at the time was too offensive.
"We looked at the event (the University of North Texas chapter) had, and while we agree with their political position, perhaps their tactics would not be appropriate," Lauren Conner, then-chairwoman of the UT chapter of the Young Conservatives of Texas, said at the time, according to KUT. Students on the UT at Austin campus held a counterprotest, carrying signs that read "Hate is not Activism."
"This is why conservatives can't have nice things - because people would rather pimp outrage than find free market solutions to a broken immigration system," wrote Britt Morrett. "Hey YCT - I'm a Latina conservative and I supported the Affirmative Action Bake Sale, but this is ridiculous."
Others posted poll questions to mock YCT: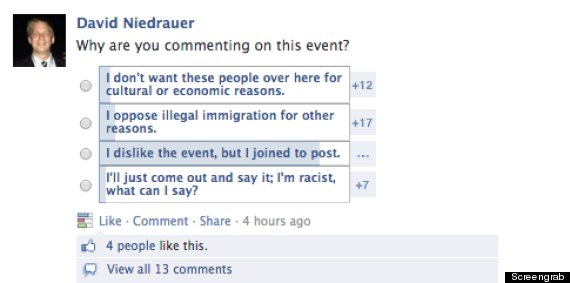 Democrats in the state quickly called on Texas Attorney General and Republican gubernatorial candidate Greg Abbott to denounce the game. Garcia was a paid staffer on his campaign over the summer.
Garcia responded with some harsh words to critics on Tuesday. "The reactions of some who claim that YCT is creating a demeaning or degrading environment on campus have been truly disgraceful," he said.
Calling all HuffPost superfans!
Sign up for membership to become a founding member and help shape HuffPost's next chapter
BEFORE YOU GO
PHOTO GALLERY
Most Conservative Colleges According To The Young America's Foundation