On Monday February 23, 2009, U.S. authorities indicted General José Guillermo García -- a former defense minister for El Salvador -- on two felony counts of immigration fraud. At first glance, two measly immigration charges for a man who presided over years of horror and human rights abuse in the early 1980s hardly seems just. We should rejoice nonetheless.
You might recall General García from a 2002 civil trial in which he was found responsible for the nightmarish torture of three Salvadorans during that country's civil war. After a four-week trial, García and another Salvadoran commander, General Vides Casanova, were found responsible for the torture of three civilians. In 2006, the 11th Circuit Court of Appeals upheld the jury's $54.6 million verdict. Details are here and here.
Words can't do justice to the horrors inflicted on Dr. Juan Romagoza Arce, Neris Gonzalez and Carlos Mauricio, the survivors who filed the case with the San Francisco-based Center for Justice and Accountability (CJA). But these three courageous plaintiffs weren't García's only victims.
Previously, the families of four United States churchwomen who were raped and murdered by members of the Salvadoran National Guard in 1980 unsuccessfully brought a suit against Generals García and Casanova. Bill Ford who passed away last year, was a lawyer and brother to one of the victims. In both cases, he worked tirelessly to bring García to justice. A PBS film Justice & the Generals tells the story of Ford v. Garcia and Romagoza v. Garcia. All told, tens of thousands of Salvadoran civilians were cruelly tortured and killed by government forces during García's 1979-1983 tenure as defense minister.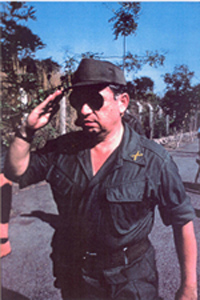 After the trial, the good general returned to retirement in Florida to sun himself and shelter his assets -- both outstanding Florida traditions thanks to its beaches and broad homestead exemptions. Then one day García got the itch to travel and he just had to scratch. There was one problem though: U.S. immigration authorities had confiscated his passport.
According to the indictment, García applied for a new passport in El Salvador, claiming that his previous one had been lost. Later, in 2006, García landed at Miami International Airport and presented the fraudulently obtained passport to immigration officials -- um yes, officials of the very same agency that had seized his passport in the first place. Methinks the fraud wasn't hard to spot.
When challenged, García claimed that his lawyer told him that the U.S. government had lost his first passport. And just like that, one immigration felony becomes two: using a passport procured by false statement and making a materially false statement to a federal officer.
Flash forward 2 ½ years and a revitalized D.O.J. under Eric Holder is in possession of two passports for a noxious human rights criminal. Presto, U.S. Attorney for the Southern District of Florida, R. Alexander Acosta and Special Agent Anthony V. Mangione, from Immigration and Customs Enforcement, unseal a two-count can of indictment against García.
Like all indicted war criminals since General Pinochet, General García responded to the charges by becoming "seriously ill". Federal authorities announced that he would be turning himself in any day now. When he does, he'll face charges carrying a combined maximum sentence of 15 years, but here's a gentleman's wager that García won't face the whole fifteen.
All of this raises the question: why isn't the D.O.J. indicting García for torture under 18 U.S.C. § 2340? That's the statute which makes torture -- wherever it is committed -- a criminal offense. Please note: if you prefer your legalese rendered in poetic free verse, check out §2340's statutory definition of torture. But I digress.
So, why no criminal torture charges? Unfortunately, 18 U.S.C. §2340 was enacted shortly after the ratification of the Torture Convention, but many years after the civil war in El Salvador. According to a doctrine that our Latin (er, Bavarian) legal forefathers called nullum crimen sine lege -- no crime without a prior existing law -- the U.S. cannot prosecute Garcia retroactively for torture. So passport fraud is all we get.
Unsatisfying as it may seem, this indictment is actually a great leap forward in denying safe haven to torturers in the United States. As a first step in Attorney-General Holder's human rights enforcement efforts, it's not bad. To date, General García is the highest-ranking human rights abuser to be pursued by the U.S. government. Hopefully, this will be a sign of things to come for the Obama administration.
We should applaud this move as we decide how we as a nation deal with torturers -- both foreign and our own- - and the government officials who authorize and cover-up their acts.
And we should recognize that any victory against a human rights offender is worth celebrating.As CJA legal advisor Carolyn Patty Blum, who represented the plaintiffs in Romagoza v. Garcia, observed: indicting Garcia for immigration fraud is like "indicting Al Capone for tax evasion...You get these guys any way you can."
You can read Carolyn Patty Blum's moving account of the verdict announcement in Romagoza v. Garcia here.
Related
Popular in the Community