From the San Francisco Bay Area to Seattle, summer along the Northwest coast is as close to paradise as we are likely to get. If you aren't too distracted scarfing blackberries along coastal back roads, our editors and writers have worked up this selection of exhibitions that are well worth checking out along the way. Several will only run for a week or two longer, so catch them while they're still on the vine.
If you are in town, be sure to visit our Openings Calendar page so you can plan visits to the latest exhibitions -- of wherever you may be in the Western States.
ArtScene and Visual Art Source are the in print and online resources to fine art galleries and museums in Southern California and the Western United States. Visit us online or pick up a copy for complete listings of art venues and editorial Reviews, Recommendations and Previews of the best current exhibitions. Want to opt-in for a free subscription to stay current every day on our Weekly Newsletter, as well as new shows, events and (if you are an artist) artists' calls? It's easy.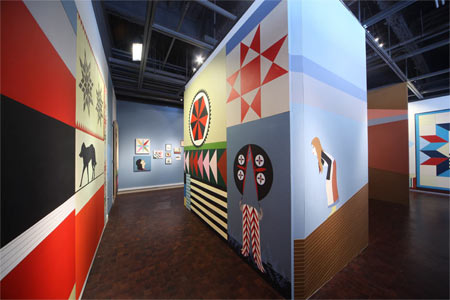 Clare Rojas, installation view at the San Francisco Museum of Craft and Folk Art, 2010.

Continuing through September 12, 2010
Museum of Craft and Folk Art, San Francisco, California

San Francisco neo-folk artist Clare Rojas expands her visual range in this pivotal show of new work, which dominates the intimate space of this small museum. This is a powerful, twistedly delightful exhibition. It further adds to the artist's growing stature as one of the Bay Area's most celebrated and prolific contemporary artists. In addition to this, her first solo museum show, Rojas's work is also currently featured in a two-person exhibition with Barry McGee at the Bolinas Museum of Art, and, last April, the SF Arts Commission installed a commissioned work by her at the city's international airport.

See complete article...

- Cherie Louise Turner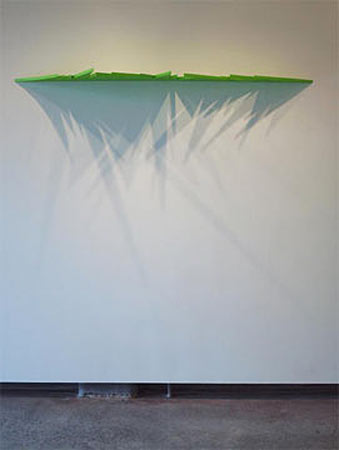 Jeff Jahn, "Vection: Canopy," 2010, plywood, paint, light and shadows, at New American Art Union.
Fresh on the heels of co-curating the University of Oregon's Donald Judd conference and exhibition this spring, artist and critic Jeff Jahn mounts "Vection," a solo show of his own in response to ideas he encountered during months of Judd research. These ideas are integrated with two of Jahn's longtime motifs.
First, in works such as "Canopy" -- mounted on the wall ten feet above the gallery floor -- there are the jagged, rough-hewn wooden teeth, which Jahn uses to communicate the sinister quality of nature in the Pacific Northwest, with its active volcanoes and tectonic volatility. Secondly, Jahn coats freestanding sculptures in what has become a signature color for him, a cross between lime and chartreuse. It's just organic-looking enough to suggest moss or lichen, but just artificial enough to suggest eerie, man-made materials such as industrial or radioactive waste. The large-scale "Middle American Mountain Migration" spans the gallery's south wall, its noncontiguous components blossoming across the space like a lotus flower made of oversized glass shards.
Across the gamut of the intuitively laid out and visually satisfying exhibition, Jahn offers a private, regionalized distillation of Judd's theses about the relationships among objects, observers and space.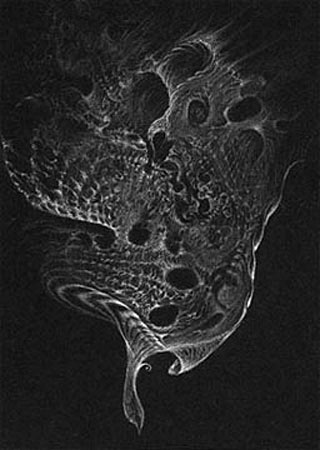 Bette Burgoyne, "Cirrostratus," 2009, black paper, white pencil, 9 x 6.5", at Vermillion Gallery.
Bette Burgoyne's latest exhibition of pencil drawings channel a deep, dark, and mysterious mythos: with titles such as "Whisper Vapor," "Sacrum," and "Primordia," they'd better. Each drawing, a veritable webbing of wispy white lines that merge, plait, and even throb across their surfaces of coal-black paper, offers a new and semiopaque supernatural vision of worlds -- of creatures, of material, of flora -- that only our imaginations can rightly access.
Burgoyne's work, however, is rooted in the natural world: "Each drawing," she claims, "is a reinterpretation and combination of observations made from looking at many things: clouds, rocks, erosion, light, mammal ears, leaves, fur, waves, lichen and science illustrations of electromagnetic fields." But where we might think we see echoes of birch trees, outlines of sand dollars and bird beaks, so do we sense the decomposition latent in them. Burgoyne's pencil-tip latticework is as equally redolent of severed brain tissue and bone, snapped spinal columns and ashes and dust. Any of these drawings might inspire loneliness or sublimity or repose. Their exquisite pencil work will simply inspire.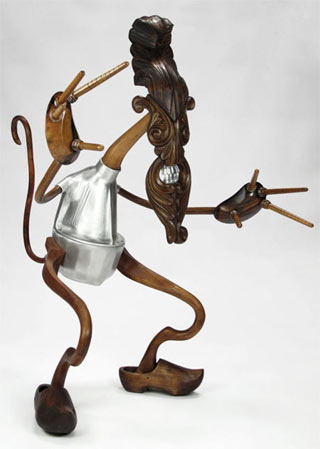 Nemo Gould, "Wildwood," 2009, car transmission, tea kettle, chair parts, snack trays, head board, decorative shelf, clogs, motorcycle exhaust parts, 47 x 34 x 43", at 5 Claude Lane.
Continuing through August 21, 2010
5 Claude Lane, San Francisco, California

Don't let the title of the exhibition derail you: This is not a show of devices aimed at doing evil. It is a superb display of the intersection among art, mechanics, and whimsical beings. Finely crafted, imaginatively assembled, and possessing a balance of humor and insight, the work in this three-person exhibition is unique and eclectic. "Machinations" features the art of Jeremy Mayer, Nemo Gould, and Benjamin Cowden -- all Oakland-based -- in this new gallery's second exhibition.

See complete article. . . .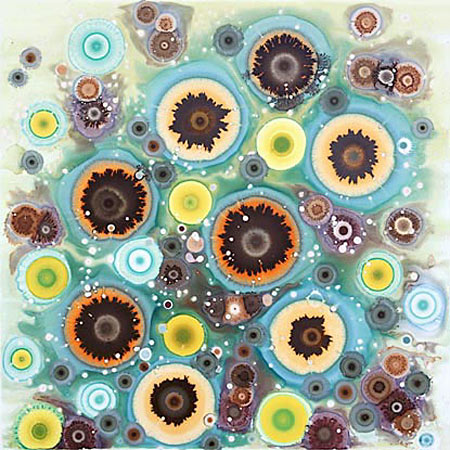 John Dempcy, "Ventus Solaris," 2010, acrylic on panel, 30 x 30", at Aguen Gallery.
In "Inner Fictions," Seattle-based painter John Dempcy serves up an array of virtuosic abstractions based on scientific motifs. Working in acrylic on panel, he plays inventive variations on the theme of the concentric circle, evoking the divisions and metastasizing of cells. This bioscientific modus operandi shares common ground with another Seattle artist, Jaq Chartier, while his central motif, the irregular, eyeball-like circle, is similar in visual effect, if not in process, to work by the Columbian painter Omar Chacon. In "Witch's Cap" Dempcy lines up brown and sienna-colored rows like chloroplasts awaiting photosynthesis. In the rapturously lemon-hued "Defenders," irregular circles cluster together like yellow snowflakes depicted in mid-descent. The painting from which the show takes its title abounds with cellular elements that seep out of their membranes, infiltrating pools of woozy, tie-dye-like colors: turquoise, cerulean, canary yellow, orange, lime, and plum. Ranging in scale from intimate to medium, the works display an emotional range that runs from sinister to exultant. Throughout the exhibition, these chromatically and compositionally luxuriant paintings exude a kaleidoscopic intensity that verges on the psychedelic.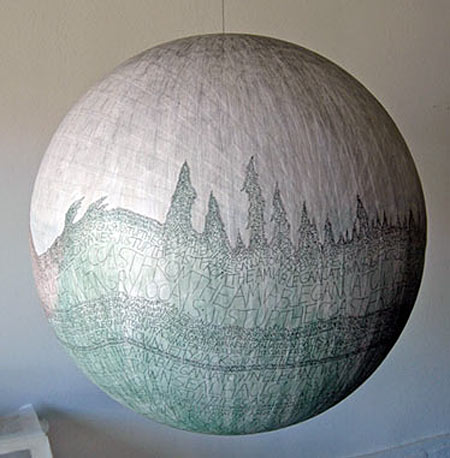 Russell Crotty, "Just Up The Coast," 2010, ink and gouache on paper on fiberglass sphere, at Hosfelt Gallery.
Continuing through August 14, 2010
Hosfelt Gallery, San Francisco, California

Russell Crotty is known for his night-sky drawings on Japanese paper that are laminated onto cast spheres of Lucite a couple of feet in diameter. Based on notebook sketches made by the artist at his Malibu hillside observatory (before a recent fire), these gloriously low-tech ballpoint pen celestial globes have an antiquarian aspect, evoking Victorian amateur scientists. With their comets, stars, constellations, galaxies, and nebulae rendered above silhouetted horizon lines (think of "Starry Night" mapped onto a globe), they also suggest the domed projection screens of planetariums, doubled, miniaturized and mapped onto convex instead of concave surfaces. The spheres thus become tiny planets reflective of their astronomical surroundings. When installed, suspended, en masse, they create miniature universes, with viewers becoming free-floating extraterrestrial explorers, roving eyeballs able to zoom in and out at will, or, by metaphoric extension, abstracted heads containing vast interior worlds. "Just Up the Coast" and "The Cape" on view here, are partially covered with cryptic graffiti or interior-monologue text (e.g., "up the coast from the amiable ganja town") that are satisfying and surprising meldings of science and poetry.
More problematic are Crotty's surf-themed works. The intrepid astronomer is also a dedicated surfer, and his participation in both activities and subcultures is clearly crucial to his art, even if the results in the latter case are not very accessible to outsiders. "Surf Drawing Blue" is a wall-sized drawing on paper composed of thousands of sketches of waves and tiny surfers; gridded into tiny cells, it suggests film strips, or flip-book animations, and the stylized waves suggest eyes seen from the side. Twenty-seven full-sheet watercolors memorialize surf meccas like Big Rock, North Wall and Camel Rock, and eleven "California Homegrounds" sketchbooks commemorate Evergreen Dream, No Trogs and Celtic Dream, to cite three examples. Two mammoth tomes, "Field Guide to Selected California Surf Breaks" and "A Seascape Portfolio," evoke the maps drawn by early explorers, albeit provided with data overlays on mylar. Surfers are sure to get the allusions; innocent landlubbers will prefer gravitating to the celestial spheres.

- Dewitt Cheng
Related
Popular in the Community