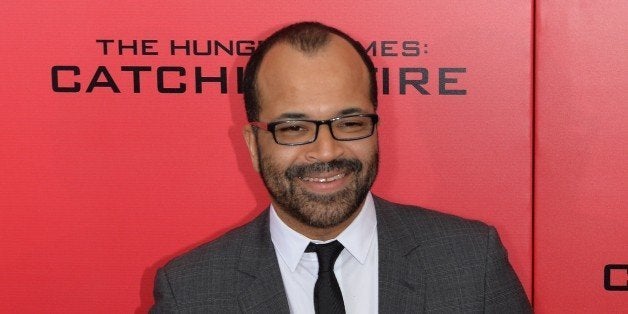 After watching Hunger Games: Catching Fire this weekend, I was pleased to see that Beetee, the brilliant inventor and electric genius from District 3, was played by none other than Jeffrey Wright. I was also pleased that I didn't hear any muttering in the theater about the fact that Beetee was black. We all remember the disgusting racist backlash when the first installment of the film cast Amandla Stenberg, a young black actress, as Rue (despite the fact that Rue was indeed black in the book). But my pleasure didn't last long. The next day on the bus, I overheard a young woman and her friends -- who had just come from the film, apparently -- exchanging their thoughts about what they had just seen, and the young woman said, "I thought it was awesome. Well, except for Beetee. Why the f*ck did they make him black? Beetee wasn't black."
Folks. Let me tell you something. You might want to sit down, because this could be a shocker for you. Here it is. Are you ready?
The Hunger Games is not real. (Gasp.) I know. Stunning. This dystopian world in which children are sent into an arena to fight to the death is, in fact, fictional, imaginary, fantastical. And you know what that means. That means that the appearances of the characters therein are also not real. That is, they are subject to the imagination of the reader. Katniss is described as "olive-skinned," which can be interpreted semi-loosely, but Beetee? He was merely described as having "ashen skin" and black hair. Lots to play with there. Right? It's a book. He looks different to all of us in our heads.
But that's not what this is really about, is it? After hearing this young woman's comment, I jumped on Twitter and searched mentions of Beetee's name. I came across the usual racist vitriol, but there was the occasional tweet that looked like this:
Like, it's not the fact that he's black, IT'S THE FACT THAT HE ISN'T BEETEE.

— kitchen sink (@walkinginnuendo) September 7, 2012
I saw more of the same in comment sections on various articles around the web. Never read the comment sections, guys. Really. And it has led me to believe that the problem isn't that Hunger Games purists who believe that Beetee looked a certain way were disappointed that the film strayed from that representation, it's that white audiences in America are afflicted with a certain limitation of the imagination when it comes to the representation of characters they are fond of. Something that struck me as very interesting was the following tweet:
It is difficult to imagine benevolent geniuses as black, it seems, but quite easy to imagine villains as black. This is telling, isn't it? Telling that the white imagination, when provided in a book with descriptions of a "good guy" -- intelligent, valuable, kind, even gentle -- imagines that character as white (like themselves) but when provided with descriptions of a villain, a killer, a dangerous maniac... imagines that character as a black man. Morgan Freeman. Who has overwhelmingly portrayed "good" characters in his career as an actor. He even played God once, if memory serves. What is it, then, that causes the white imagination to provide his face as a stand-in for what they imagine as a ruthless child killer in a fictional world?
His blackness. And only that.
As white people, we are used to representations of ourselves crowding the covers of magazines, crowning the posters of newly released films. The good guys are white, we have learned, after eons of our faces being plastered under cowboy hats and in impeccable Bond suits. White men are Superman, we have learned. White men are Ethan Hunt and Neo and white men are hobbits. Bad men, we have learned, are black. They're gang bangers and thugs and talk loud and sometimes deliver funny lines where we laugh at their Otherness. Black men aren't heroes, we learn. Our imagination and subconscious are so saturated with white supremacist notions of goodness, beauty, and heroism, that when confronted head-on with an image of a black man who is brilliant and kind and normal and who saves the day, we transform into robotic versions of ourselves: Does... not... compute. Hero... must be... white. It's this line of thinking that turned Disney's Princess Tiana into an animal for 95 percent of the movie. The collective white imagination had difficulty imagining a black girl as a princess... and so she became a frog.
This isn't about staying true to the book. Suzanne Collins was vague (I believe purposefully so) with the descriptions of her characters, so when we say "I didn't picture Rue as black," or "No, Beetee was white," it is not the text that is leading us. We're following a different illogical path of logic, one in which everything we believe about ourselves as white heroes and heroines is being contradicted. The notions taught by patriarchy and white supremacy do not only effect our day-to-day encounters in reality; they shape our imaginations and our expectations, our intangible realities.
But unlike the tributes who enter the arena in The Hunger Games, we have a choice. We can choose. We can choose to step aside on what we've been taught is our pedestal of greatness and acknowledge that there is room for more. We can choose to transform our ideas of heroes and who can be good, and kind, and brave. The alternative is bleak. If even our imaginations are irrevocably bound to what patriarchal and white supremacist doctrines prescribe, then we're in trouble. The moment we kill the thing in us that imagines change and difference and growth is the moment we kill any hope of a better world. The world in The Hunger Games may not be "better," but how much worse is it really when it can imagine a genius hero who is black... and we can't?
Popular in the Community