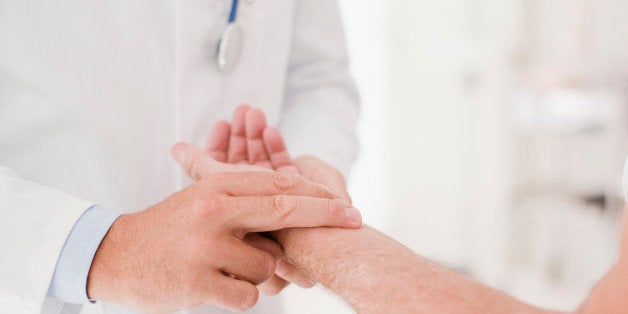 Co-authored by Renee Randazzo, MS, and Dana J. Pardee, BS
For trans masculine people -- an umbrella term referring to people assigned a female sex at birth who identify as female-to-male, transman, man, men, masculine of center, boi, genderqueer or another diverse non-binary gender identity and expression -- seeking healthcare can be a challenging and potentially traumatizing experience. We are hearing about all of it.
At The Fenway Institute -- the research, education and training, evaluation and policy division of Fenway Health in Boston, Massachusetts -- we are collecting data from a diverse array of trans masculine people about their experiences seeking and accessing healthcare. Through a two-year-long research project funded by the Patient-Centered Outcomes Research Institute, in collaboration with the World Professional Association for Transgender Health (WPATH) and the Center of Excellence for Transgender Health (CoE) at the University of California, San Francisco, we are able to also study the sexual health of trans masculine adult patients.
We hear over and over again about the myriad of ways transgender patients can be hurt by, rejected or feel mistreated in healthcare settings and contexts, including by their medical doctors and other clinical care providers. We are finding that lack of cultural competence (trans-incompetence) in healthcare contexts and by providers themselves comes in many forms. One central theme emerging in our research is regarding nonbinary trans masculine people (who may not identify with the male/female or man/woman gender dichotomy) and binary trans masculine people (who may identify as men or males).
Toward nonbinary individuals, healthcare providers may demonstrate confusion. Toward binary-identified transgender men, healthcare providers may be entirely dismissive or feel betrayed when finding out the patient is transgender having assumed he was a cisgender (non-transgender) male.
"[There are] different version[s] of bullsh*t that trans guys get... I get the 'you-don't-fit-in-a-box-and-we-don't-really-understand-you-and-you-behave-differently-and-you-challenge-our-experiences-on-stuff.' So that's the version I get. Other trans guys get the 'you-lied-to-me.' I didn't lie to you. I just walked through the door, I didn't lie to you." - Participant, Clinical Visit
When providers don't inquire about and honor individuals' preferred terminology for their gender and their body parts, the outcome is more than just discomfort. It exacerbates a potent source of distress--distress so intense as to be potentially life-threatening for the patient. It is alarmingly common for trans masculine patients in qualitative data from our study to report extreme anxiety, needing to dissociate in order to get through doctor visits and even avoidance of healthcare services altogether. This is particularly true in the context of sexual healthcare services.
"And my body was, like, looked as -- not as my own... it was just like really hard, like, mentally on top -- like because my body wasn't looked like -- wasn't referred to as, like, mine. So even when someone's like, not even about to perform a certain procedure and they're talking about it, I think language is very important. And so if I'm already anxious before, I'm like even more anxious than even if I'm going through the pain during the procedure. Like, so that kind of builds on and builds on top of each other." -Participant, Clinical Visit
In addition to honoring individuals' terminology, there are simple guidelines healthcare providers can follow to ensure their clinical practice and patient interactions are healing rather than wounding. For example:
Use transgender-inclusive paperwork.
Train support staff in trans-competence.
Avoid making assumptions.
Provide non-judgmental space for gender identity and expression.
Inquire about experiences of discrimination or prior mistreatment during intake/assessment.
Integrate responsive therapeutic support into sexual health services by offering counseling and making appropriate referrals.
Lastly, remember that a transgender person is just that, a person. The gender identity of any individual is merely one facet of a complex human being, and may or may not be relevant to any particular visit to the doctor.
"Really, when I'm sick in the doctor's office -- all I want is the doctor to treat me like a human, any other human, and not bring up my trans status unless it is absolutely pertinent to the visit at hand. It may be easier to catch a unicorn, however, than achieve that in a doctor's office." - Participant, Online Focus Group

Healing wounds may begin one doctor's visit at a time, but ultimately its scope is much larger. As one participant in our study noted, the work of healing must be embarked upon by the community as a whole -- those who fall under the transgender umbrella, loved ones, and allies and those to whom the community turns for care.
"You've got a community that disproportionately doesn't like themselves very much and then we say OK, you have to do this [get sexual healthcare] because if not you're going to get sick and die. If you don't like yourself particularly much that's not the biggest motivating factor, bit is there a way to sort of reframe the whole discussion onto something far more positive?... And especially if you're talking about the health of parts that you're not super interested in having... Create a community that likes itself better, that feels more empowered, that focuses on sexual health and wellbeing dividends in the long run around sexual health of the community. I think that's some of the best work we can be doing in terms of improving sexual healthcare." -Participant, Clinical Visit
As we at The Fenway Institute work toward enhancing what the trans masculine patient above refers to as "sexual health and wellbeing dividends," we invite those who meet the study criteria to consider participating in The Trans Masculine Sexual Health Collaborative. We invite readers to share information about this study with your personal and professional networks. Our hope is that this work will improve the landscape of trans masculine sexual healthcare, and will inspire healthcare providers to do their part in helping trans masculine patients "catch the unicorn" of gender affirming healthcare.
Sari Reisner, ScD is Affiliated Research Scientist at Fenway Health; Associate Scientific Researcher at Boston Children's Hospital; and Assistant Professor at Harvard Medical School. He is the Principle Investigator of CER-1403-12625.
Renee Randazzo, MS is the Community Liaison for the Trans Masculine Sexual Health Collaborative with The Fenway Institute, and School-based Clinician with the Boston Institute for Psychotherapy.
Dana J. Pardee, BS is an Epidemiology Projects Manager at The Fenway Institute at Fenway Health. He is currently managing the day-to-day operations of the Trans Masculine Sexual Health Collaborative.
Calling all HuffPost superfans!
Sign up for membership to become a founding member and help shape HuffPost's next chapter