"It's a brown!" says Darin Schildknect, the fishing guide whom I've hired on Lake Taneycomo, which runs through the heart of Branson, Missouri. "Reel it in."
"What did I do wrong?" I ask him.
"You have to set the hook. Jerk it up and reel it in. too bad, that was a nice brown."
I don't know what a "brown" is. Catfish? Trout? Barracuda?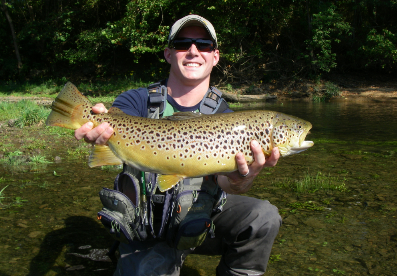 Branson Fisherman with a 25-pound Brown (Photo Courtesy of Lilley's Landing)
I've come to Branson the Music Capital of the World, to pig out on Broadway-caliber shows. In two days I've already seen six, my favorite was It, in which the five Hughes family brothers, their wives and all their talented children dance, play instruments and sing country, Broadway, rock n' roll and gospel. But now I need an outside break from all those theatres. Branson is an outdoor lover's paradise, so I can hike, bike, zipline, play golf or miniature golf, go-cart, ride an amphibious Duck, splash around in an outdoor water park, and a lot more.
I choose fishing, because Lake Taneycomo is one of the best trout fisheries in the Midwest, considered one of the fishing hotspots in North America. I want to redeem myself from my one fishing experience in a stream in Colorado, when I slipped on a rock and couldn't get up because my waders were water-clogged. (The fly fishing guide was able to help me to dry land). But this would be boat fishing --no waders or slippery rocks, no fly fishing and having to try and cast like Brad Pitt in a River Runs Through It.
Lilley's Landing, just five minutes from the center of Branson, offers half and full-day guided fishing tours. The brochure made it sound easy:
"Four main ingredients are needed for a successful trout fishing trip: a 2-4 pound line, a good ultra-light rod and reel, small weights, hooks or lures; and patience and a sensitive touch. Trout typically don't strike hard. They tend to pick at their food like a little kid eating spinach. I've witnessed rainbows taking a piece of worm in their mouths only to blow them out. Or they will take the tip of the worm and shake their head violently, tearing it off the hook. Are they smart? It seems so. But don't give them too much credit. Generally they are easy to catch."
Easy to catch? Maybe easy for Darin, whose record is a 26-pound brown, but I don't have the touch he does.
"Let's try this," he says. He removes the long Rapela lure from my line and replaces it with a red and a yellow bead. "Eggs," he says.
We call them eggs because they imitate salmon's eggs. It's Power bait, " he hands me back my line.
As the boat drifts, my line bumps along the bottom until I suddenly feel something heavy. This time I jerk up the line and reel fast. It feels as though my first fish is heavier than the 37-inch long 28.8-pound record-breaking brown. I reel fast, faster...and pull up a rock, to which is an attached lure and a lot of line. Darin is encouraging. "It happens," he says.
I cast the line again. And again. Nothing. I'm already bored. How will I last four hours? I should have gone to another show. I ask Darin, "What do you like about fishing?"
"I like being outside and not worrying about what time it is and thinking about nothing," he says.

Suddenly, I feel something pull on my line. This time, I pull up on the rod and reel as fast as I can.
"You've got him," Darin says as he reaches for the net. I keep reeling and reeling until I finally spot a rainbow trout thrashing just beneath the surface. Darin scoops him into the net.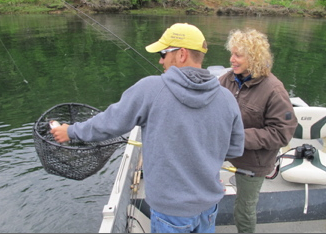 Fishing Guide Scoops Author's Rainbow Trout into a Net
I hand over my camera and try to hold the trout, but it slithers right out of my hands. Darin sticks his finger down the fish's mouth. "Hold him like this and he won't squirm." I slide my finger to his mouth, but feel the sharp teeth. I don't want to be bitten, so I hold the writhing fish with both hands for a second and then hand it to Darin.
Darin takes the hook out of the fish's mouth. "Want to keep it?" I shake my head no and he throws the trout back into the water. I could easily cook as I'm staying at The Majestic Condos with a full kitchen, but this is a vacation and tonight I'm eating at Andy Williams' Moon River Grill.
A boat with two fishermen motors towards us. "How many ya got?" calls one of the men.
"We got a couple," Darin says.
"Why'd you say that?" I ask when they're out of earshot.
He grins. "That's part of being a fisherman."
During the next hour, I catch three more rainbows but after that, not another nibble. It doesn't matter. I'm happy watching the blue herons which are everywhere: either perched on the shore or flying right above us. I look out at the leafy green trees along the shore and listen to the water lap against the boat.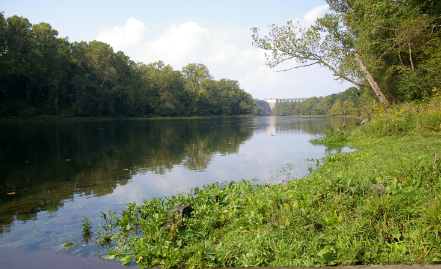 Lake Taneycomo, Branson, Missouri
I think about the Brown that got away. These fish are wary and need to be stalked with patience, something I lack. Even your shadow on the water warns them away. But that Brown doesn't matter because I'm re-living the thrill I experienced each time I hooked the other four fish and reeled them in. I'm thinking about the 28.8-pound trophy Brown that broke the record, secretly wondering if I could ever top that.