KING RAAM'S "PEGASUS" EXCLUSIVE
According to King Raam's team...
"Raam is an Iranian musician based out of Tehran. He started his career in the undergrounds of Tehran in the early 2000s with Hypernova. The band later found its way to New York and was based out of Brooklyn for several years. After Hypernova, Raam set out in search of his true self and went through a period of revising his aspirations as an artist. He eventually bought a one-way ticket back to Iran and began his solo act, 'King Raam.' His alt-psych-folk sound falls somewhere between Nick Cave and Interpol but in Persian. He now lives in his home studio in Tehran, where he recently finished recording his third solo album, A Day And A Year."
******************************
A Conversation with Carla Bianco

Mike Ragogna: Carla, the Broadway musical Rent put your acting career in the spotlight with your take on Maureen. But you also had a #1 hit writing the song "The Lover That You Are." So which is it, singing or acting? You can only choose one and have to give up the other forever. And...go!

Carla Bianco: Oooh... I would have to say singing. I think I get the best of both worlds there. There is really a bit of theatricality in everything I get to do. When I write or sing I still slip into the world of a character whether in first or third person or even when that character is myself. It's a story I tell that I get to live inside for a moment.

MR: You have a history of co-writing or working with some music industry greats. What is your creative process when you're co-writing or working with a producer on a new album or recorded project? What are their roles in the process?
CB: It completely depends on whom I am working with. In the writing process, I sometimes write the melody and lyrics where my collaborator writes the chords and we arrange it together. I co-wrote a lot in my earlier years when I was writing for my publishing deal with Jellybean and learned a ton from some great writers. Now, I mostly bring my songs to the table in their entirety with ideas of how I hear the songs and the producer comes up with musical arrangements to help bring that vision to life like with my first record, All This Time. But this current record I'm working on, Give Voice, I wrote and arranged the songs all in pre-production on my own. The arrangements were birthed more from the emotional life of the songs early on in the process. I sent them to my amazing engineer and co-producer, Hollis Greathouse at Audible Images, who helped bring together the right musicians to embellish the arrangements and take the songs to the next level.

MR: In association with Steinway pianos, you recorded John Lennon's "Imagine." How did that come about?

CB: I'll tell you, this was one of those things I wasn't looking for that just happened out of nowhere. Someone from Steinway reached out to me on social media and asked to meet with me. I performed a Christmas Concert for them and played on one of the most gorgeous pianos I ever played on.... the John Lennon Steinway Imagine piano. It's an all white grand where each piano has one of Lennon's drawings on the music stand with 'You May Say I'm a Dreamer' scripted on the inside. I never was one to get into Beatlemania. But after I played that piano, I started reading all about Lennon and The Beatles and played his song 'Imagine' at a Beatles Tribute for Autism. Lennon's publishing company gave me the okay to record the song for my new record and Steinway got involved having me record the song on the Imagine Piano. I recorded the vocals on the day of the Virginia shooting. I felt so honored and deeply moved to be singing those words Lennon wrote...still carrying on the intention he had for a better world. We can't give up on that.

MR: If I'm not mistaken, you started your own label a while back. What were you thinking, Carla! Have you not seen the shambles, the Mad Max-ful landscape that is the ruins of the music business??

CB: Yes, I've seen it and I've come back for more! Somebody slap me! I swear art is such a blessing and a curse. It is the most beautiful and fulfilling thing to express your heart and soul through story and song, whether you're telling your own or others' stories, to shape and change the world through that expression, hopefully for the better. But it is relentless. It will take everything you are and mostly spit you back out for the vultures. But if it truly drives you at your core for an unexplainable reason at times. You just can't stop or walk away. And you basically drive to build a mansion amongst the ruins. And sometimes life prevails despite the massacre. I stick around for that triumph.

MR: You've also dabbled a skosh with philanthropy through The American Foundation For Disabled children, Suicide Awareness Voices Of Education, and Autism Speaks, all of which will receive the total profits off your new album Give Voice. What's your involvement with and commitment to these organizations?

CB: I'm connecting each song from the record with a different charity. Records sales proceeds, benefit concerts and event profits will be donated. We are working on finding ways to get the music out to the people represented by the charities so they can find inspiration in hearing their life struggle voiced in a song. Through monetary and emotional support, I hope to help their causes.

MR: By the way, can you tell us anything about the next album, maybe about the songs or how the recording is going?

CB: I've written a group of songs that tells people's stories that can't for one reason or another, people that are facing a major life challenge in some way. For instance, there is a song called "Through the Spectrum" written through the eyes of a 9-year old boy with autism whose parents are going through a divorce. Another song called "Broken and Blessed" I wrote about a deaf and mute boy in a wheel chair I heard one day desperately trying to sing a song. And when I read an article about the African girls that were kidnapped on their way to school, I read four lines of a poem a girl from Afghanistan wrote before she committed suicide as a protest for all she wasn't allowed to do. I was so moved. I felt compelled to live inside these different people's spirits for a moment and write through their eyes and from their hearts. They have stories that need to be heard. I wanted to tell them. We are looking at a release date in November this year.

MR: You've appeared in Unstoppable with Denzel Washington and Promised Land with Matt Damon. What does acting fulfill for you and does it affect your creative process as a recording artist/musical performer?

CB: I love how with acting environment plays such a big part of the experience, especially with film. You are right there in the world of the character you are creating. You can literally touch it--your surroundings, the person you are speaking to--it's a tactile, 3D real live experience. Writing and singing songs is communicating an imagined experience that either really happened, is happening, or you want to happen. It's living inside an imagined world and trying to communicate it to someone. I think that's my favorite. That world can look like anything you want it to, at anytime, depending on the day, the audience or the state of the world... It's ever-changing.

MR: For Carla Bianco personally, how does the commitment to a character differ between acting onstage and film acting?

CB: The commitment to the character is the same. You strive for 100% commitment. That's when it gets good. The difference is the medium that you are communicating and expressing that commitment. The bigger the medium, the bigger the expression. They both have their pluses and minuses--stage and film. On days where you don't feel like expressing yourself in a big way because you'd rather express a quiet little whisper of a song idea into a recorder or have an intimate scene on set but you are about to step foot on a stage with a 3,000 person audience in the house, you've got to get your juices revved up real fast. That can be hard when you're having an introverted day. But on days when your energy level is at 10 and you feel like a lion. Well, it's the perfect place to be, on a big stage.

MR: Rumor has it you have a certain live show on September 5th at 9:30 at 54 Below. So I guess you'll be performing all new material and nothing from your back catalog, especially any of your signature songs and hits. That's so brave of you!

CB: Well, thanks! I thought it was about time I do a show of all my favorite Disney songs! Hmm...there's a good idea in there somewhere. Actually, I'll be pulling out some songs from my Broadway days with a song from Rent and a tune from my self-composed musical, Kaleidoscope. I'll be mixing in songs from my record, All This Time, and a certain #1 hit that I've never actually performed but wrote is making the set list too.

MR: Can we expect at least a story or two of your harrowing climb to the top of the music business wasteland during this live show?

CB: More than a story or two, lots of personal stuff that only a handful of people know and whom have lived to tell none of it. So I would be sure you would only hear it straight from the crazy lady's mouth! But only if you come to the show--wink, wink.

MR: What do you do in your down time? Do you get a little sleep? Are you a secret slacker who just can't achieve the failure your secret slacker is dreaming of?

CB: I'm pretty strict about my sleep. I need my 8 hours. When it's time to go to sleep, I go to sleep. During my waking hours, I'm pretty much non-stop, after my hour of quiet in the morning. Down time...I love hanging out with my 5-year old son, hubby and golden retriever, going for walks in the woods, picnics, ice cream and lots of silly games that always end in 'getting mama' somehow. I love to read and I love cooking for family and friends. I'm Italian so big gatherings with lots of food and wine puts everything right in the world.

MR: What is your advice for new artists?

CB: Get out while you can. I kid you...kind of. I always say if you can see yourself doing something else, then do that. You'll be much happier in the long run. But if you have the itch, the calling, and I mean where you would rather die than do anything else other than your art, then do it with everything you got. Everything. Don't hold back an inch. And stay in the game. Don't quit. It may take 10 years, but something will break in your favor. It will. Trust me. I promise you this.

MR: So what's next for Carla Bianco beyond recreating Western Civilization as we know it?

CB: Continuing the search for the holy grail--and for me, that's writing that great song--that elusive great song, that completely encompasses everything I was ever meant to do in this life. It's a dream I like chasing, perfection, where perfection doesn't exist, in art, in life... But, there are moments of it. And those moments are so worth it. And damn, it's fun!

MR: Are you happy?

CB: On a good day? Blissfully. On a bad day? Yes, even if I'm completely unaware of it.
******************************
MEITAL DOHAN'S "I'M TOO SAD TO TELL YOU" EXCLUSIVE
"This exclusive new art piece from international music artist and actress Meital Dohan called 'I'm Too Sad To Tell You' is a music portrait directed by renowned visual artist Zoobs and inspired by Andy Warhol's Screen Tests. This revealing video portrait features an original song sung by Meital, which was recorded as part of the soundtrack for an upcoming film directed by Amos Kollek who also penned the lyrics.

"Meital has toured the world and collaborated with some of the biggest names in music including Sean Kingston, Reflex (Kanye West, Kendrick Lamar, Rihanna), R3hab (Lady Gaga, LMFAO, Calvin Harris) and Che Pope (Kanye West, Jay-Z, Eminem). After taking Israel by storm with two Israeli Oscar nominations and an Israeli Tony award, she quickly gained fame in America with her breakout recurring role in Showtime's Weeds.

"Director Zoobs is a contemporary artist known for his celebrity portraits."
******************************
MATTHEW BEAN'S "ETERNITY" EXCLUSIVE
According to Sneaky Bones' Matthew Bean...
"'Eternity' is about timelessness and how we work to try and find that in our lives. When the lights go out we are gone, but the eternal--nature and time--will live on. We compare ourselves to all of these standards that have nothing to do with the moment. It is about taking a step back and living now, 'away from eternity.' As we search for meaning and purpose, nights and days pass us by. Scenery passes us by. Moments are overshadowed by the imposition of endless time. In a moment, there is nothing greater--not what came before and not what's going to happen after--because you are living it. You can't be in the past nor in the future. The true conflation of eternity is that we are apart of it. Instead of trying to fight that, take solace in the fact that we can enjoy our time and live. The inanimate and eternal can't live or create those moments. Embrace that power. Find a moment to live."
******************************
DRISHTI BEATS' "TIME FLIES" EXCLUSIVE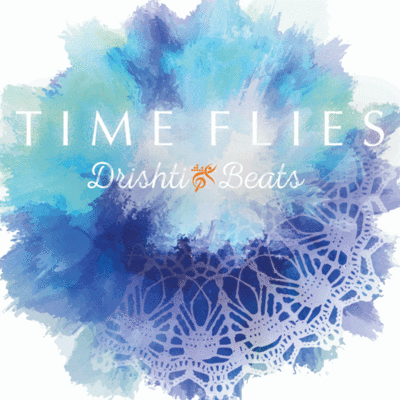 According to Drishti Beats...

"'Time Flies' is a visual journey through the rainbow spectrum from the Root Chakra, up, and out into the cosmos. As we open our energy centers, our mental, physical, and spiritual awareness align in harmony, opening space for internal alchemy. Creativity flows and connections to one another strengthen. The video is a light poem and a visual accompaniment to the full awakening experienced when listening to Drishti Beats' music."