[This article, the second of a five-part series, originally appeared in the November/December 2016 issue of inMotion, the bi-monthly publication of the Amputee Coalition. Contact the Amputee Coalition to learn how you can get involved in lowering the bar for people living with limb loss and limb difference.]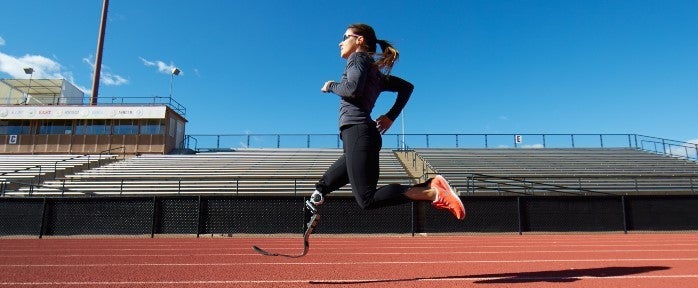 The 1988 Paralympic Games in Seoul, South Korea, were the first Paralympics to follow the Olympic Games in the same host city. The Seoul Games, which set the standard for the modern Paralympics as a cultural and athletic event, were held the year before Paralympian Lacey Henderson was born.
Following the Paralympic Trials in July of this year, Henderson, a sprinter and long jumper, was not initially invited to join Team USA in Rio de Janeiro. In August she joined her family on a trip to Italy and then traveled to Argentina to unwind and get past the disappointment of missing out. While on vacation she got a call notifying her that she was the first athlete chosen to fill a spot created by the exclusion of the Russian team due to that country's doping scandal.
I caught up with Henderson to talk about her experience in Rio and the present and future of adaptive sports.
"I love South America," said Henderson. "I was lucky enough to study abroad in Argentina while I was in college and I 1ove Latin American culture. My experience was different than most athletes' just because I'm familiar with the region. I broke out of the village a couple of times. I was taught to ask for forgiveness, not for permission, so I went out a lot. Everyone was incredibly nice and really excited that we were there. It's a beautiful place. The people don't have a lot but they're just happy. I had an incredible experience in the city."
Asked about being off the team then suddenly on it, Henderson recalled an emotional whirlwind. "I totally collapsed under the pressure at Trials," she said, "and I knew before team selection that I didn't have a strong [chance]… I had accepted it but I just wanted to avoid it for a while and I had two whole months to deal with the gravity of not making the team… I was good. I was happy with who I was regardless of track, regardless of performance and then as soon as my head was in a healthy place I got that call. I had the realization that this was the moment that I dedicated my life to."
Henderson recalled the Paralympic spirit as a particularly memorable aspect of the games. "The camaraderie of Paralympic Team USA was great. We all know what we've done to get where we are and it's hard. Team USA is still very segregated between able and disabled athletes but we're one of the proudest and most confident countries [in international competition] and it shows."
In some ways "Rio was a mess," said Henderson, "like I knew it was going to be. You would see people struggling to get up a ramp after a 5K race because the grade was too steep and their arms just couldn't get them up. Eventually the ambulatory athletes just began pushing chair athletes at random – friends, strangers, competitors from other countries, etc., because we all know what it's like to struggle. We know what it's like to be exhausted."
Henderson noted that the experience of international competition is a different thing for Paralympians than for their able-bodied counterparts. "Part of me wants to say there is no difference," she said, "but to be honest… between the Olympics and the Paralympics, we're still struggling with differences…. I had a friend tell me that wheelchair athletes had to plan an extra two hours to get to venues just so they could negotiate the ramps and other access obstacles. So there are pragmatic, logistical, specific things that [disabled athletes] have to prepare for… Objectively it looks as if we have a disadvantage but subjectively I think we have an advantage because we're constantly adapting to the world around us. Mentally we have the capacity not to just crumble when the world doesn't cooperate."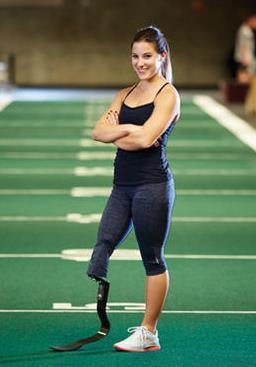 Asked if she felt a special sense of accomplishment, Henderson replied, "Absolutely! Because of my unique situation, I was the most present that I have ever been while I was in Rio, enjoying every moment, even the moments that were irritating as hell. I got there and I wondered 'Why don't we do this every day?' We spend so much time and energy and stress and worry thinking about one moment that comes every four years and yet everything that was great about my moment at the Paralympics was already made, by me, I already did it. We don't reward ourselves enough for hard work… It was a lesson to me to be more present and to realize it's not every four years; it's every day."
The Rio games featured blended classes, athletes with different disability types linked in competition based on overall assessment of function. Classification is a particularly thorny issue for adaptive sports and in Henderson's opinion there is no way to totally level the playing field.
"Unfortunately there's not," she said. "You will never come across one disability that is identical to another one. For example, I'm in a class where being a knee disarticulation amputee has advantages over being a transfemoral amputee. Eventually the IPC can either create more classes and have two-month long track meets, or at least draw boundaries, meaning a class can include leg amputees but not equivalent non-amputees... I think we're just going to have to learn a lot from our mistakes before we actually find a good and fair system… But that's life and people have motivation in Para sports for other reasons. And that's something cool about Para – the stories. The stories you hear in the Olympics are incredible but the stories you hear in Para are unbelievably inspiring not just because of disability but because of the work required to overcome disability."
For Henderson, the stories are part of what makes the Paralympics more than just an athletic competition.
"Paralympic sport is a social movement," she declared. "It's about inclusion of all people. Disability doesn't discriminate. It takes everybody. Sport is a language that transcends barriers – social, economic and physical – and it really is a way to ignore the things that tear us apart and pull us down, the things that make us enemies, and celebrate the things that make us the same. It's so much bigger than competition. It's about changing the face of disability and bringing everyone together and it has been an honor to be a part of it."
Note – I am grateful to Ottobock, makers of my own C-Leg 4 prosthetic knee, sponsors of Lacey Henderson and athletes around the world. To learn about Ottobock's industry-leading prosthetics and orthotics for upper and lower limbs, visit them at www.ottobockus.com.
Popular in the Community