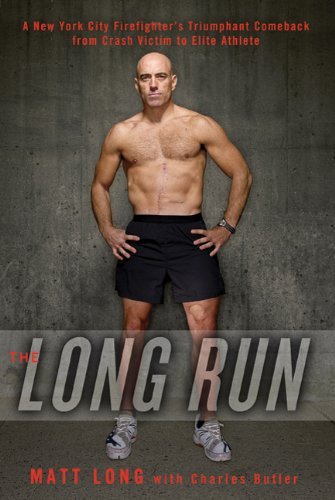 Many people in New York have heard of Matt Long's story. Many have also crossed paths with the Long Brothers during their great quest for success in the New York night scene, especially on the Upper East Side. Athletes may have trained with or against Matt in endurance races and on the basketball court, while others may have been directly or indirectly touched by his work as a New York City Fireman.
One thing is for sure, though. Once you reacquaint yourself with Matt's story in his new book "The Long Run," or visit his website and foundation, the I Will Foundation, you will be moved, inspired, sometimes horrified, transfixed and amazed at the real-life twists and turns that the New York native has overcome to continue his life's work as an athlete, motivational speaker and entrepreneur.
Whether it's his story of survival, both during the events of 9/11 or following the catastrophic bus accident that nearly took his life, or of endurance in his training and dedication to the NYC Marathon or the Ironman competition, Matt's not a person who's easily forgotten. He's worked tirelessly to succeed in many areas of business as well as being a dedicated friend, brother, son and mentor to countless numbers of people around the country, as he tells his tale of hope and dedication to groups from coast to coast. By the way, I also heard he was an outstanding hoops player at one point.
Matt was kind enough to answer some questions so we could better understand his story, and find the motivational tools to better engage our own thoughts.
PRC: As someone who's endured and overcome tremendous physical issues to regain your life, what is the best piece of advice you can give young people looking to succeed in today's world?
Matt Long: I think it's extremely important for kids to set goals for themselves; without goals, you will not move forward in life.
PRC: Prior to your accident, what gave you the biggest thrill in athletics? And business?
Matt Long: I would have to say my biggest thrill in athletics was walking on the basketball team at Iona College after two attempts. I never gave up on the dream of playing college ball. Off the court, I opened Third and Long, a NYC sports bar, with my brother Jim 19 years ago and it's still up and running with younger brothers Eddie and Frank at the helm.
PRC: You obviously had tremendous faith in many people during the ordeal. Who inspired you the most?
Matt Long: I had a tremendous support crew: family, the Fire Department and friends that wouldn't let me give up. But, I was also inspired by a stranger. I read a story about Fabio Slevig of Massachusetts. He was hurt as bad as I was about six years before my accident, and he was able to come back to sports. He told me some of the best things in his life happened after his accident. Fabio Slevig was a source of hope for me.
PRC: Your book, The Long Run," goes into great detail about the accident. How much of the accident did you recall and how much of it was people telling you the story?
Matt Long: Most of the details were told to me. The mind blocks out things of this magnitude, so your body can heal. That's what I believe.
PRC: What do you hope to accomplish by telling the story in a book?
Matt Long: I hope to be that source of hope to others having a tough time in life. I want to inspire others not to give up on challenges that life throws in front of them when they least expect it.
PRC: Your foundation, "I Will," is set up to help others who have suffered great injuries. How has it been going and how many people have received assistance so far?
Matt Long: The first goal is to inspire, as I mentioned above. Based on the emails I've received, it seems I have done that for hundreds of people. We've also been able to help a half-dozen people that were either injured in car accidents or suffered from strokes with support through training, equipment and finances.
PRC: You returned to being a competitive athlete after the accident. What's next in competition for you?
Matt Long: After the Ironman comeback at Lake Placid, I took some time off to let my body recover and now I will train to compete in the 2011 World Police & Fire games in New York City.
PRC: In addition to being a triathlete, you were also a college hoops player at Iona. Do you stay in touch with the Gaels and what do you think of their potential this season?
Matt Long: I haven't actively followed the Gaels since the accident, but plan on getting back to a game or two this year. They have a new coach, and the new recruits look promising. The Gaels are always in the mix in the MAAC
PRC: Are you a Knicks or Nets fan?
PRC: Good pick. Thank you for your time, Matt, and for continuing to inspire us.
Matt Long: You're welcome. It's my pleasure.
Popular in the Community