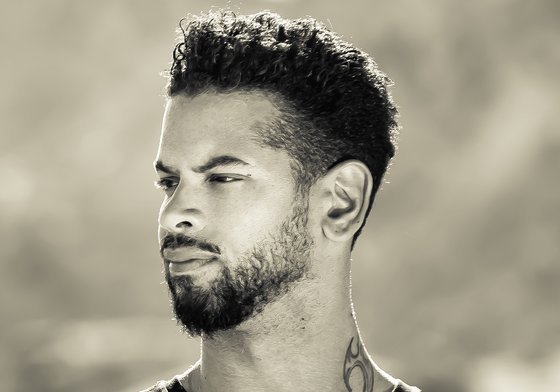 For decades now, the Detroit-born Marc Kinchen (also known as MK) has had his own signature sound in the world of remixing other techno and house music artist's records. Kinchen has been able to breathe new life into whatever track he remixed, molding it into its own entity. After a couple decades of perfecting the "MK Dub" for these reworks, he recently branched off over the past few years into becoming a DJ, playing clubs and festivals all over the world, even throwing his own parties under his Area10 brand.
I caught up with Marc Kinchen again at this past Memorial Day weekend's Movement Electronic Music Festival in Detroit, a year after I last spoke with him, to talk about how the creation of his debut solo album is coming along and if he's comfortable yet in the DJ role.
We talked this time last year, what's been going on since then?
Recording the album. The MK album. I took almost four months off of touring. I signed with Sony about a year and half ago and I thought I would just record when I'm home then go do shows. That didn't work out. After like Sony kept calling like "Where's the album?", I called my manager and I'm like take the shows off, don't book anything else until I'm done. We booked off almost December until like April. I just stayed in the studio and knocked the songs out. We pretty much turned it in unofficially last week, so now we're good. I feel a lot better.
Once you took that time off, where was your head at when figuring out what you wanted to do for the album?
My head was to not try to make a DJ album. Styles change so much. As a producer, I know styles are in, what bass sounds are in that the average person might not really realize. I didn't want to limit myself to using like a "certain bass sound" that everyone is using now. I just wanted to make really cool dance songs.
You've always had a bit of your own signature sound or method to your remixes or tracks. How was that incorporated into your first album?
It's basically the same thought train that I've always had. Even when I'm going to remix, I never approach it like I'm going to try to do a really cool remix. I just try to make something that sounds good. That's how I ending up inventing the "MK Dub" because sometimes I have vocals that just don't sound, ya know, so I cut them up and try to make something that sounds good. It's the same approach with the album, except I'm working with a vocalist from scratch, so I can guide them so I won't have to chop up the vocals so much. For this album, I have vocals that work that don't necessarily need to be chopped up.
How does it feel to have that sort of control over the vocals that are being used on the tracks you are making in instead of doing other people's remixes where it's there already?
The thing is that I'm used to it because I've been producing, even when I wasn't DJing, I've never stopped producing since I was in my teens, so it's always something that I've been used to doing. I've always enjoyed it, I wouldn't say more, but in a different kind of way because I knew I had that creative control to guide the vocals where I want them. It was a little bit of relieve though to be able to do that.
How is the DJing going? Are you more comfortable with it now?
Yeah. Yeah. I'm a lot more. Before, when I would start, I would be like "I need a shot!". Now, I don't drink at all. I literally don't drink. I'm fine. I go up on stage. I enjoy it better. I'm totally comfortable.
What's your DJ sets been like these days?
These days, it's even more of do your own thing, but still playing for the crowd. There's some DJs that don't play for the crowd. They just play what they want to play because they are headlining. I don't really do that. I enjoy seeing everyone have a good time. When they're not having a good time, I'm not having a good time. Some DJs don't care. I'm the opposite. I want them to have a good time. I'll play what I think they want to hear, but sometimes the song that I played 16 million times and I might not necessarily want to hear it, I'm going to play it because I know they want to hear it. It's fun.
When you were first starting out as a producer, what did you have to do to break out of your own locale to be noticed in other places?
I don't know what I had to do. When I was young, I used to just listen to things I liked and pretty much try to emulate it. During that time, I used to love Kevin Saunderson's work. I used to love Masters At Work tracks. I used to listen to those songs and literally try to emulate it. That's how I learned. I was able to take the bits that I liked from songs, after I learned how to produce, and take that and incorporate it into my own thing. It made me more diverse and come up with my own sound. For the most part, a lot of the sound that I have has been inspired from somewhere else.
REAL LIFE. REAL NEWS. REAL VOICES.
Help us tell more of the stories that matter from voices that too often remain unheard.