Wendy Melvoin & Lisa Coleman have always been hard to put in a nutshell - in fact, I can't think of a duo whose musical path through the entertainment industry has been quite as circuitous - or mold-breaking. Equally nutshell-defying was Shirley Walker, the late, legendary composer for which ASCAP created a special honor at this year's Film and Television Music Awards. Rightfully so, Wendy and Lisa were the recipients of the inaugural Shirley Walker Award for their decades of composing riveting music for film and television.
Wendy & Lisa retrospective (Produced by Dan DeSouza):
Wendy and Lisa rose to worldwide prominence in the early 80s as part of the Revolution, contributing to such landmark radio staples as Raspberry Beret, When Doves Cry, Mountains, Pop Life, Let's Go Crazy, I Would Die 4 U, and Purple Rain before parting ways with Prince in 1986. Listen carefully to the bridge of the #1 smash hit Kiss where a falsetto Prince declares "Look out Wendy's grooving." Grooving indeed. Wendy and Lisa soon established themselves as a pop duo on a delicious (if underrated) string of soulful and richly textured albums before making the transition in the mid-1990s as respected film composers, and, in the 2000s, adding TV composing (and an Emmy Award, thank you very much) to the mix.
Lisa (left) and Wendy with their Shirley Walker Awards (Photo courtesy of Bobbi Marcus PR & Events, Inc):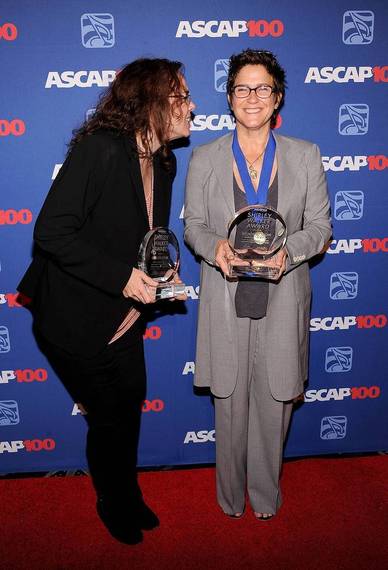 In much the same way that Shirley Walker (who still holds the record for scoring more major studio feature films than any other American woman) blazed a trail for Wendy and Lisa, likewise Wendy and Lisa have flung open the doors for the next generation.
I was thrilled to catch up with the duo just before the ASCAP ceremony where I asked them about Shirley Walker, an artist that Hans Zimmer called "the most educated composer I have ever met."
Melvoin was quick to respond -
To be accepted into the community of big boys is a big honor - it's a really tight club - and I'm almost overwhelmed by it. And for this to be an award for Shirley Walker, one of the most unsung heroes, who was very responsible for diversity and tolerance and working to make the community for composers more fruitful, is the ultimate.
I remember being on the road playing stadiums with Prince, and reading about Shirley Walker composing for film and TV, and I always felt like that's more what I really wanted to do.
Wendy & Lisa's Emmy winning Nurse Jackie title theme:
The Shirley Walker Award was presented to Wendy and Lisa by KCRW Music Supervisor/Host, Liza Richardson who said "I can think of no two composers more deserving of an award dedicated to excellence and diversity - two virtues that Shirley Walker represented to everyone in the room."
While working with the duo as a music supervisor on a Syfy pilot, Richardson said that observing Wendy & Lisa discussing the structure of a scene candidly with the producers, making precise musical suggestions, and then tying it together with the entire episode, taught her the meaning of the word, filmmaker.
I had previously thought that filmmakers were directors, writers, producers, but I learned from these two composers, that filmmakers are people who understand the process of how to tell a story. Wendy and Lisa are great filmmakers.
Wendy & Lisa's This Is The Life from Dangerous Minds:
Early in their career, Wendy and Lisa were dismissed as "pop tarts" by the L.A. Times, who suggested they should "know their place," and not try to write real music, but their genes are in "real music" as both had fathers who were not only formidable musicians (jazz pianist and former NARAS president Mike Melvoin and Gary L. Coleman respectively), but in fact played together in the 60s and 70s as part of The Wrecking Crew - making Wendy & Lisa, the second consecutive generation of musical collaborators. Coleman's father was in the audience.
At the emotional apex of her acceptance speech, Coleman wept as she dedicated this award to her late mother, Mexican-American visual artist Marylou Ynda-Ciletti, an East L.A. native who passed away seven months ago.
My mother really taught me what it meant to be an artist, to never give up, and how to deal with the pain of rejection, and there's a lot of rejection. My mother gave up her singing career, but never gave up being a creative person.
Lisa (left) and Wendy accepting the Shirley Walker Award (Photo courtesy of Bobbi Marcus PR & Events, Inc):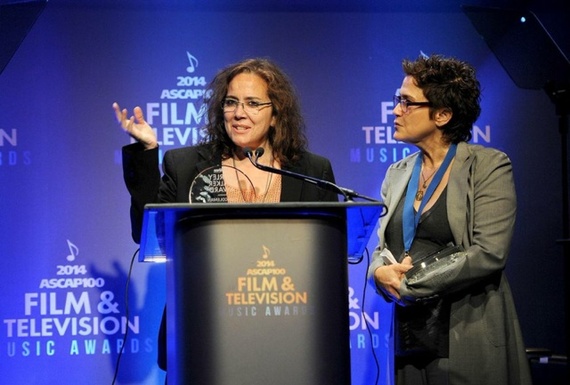 One of the keys to our success is the two of us have never seen ourselves as female composers. We are composers. We had a difficult enough time coming from the world of rock and roll - being the girls from Prince who must not be serious about being composers, but make no mistake we are dead serious about what we do and are grateful and thankful every day that we have been accepted into this special community.
Wendy and Lisa's body of work on the big screen includes scoring Dangerous Minds, Toys, Soul Food, Something New, and Just Right. And on the small screen: Carnivale, Crossing Jordan, Witches of East End, Touch, Nurse Jackie, and Heroes, which upon returning to television soon will once again feature the duo composing.
Wendy & Lisa at ASCAP's Film & TV Music Awards red carpet on Shirley Walker:
Melvoin wrapped up the duo's acceptance speech by noting -
We take narratives and put music behind it. It's not too different from being the backup band for Prince. We leave room for the star - don't solo over the lead vocal. We as composers must hold in the highest regard the narrative and the vision for the creator's dreams for their stories to come true. That is what we do. Lisa is my muse, my partner, and she still breaks my heart when she tinkles the ivories.
Somewhere Shirley Walker is smiling.
Shirley Walker's main title theme from Batman: Mask of the Phantasm:
REAL LIFE. REAL NEWS. REAL VOICES.
Help us tell more of the stories that matter from voices that too often remain unheard.