That's one way to look at it.
You can't mention Cate Blanchett's name without eliciting comments about her insanely beautiful skin. (Not at our office, at least.) The "Hobbit" star is one of those few rare women who seems to defy aging; she's looked consistently amazing since we first became aware of her in 1999's "The Talented Mr. Ripley." While her beauty seems otherworldly, she's refreshingly down to earth -- something we learned when she hopped on the phone with us recently to chat about her skincare routine, why being tan is not all it's cracked up to be and the inevitability of worst-dressed lists.
While Blanchett is known for her porcelain complexion, we were curious if the actress ever felt the urge to be tan. "It was deeply uncool to be white, particularly in Australia," she told us. "I was 10 or 11, and I was desperate to have a tan. I would put baby oil on my skin then go out on a tin roof. I would think it was a great day if I came down looking the color of beetroot. One day my mother came up, took the baby oil away and said come down and gave me a talk. She was a big Oil of Olay, moisturize your neck, moisturize your hands type of woman. She said don't do it." Blanchett then took the next, most obvious approach. "I quickly became a goth," she said. "That was the downside of her advice, but I had to find some kind of expression for it."
Though Blanchett feels very comfortable in her own skin these days (and now we know why), we wondered if the permanently luminous star ever went through an awkward skin phase, like the rest of us. "I think when I was pregnant with my first child -- he's about 10 or 11 now -- I first noticed changes in my skin, which can make you panic a bit," said Blanchett. "I had a bit of melasma. I have a makeup artist friend and someone had told her about SK-II. She gave me the Essence, and I didn't know what to do with it -- it looks like a glass of water. But after that first few weeks, I noticed the melasma and discoloration eased." Blanchett's been a spokesperson with the company for seven years now, but has been using it for over 10. Of the entire line, the actress attributes her glowing skin to the brand's liquid facial tonic, and more recently, its higher-concentrated couneterpart, LXP Ultimate Revival Essence. Curious to know if she's ever wanted to ramp up anti-aging efforts with in-office treatments, she had this to say: "If you asked me 10 years ago, I probably would have been trying heat for different things, but what I've noticed is that my skin is more in balance than it was 10 years. And so, I think it's that theory, that if it ain't broke, don't fix it." Clearly.
When we shifted the focus to fashion, we had to know her thoughts about worst-dressed lists -- and if that type of criticism is even on her radar. "I think it's a badge of honor," she said. "Because if you're worried about that stuff, you can tell. I mean, I've had some doozies, they don't always work. But who are you dressing for? You can't always dress for US Magazine." Any specific doozies? we asked. "I don't want to drop a designer, but it's usually because there's too much hair and makeup competing with the outfit. Or you've seen something fabulous, and it is fabulous, but it doesn't quite work on you. The other thing is you can fall in love with something on a shoot, and it might work on a still shot, but not in real life." Best- and worst-dressed lists aside, with lot of amazing couture and three boys, who does she plan to pass her couture down to? "Suddenly my friend's daughters are becoming my best friends. I have so many 12-year-old girlfriends. I don't know, maybe my sons will be gay."
See Cate Blanchett's style through the years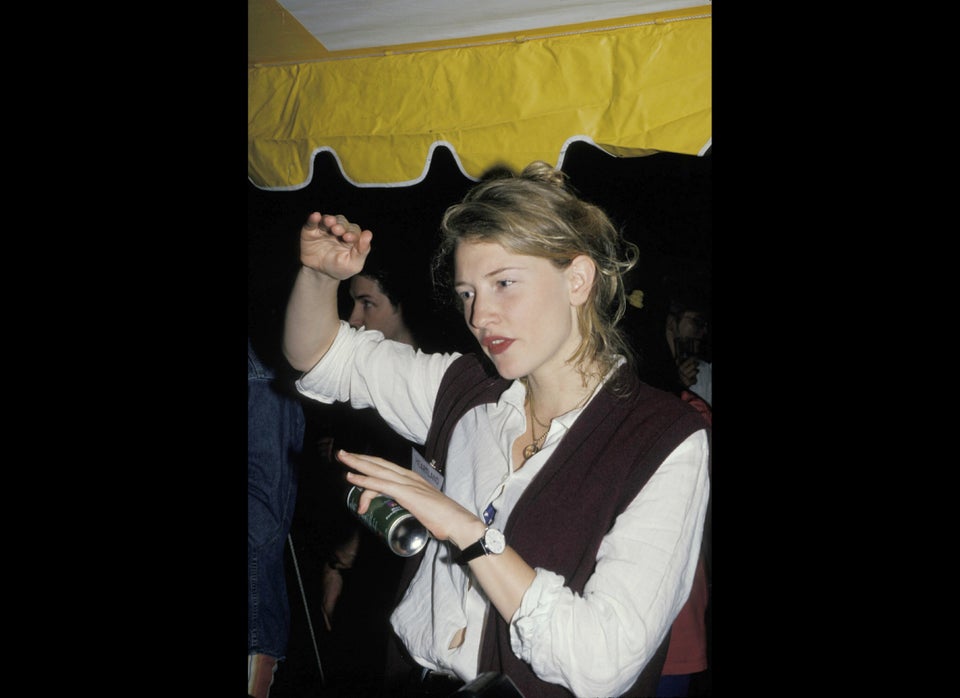 Cate Blanchett's Style Evolution
Related