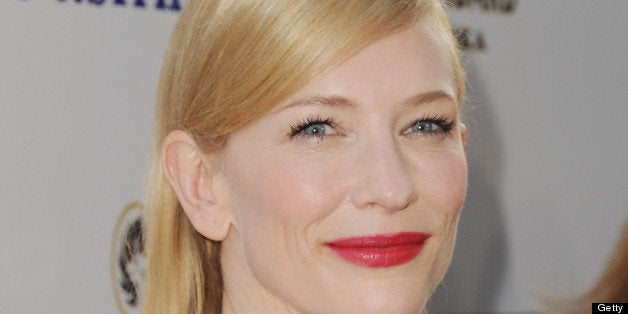 In the film, which opened on July 26th, Blanchett reportedly gives a strong performance as a former Manhattan socialite who is recovering from the shame that her husband engaged in questionable sexual and financial activities during their marriage. Playing a woman in the midst of a breakdown was no small feat for Blanchette -- not just emotionally, but physically as well. But when The Hollywood Reporter suggested that a vainer actress may not have agreed to look as physically weathered as Blanchett did, the Academy Award-winning actress insisted that she doesn't see herself in terms of her beauty.
"I didn't think I was that girl. I'm peculiar-looking, I think, she told THR's Scott Feinberg. And Blanchett considers her less-than-perfect looks an asset for her career. "I think it's lucky as an actor that you can sometimes look decent-looking, and then you can also look strange and, dare I say, ugly," she continued. "I think that's good as an actor."
This isn't the first time Blanchett has spoken out about embracing her natural appearance. When Marie Claire UK asked Blanchett if she would ever consider plastic surgery back in 2009, the actress said:
When you've had children, your body changes; there's history to it. I like the evolution of that history; I'm fortunate to be with somebody who likes the evolution of that history. I think it's important to not eradicate it. I look at someone's face and I see the work before I see the person.... You're certainly not staving off the inevitable. And if you're doing it out of fear, that fear's still going to be seen through your eyes. The windows to your soul, they say.
Though many would agree that Blanchett is far from unattractive, it's refreshing to hear an actress frankly discuss the way she looks -- not in terms of meeting or failing to fulfill a certain standard, but in terms of her actual career. Because "peculiar-looking" or not, Blanchett is first and foremost a talented actress.
Calling all HuffPost superfans!
Sign up for membership to become a founding member and help shape HuffPost's next chapter
BEFORE YOU GO
PHOTO GALLERY
Actresses Told They Weren't Pretty Enough