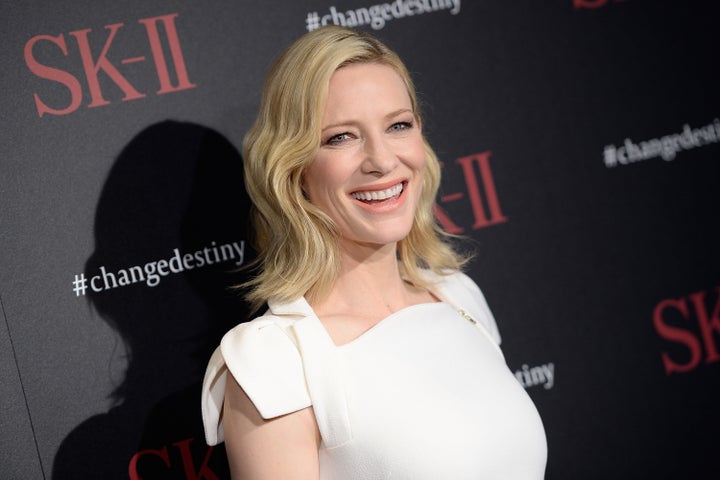 On Sunday, Cate Blanchett will spend her day getting ready for the 88th annual Academy Awards -- she'll get her hair and makeup done, put on a gorgeous gown, walk the red carpet and then sit among her Hollywood peers as the Academy celebrates some of the finest films and performances of 2015.
She's done this before, of course. The celebrated Australian star has won two Oscars (Best Supporting Actress for "The Aviator" and Best Actress for "Blue Jasmine") and has been nominated for several more, including Best Actress for this year's "Carol."
Still, Blanchett says, it doesn't get old; attending the Oscars feels new nearly every time.
"I've been fortunate," she told The Huffington Post in an interview. "Each time I've had the privilege of being there, it's with work that I'm proud of … I'm talking about the films -- because you don't get there by yourself. You have to be directed well and you have to be working opposite good people and you have to be lit well and have a good script."
All those pieces came together with "Carol." Directed by Todd Haynes ("I'm Not There"), the film, set in the 1950s and co-starring Rooney Mara, explores the romance that develops between an aspiring photographer and a woman in the midst of a divorce.
"Carol" wowed audiences in 2015 at the Cannes Film Festival, going on to become a critics' favorite in the lead-up to awards season. It racked up six Oscar nominations, including Best Adapted Screenplay, Best Cinematography and Best Supporting Actress for Mara. The film had been in the works for a while, stemming back to 1997, when Phyllis Nagy wrote the first draft of the screenplay. From the start, Blanchett believed in the movie and knew that as soon as Haynes and Mara came on board it would become something special.
"I'd been with the project for a long time and through a lot of ups and downs and I knew that this story, it was incredibly compelling. I found it moving. I found it unique -- speaking to the whole kind of notion that love is love is still kind of revolutionary, which seems kind of ridiculous in 2016, but there you have it," Blanchett said.
She describes the production of "Carol" as a labor of love for everyone involved, saying, "The experience of making it was incredibly unique and special and the film exceeded even the experience of making it."
So it comes as no surprise that Blanchett is looking forward to celebrating the film and all of the people behind it -- from the set and costume designers, to the lighting crew -- at the Oscars.
On Sunday, she will spend the day prepping for her red carpet appearance.
"For award shows, you have to get ready at the crack of dawn and sit in the car for four-and-a-half hours before you get on the red carpet and run the gauntlet," she said, adding that with all the hoopla comes a certain level of media scrutiny about looks and attire.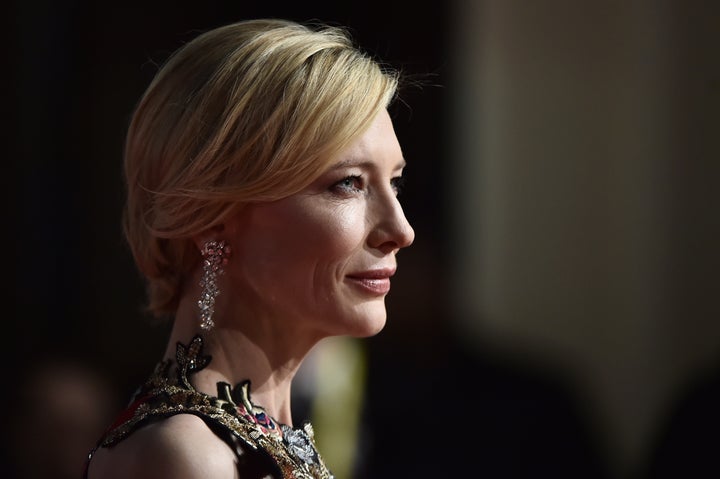 "I can only speak for my industry, although I think a woman's appearance is scrutinized in industries where that's utterly irrelevant," Blanchett, 46, told HuffPost.
That said, it's not utterly irrelevant in Hollywood. It's actually, oftentimes, the opposite in the midst of the paparazzi, media and critics. And Blanchett says that judgement over appearance and aging can actually affect the work itself.
"Particularly with women, there's an incredible amount of scrutiny on what you're wearing, how your skin looks, all of that stuff … Whilst you know I adore costume. I relish the chance to wear a dress that I may have no other place to wear in my life apart from a red carpet." But not, she says, when it "eclipses the reason why you're there," which is to celebrate the work itself.
"I think that there's an incredible amount of scrutiny, which can lead to pressure … It can lead to consciousness," she said. "In my industry, which I can only speak for, if you start to become self-conscious, it's actually the enemy of the place to make work from."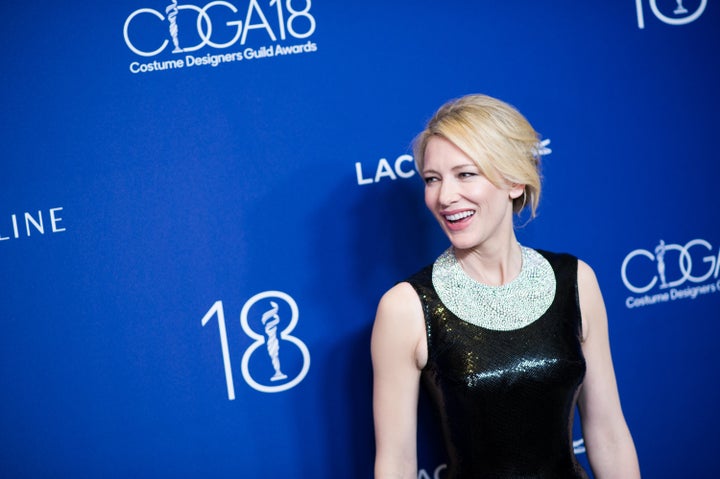 For her part, Blanchett tries not to overthink being under the entertainment microscope or get too overly conscious about looking the part. She does admit, however, that her skin gets "beaten around a bit with with the travel" -- not to mention spending some 80 hours a week on a film set.
In order to look and feel her best, Blanchett tries to get a good night sleep whenever she can, one of her top priorities. She'll sneak in a face mask while on the plane. Overall, she tries to keep things consistent. The mother-of-four started using SK-II products -- from the moisturizer to the serum -- about 15 years ago when she was pregnant with her first son. She still uses the same skin products today and has been a longtime spokesperson for the brand and its Change Destiny campaign, dedicated to empowering women.
"I think it's important to silo that stuff," she said about scrutiny, no matter what field you're in. "You realize that there are parts that you can take charge of. You can take charge of looking after yourself, if you have the time. You work with what you've got and you try to do the best you can."
CORRECTION: Due to an editing error, this article misstated the characters' relationship in "Carol"; the two women did not work together at a department store.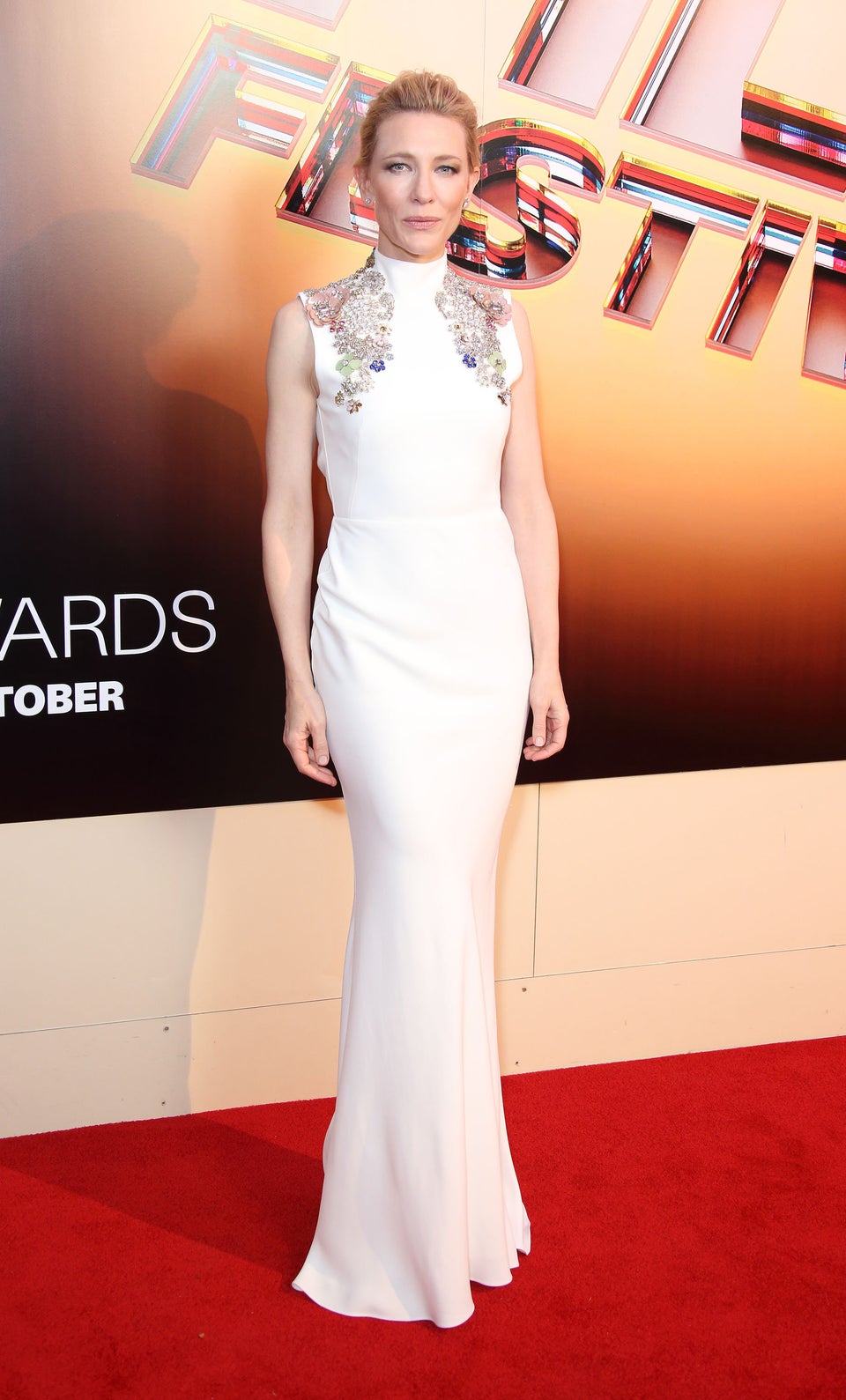 Cate Blanchett
Popular in the Community