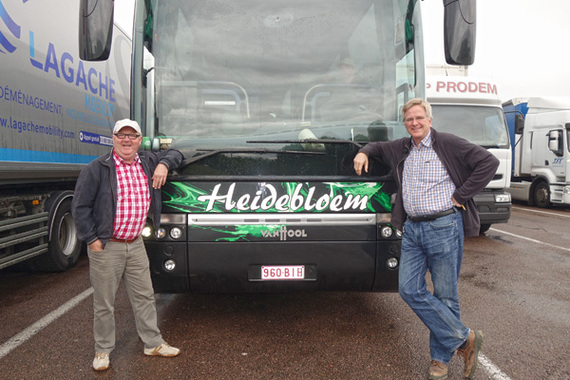 Joe--as he's done well over a hundred times before with our groups--drove masterfully from Amsterdam to Rome and up to Paris and was adored by all. After getting us to Paris, Joe had a five-hour drive back to his home in Belgium, where he enjoys a few days off before meeting his next Rick Steves tour group. I'm thankful that our bus drivers are a part of our traveling family. (Several times on this tour after a long drive, we'd walk across town for our group dinner. And, when we'd arrive at the restaurant, Joe would already be there...enjoying a nice glass of wine while awaiting our arrival. On other companies' European tours, the last thing a driver would do is join his group for dinner during his time off. Not so with our drivers.) It's always emotional for our groups when we unload for our last time and bid our driver farewell. Ciao, Joe!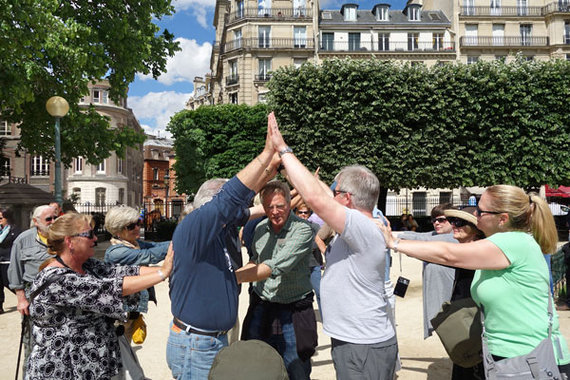 In Europe, most commercial tour guides are called "tour managers." They don't really teach--they run the tour. They hire local guides that come and go in various cities to do the teaching. On a Rick Steves tour, the guide is more than a tour manager. He or she is also a teacher, and we do what we can to lace together and curate all the information we pick up from our many local contacts. We work to give the lessons context and more meaning...to make the art and history graspable. One of my great tour-guiding joys is introducing a group to its first Gothic cathedral by "building" one out of our tour members before entering. At Paris' Notre-Dame, our guide Reid--knowing how much I always enjoyed this teaching stunt--asked me if I wanted to build a Gothic cathedral with our group. I jumped at the opportunity. Here you see me lining up our columns and making sure the buttresses are flying in with their support before erecting the spire.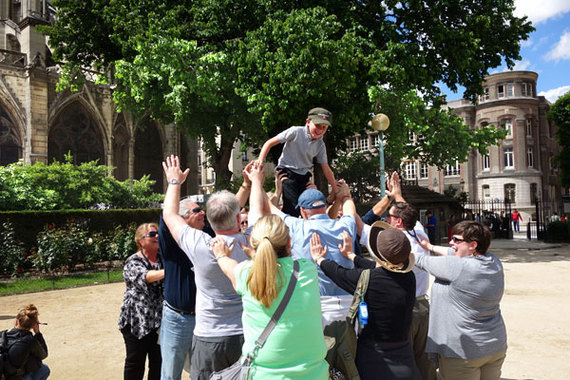 Standing in the shadow of Paris' Notre-Dame, our group built a Gothic cathedral with 13 tourists. With buttresses in place, columns strong, and ribs coming together at pointed arches in good Gothic style, we had created the skeletal structure of a Gothic cathedral. Little Brogan then hoisted himself high above it all, crowning our structure with a spire.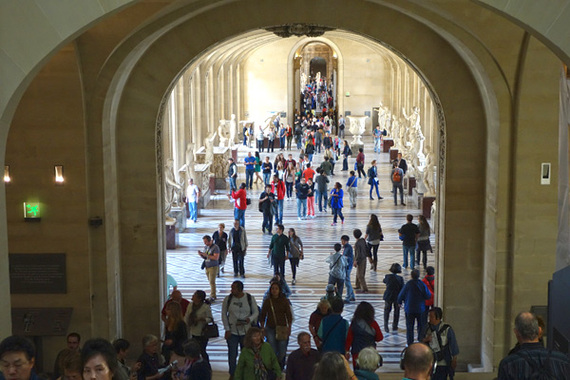 Europe's biggest palace, the Louvre, contains its greatest collection of paintings. It just makes sense: You have a revolution, cut off the king's head, take his amazing collection of art, hang it in his palace, and open it to the people. That's exactly what happened and, since the 1790s, the unwashed masses have enjoyed a royal collection of paintings.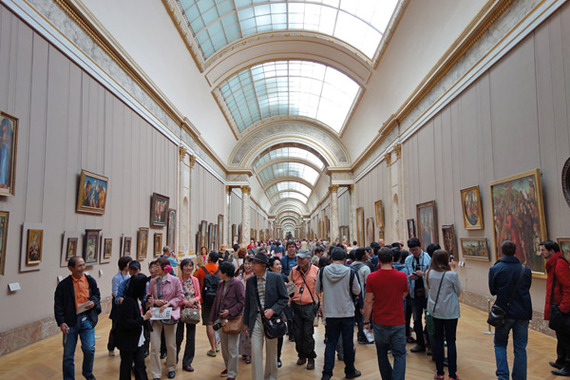 In its day the Louvre was the biggest building in the world. The Grand Gallery is about a quarter mile long...lined with amazing art.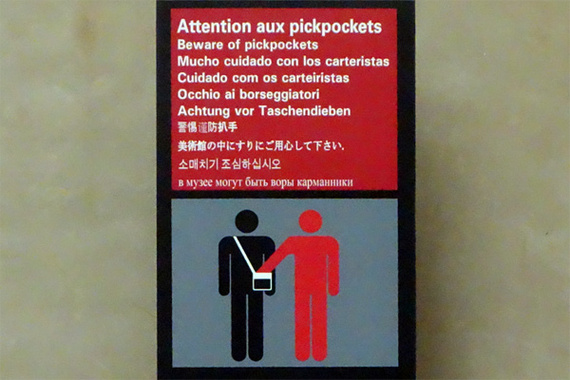 Even with warning signs flanking the Mona Lisa, pickpockets earn a fine living jostling with the masses as everyone ogles in front of Leonardo's smirking masterpiece.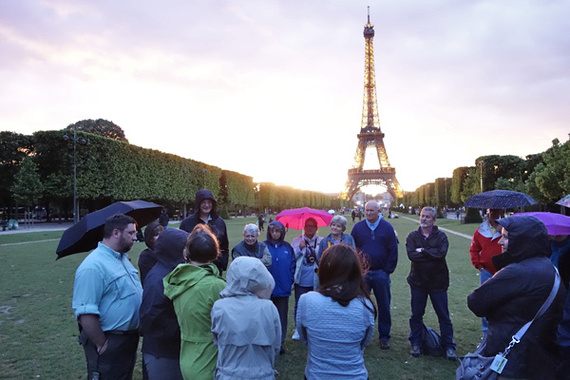 On our tours, each guide works hard to create a beautiful-and-memorable last evening together. Here in Paris, we stroll from our dinner restaurant to the Champ de Mars for a memorable send-off in front of the icon of European travel, the Eiffel Tower.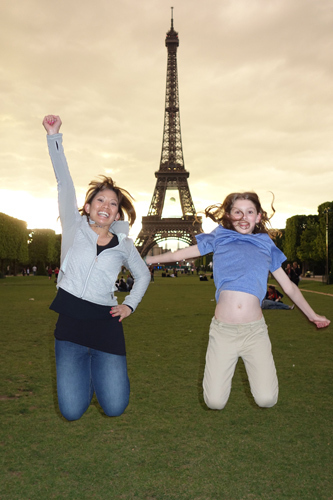 Sometimes, when you've shared a great European tour, you've just got to cap it with a joyful "jumpie." Happy travels!