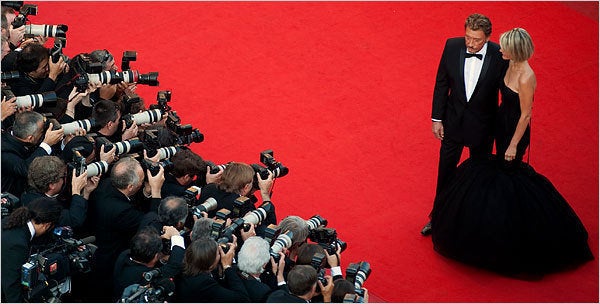 Angela Ismailos' Great Directors screened today: a film journey of interviews with a dozen contemporary directors, including David Lynch, Todd Haynes, and Agnes Varda. The most intriguing aspect of the film is the acute variance in how these directors perceive film: for some, film is political (Ken Loach), for others, a search for "truth" (Catherine Breillat), and for a very few, a cultural reconstruction of "narratives" (Haynes).
My favorite response: film as "magic", defined by David Lynch as that which takes one to an emotion "one can feel but not put into words."
From the screening, I biked off to a post-screening cocktail on the Baracuda Yacht, where -- after being thunderstruck by the array of fish hors d'oeuvres (including oysters in big grey shells!) - I found, sitting on a couch in the salon of the yacht, Catherine Breillat herself.
Breillat in middle, Ismailos right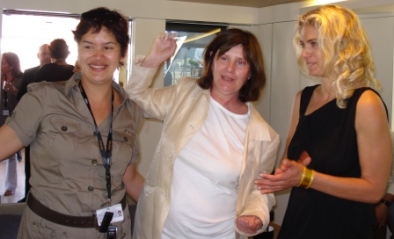 I had been intrigued by Breillat's comments about censorship (a couple of her early films were prohibited in France), as well as by one of her film clips, where a man tells a naked girl her female body hairs are disgusting, even if she shaves them.
"The French don't like me," said Catherine Breillat (who is French) tout court. " It is only thanks to the Americans that I am still a filmmaker."
"And why don't the French like you?"
"Because I make films that are outside their limits. I make films where women talk about sex."
"But the French say they LOVE sex!"
"Only if a man is talking about it," Ms. Breillat said -- as a live band next to us suddenly flared up a tune from the Gipsy Kings.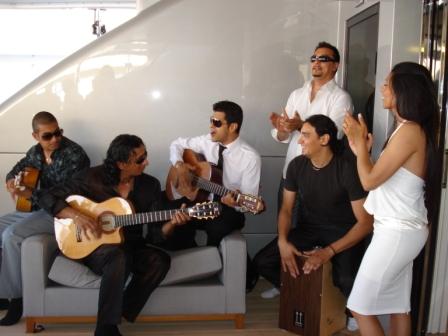 Grabbing one more salmon caviar petit-four (the cook appeared on the gangway with a silver tray), I dashed down the plank and off to the new Alain Resnais movie, Wild Grass, the plot of which is so dull it tires me to even describe it. Suffice to say that some French comedies are about nice clothes and houses (with some people inside), and here we have a jolt of culturally sexist values thrown in as well (perhaps Ms. Breillat is right). Three women are incomprehensibly drawn to an unpleasant, wrinkly old man (twenty years older), and -- with nonsense conversations -- the three of them share a sisterhood harem harmony. The penultimate ending shot is the four (including wife) taking a private plane together over the French countryside.
"Is it not over yet!" yelped the movie-goer next to me, a German journalist, putting her hands against her eyes as another scene flashed.

REAL LIFE. REAL NEWS. REAL VOICES.
Help us tell more of the stories that matter from voices that too often remain unheard.