Catherine Deneuve was not, at the outset, my favorite French actress. Not as playful or sexy as Brigitte Bardot or soulful and Everywoman as Jeanne Moreau, she seemed much harder to connect with in her icy perfection. It was impossible to imagine acquiring Deneuve's carefully constructed beauty even though you might tint your hair gold or buy a well-seamed dress: in the end, it was no more obtainable than Moreau's pouting lips or Bardot's belle poitrine.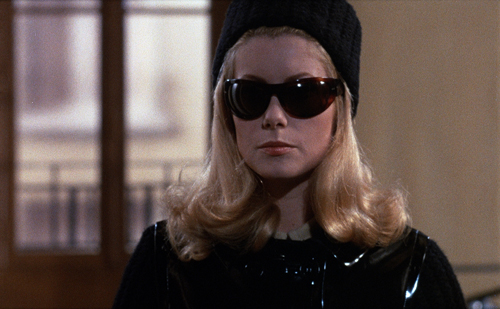 Today, Deneuve is being honored by the Film Society of Lincoln Center for her long and distinguished career. But though she has proven herself to be an actress of marvelous dimension with scores of film credits -- often many in the same year -- to my mind, there is none more worthy -- and contemporary -- than Luis Buñuel's 1967 Belle de Jour.
Nowadays, Belle de Jour might be better known for the English blogger who riffed under the borrowed moniker for a multi-part series of titillating dispatches from the front lines of female sexuality. But I urge women who have been downloading the E.L. James novel 50 Shades of Grey to their Kindles to instead take a look at the real thing, the very essence of no, no, no, yes, yes, yes.
Deneuve, who had done both Jacques Demy musicals (Umbrellas of Cherbourg) and Roman Polanski noir (Repulsion) before Belle de Jour became a symbol of disaffected womanhood by inhabiting her character Severine's fashionable blankness, a woman who cannot connect physically with her husband until warmed up by another man. Bored, idle, perfectly coiffed and turned out, she has nothing but time to conjure up more inviting scenarios with clandestine suitors under ski-resort tables, in lacy deshabille in coffins, in grassy fields with coachmen, and eventually to put them to actual use as an afternoon courtesan in her push-up bra and garters with thuggish young lovers, all of which sprang from co-screenwriter Jean-Pierre Melville's and Buñuel's conversations with real women about their fantasies. It turns out that the brothel they concocted-which Melville and Buñuel also based on their visits to real bordellos in Madrid -- had as many deviants, pimps and thieves as Severine's most ardent fantasies. But it's also a bit like home for Severine where champagne cocktails, idling away time reading the paper, doing crossword puzzles and, well, hanging around is practically seamless with her real stay-at-home life. As long as she can get back by 5.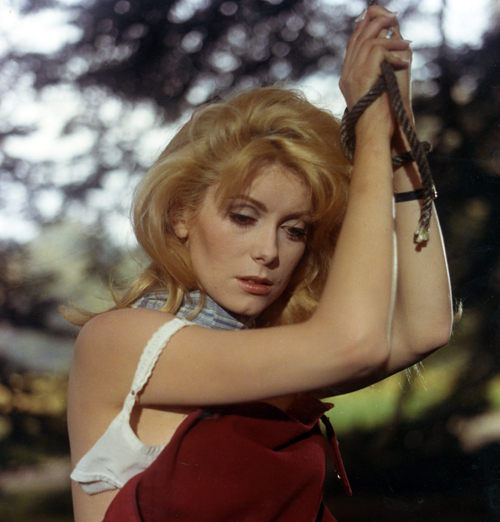 The film opens on Severine's masochistic fantasy (coachmen stringing her up and whipping her) but cuts quickly to reality (her husband in his pj's, she in her white nightie in separate beds) so in a matter of minutes we see the disconnect between the life she lives and the life she wishes to live, (generally signaled by bells or meows). Severine wants tough but she has a husband in a white coat and only finds relief from her lurid dreams in the harsh reality of high class hooking. For a while she manages to carry off both the loyal wife and the appealing, in-demand prostitute. But finally reality and fantasy collide when Husson, a predator in her social set who has been the passport to her new life becomes a go-between Severine's two worlds and pays a return visit to the brothel only to discover her secret pastime. Once he learns she's not virtuous, however, he loses interest. And once he appears in her demimonde of sex, Severine knows she can no longer slip away her other vie d'apres-midi. When her gangster-lover follows her home and discovers her fidelity to her husband, her real, married bourgeois life trumps her fantasy life definitively.
As Jean Seberg was to Jean Luc Godard in Breathless, so Deneuve was to Luis Buñuel in Belle de Jour, , something of a muse but also a bit of a pain as these actresses, though fairly early in their careers, chafed under their director's control. Godard handed the text to his actors the morning before shooting and Buñuel prepared his text meticulously but perhaps it was their very similar uncommunicative-ness that kept their leading ladies -- who trailed a new kind of not-so-in-your-face sexuality--so mysterious and intriguing.
Buñuel's tense collaboration with Deneuve precipitated a flowering of late work that has become his most famous along with the very early Un Chien Andalou. In both cases, it is about having an eye peer into another, surreal, world.
Deneuve said in an interview with Pascal Bonitzer that Belle de Jour was "not a terribly positive experience" -- she was 'very exposed physically ... They showed more of me than they said they were going to ... There were moments when I felt totally used." For his part, Buñuel later described her on-set prudery and the fact that he had not been the one to cast her, although he did have final approval. Buñuel said she was so shy at the time that the on-set hairdresser had to bind her breasts so they would not show.
Deneuve returned the compliment in a later interview with the Guardian,
"Well, I think it was difficult for him, coping with his deafness. Some people said he was not that deaf, but I think, when you don't hear very well and when you're tired, everything sinks into a buzz, and it is very hard. French is not his language, so on Belle de Jour, I'm sure that it was much more of an effort for him to have to explain. I've always thought that he likes actors, up to a point. I think he likes very much the idea of the film, and to write it. But I had the impression that the film-making was not what he preferred to do. He had to go through actors, and he liked them if they were easy, simple, not too much fuss. He would say very little to actors. But then, there weren't many ways to do the scenes. You couldn't really fool around with the script -- it was very precise.
To the The Advocate, a gay publication (Deneuve became a lesbian heroine in addition to becoming a fashion star), she would detail the sometimes unfortunate criss- crossing of actress to persona: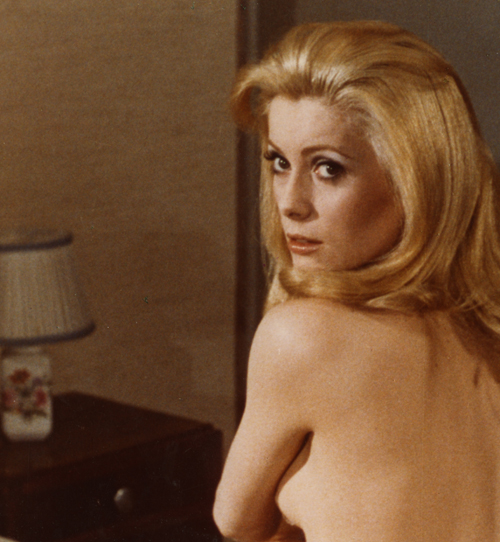 "When you are working on the sexual side of a character, things become very complicated. When you have to touch and kiss someone in a film, it is not any longer something that belongs to the character,it belongs to you... "
Roger Vadim, who became famous partially because of the sexy actresses whom he bedded and occasionally wedded (also Bardot, Jane Fonda) wrote of Deneuve,
"She had a very precise view of life to which she expected people and events to conform. Each year this attitude became more and more pronounced until at the height of success, she proved to be a domestic tyrant." In Belle de Jour,, it seems Deneuves's inner tyrant was allowed to come out and play.
But why should we conflate the real Deneuve with the fake Severine any more than Severine herself wished to have her two worlds overlap?
The kinky sex at the brothel and in Severine's imagination (and in some later roles) have made Deneuve a reluctant heroine to many subcultures who have taken her as a mascot -- she is the lady and the tramp, the victim and the vamp. Though early work played upon her beautiful svelte blankness, more recent films have taken advantage of her increasingly nuanced persona and more matronly form. She has worked -- in a sense tutored -- many generations of directors, and served as a continuing design inspiration for the Yves Saint Laurent hats and impeccably elegant coats she wears so well. At a Q and A last year at the Los Angeles County Museum of Art, she was smart, opinionated, and clearly in command of her career and her life. (She has four grandchildren).
Buñuel preferred the company of men but he made films that women could make their own. "I make a film and then set it free, Buñuel said in an interview published in the liner notes for the luscious Blu-Ray Criterion edition. He resisted over-interpretation, "If two see the film differently from how I made it's that's all right." Though Belle de Jour is saturated with symbols of the Catholic Church, love and death, Spanish-style repression and Freudian arcana, Buñuel found his best late material in poking fun at the bourgeoisie.
Deneuve and Buñuel made Tristana together a few years later, this time Buñuel requested her and they both had an easier time during production. Still, Deneuve would later say that though it wasn't her favorite experience or role, Belle de Jour "was such an important film for me. You can look at it today and still find it relating to the fantasies of women and men -- but mostly women."
Like the current Broadway hit Venus in Fur, the character of Severine stems from von Sacher-Machos and his particular take on the wishful depravity of women (as well as a 1928 novel Buñuel drew upon).
Criterion's re-release has plenty to offer on this subject. There is feminist commentary about morality and masochists, molestation and child abuse, forbidden pleasures and the origins of surrealism but it is the secret Severine and the triumph of the sexual life that makes the film so pungent. Best of all, say the feminist scholars, she breaks every rule and she doesn't get punished for it! An in-depth interview with co-screenwriter Jean Claude Carriere detailing the research he and Buñuel did for the characters, and a vivid fragment of a french television on-set interview with Deneuve in which she tries to make the best of what was obviously a novel situation for her enhance the supplements.
Is there a Belle de Jour syndrome? What is it about the afternoons from 2 to 5 that make straying so alluring? Severine neither works nor is a mother so her time is her own, no messy play dates or baking cookies or after-school sports benches to warm. Are hapless, hardworking husbands bound to be betrayed by thugs with black patent boots with holes in their socks so their wives are happier when they come home after work? Like Breathless, Belle de Jour ends ambiguously when her husband is gunned down on a narrow Paris street. We're not sure what will come of Severine despite her nun-like habit with white silk collar and cuffs. With her paraplegic husband effectively neutered and her dreams thus eradicated will we find her years later tricking on the Internet?
"Very good, Buñuel would tell an interviewer trying to pin him down about a certain version of the meaning of the film, " that is your Belle de Jour. What the film offers women though is a chance to conjure their own.
All images of Catherine Deneuve as Severine courtesy of the Criterion Collection.
Popular in the Community