An aspect of parenting that often shocks us is how very much our children teach us; often, our perceived role as shepherd, mentor and guide is turned on its head. A year after Catherine Violet Hubbard's tragic passing in Newtown, Connecticut, her mother, Jenny Hubbard, continues to learn from Catherine every day, and it's these lessons that inform Catherine's legacy.
Jenny describes Catherine's legacy of kindness as a natural passion that began in the backyard and open spaces of their town. Stories of Catherine galloping after butterflies and rescuing earthworms while her mother worked in the garden easily conjure up images of typical 6-year-old girls in the summer, but Catherine's mother knows her calling and connection to animals was stronger and clearer than the typical.
There was something that made her relate to them, and them to her, and it didn't matter whether they were in the ground, worms, frogs -- she was drawn to all creatures. I think passion is a gift, and I think that kids have an incredible ability to listen to their passion. There's something that they are drawn to and fascinated with, and for Catherine that was animals.

There was this grace about her that was remarkable to watch. Every kid finds a ladybug or a frog, and they put it in a jar with the twig and the leaf and so on. But for Catherine, it was never a challenge (when it came time to release it). She knew that these animals needed to go home, to go back to where they came from, because it wasn't fair to them otherwise. And we were always in awe of her, because she just knew. 'OK, I've enjoyed this animal, and we've become friends, and now I'm going to send it on its way.'

Animals were an early part of Catherine's life. The Hubbard's menagerie has included several pets over the years, including "Floppy" the bunny and "Swimmy" the fish. The family lab, Sammy, was ailing in December of last year, and has since passed, but was a constant presence in Catherine's life.
I think she was around 4 or 5 years old when we said 'OK, you can probably get an American Girl doll now.' And she loved her American Girl, she did. But, when it came to playing with it, she would play with it and the dog. In Newtown, we had half-day kindergarten, so we had afternoons together while her brother was still in school, and I'd offer to play dolls, and it was always 'Sure, you be the doll, and I'll be the dog!'
Family pets and other creatures are often a child's first practice at being kind in their navigation of the world around them, and perhaps this is why Catherine's compassion was so magnified, and so much bigger than the child that she was. Jenny agrees, but points out that Catherine's big heart wasn't unique to her at all.
I think that's just who (children) are at this age. They intuitively help each other. They're so innocent, and that's so refreshing. I think Catherine learned from all the kids that she was around, the kids she played with. It's just a general expectation that you're going to be kind and gentle, but I think unfortunately, as we grow, we learn how to not be kind and gentle. But I remember them as preschoolers and kindergarteners. They just love each other. Kids just love.
The Catherine Violet Hubbard Animal Sanctuary
The heart that Catherine had for her small friends of all species pointed to a clear choice when it came to honoring her life and legacy: the establishment of the Catherine Violet Hubbard Animal Sanctuary in Newtown. The Sanctuary, being built in association with both the CVH Foundation and The Animal Center, a Newtown-local animal rescue program, will serve as a haven for both children and animals alike, featuring classrooms, school programs, a butterfly garden and an art gallery, in addition to its animal rescue and refuge settings. Jenny describes it as a place that bridges Catherine's values to the world.
Oh, Catherine would be in the barn areas, for sure, or she'd be with the dogs and cats. She would never want to leave this place! That's really at the heart of any programming that we put into the sanctuary. We want to make sure that it would be a place that Catherine would want to go. The sanctuary is going to be centered on the values that we saw in Catherine: acceptance, compassion and determination. We want to give children the opportunity to connect, to interact with the animals like Catherine did. Sometimes, something as simple as locking a stall door -- kids want to do that. It gives them a feeling of giving back.
"It's an awesome acknowledgement of what Catherine's life is about, and to have an organization like this give her this honor is a validation of what we're doing."
Jenny's wisdom as a mother and the lessons that she offers parallel those of her daughter, although she points to Catherine as the teacher. She tells of Catherine's habit of slowing down, of taking a moment to appreciate the wooly caterpillar on the ground or enjoy the simple pleasure of greeting the dog after a day at school.
I think it's so important that parents really embrace that. Going through what we have gone through has made me appreciate those moments that I was able to give to Catherine. I'm grateful that I had that time with her. We forget that these kids are gifts that we can learn from, just as much as they can learn from us.

"Thank God that I'm able to say that I had those six years with Catherine, and that I got to learn from her. I would feel so awful if I had to think 'Oh my gosh, I wasted six years -- I have no idea what she stands for.

I would love to be able to go back and repaint the course of what we did that day, or just wallow in the pity. But I can't do that. It's not fair to Catherine's memory, and it's not fair to (our son). But what I can do is know that there's so much that we can all learn from Catherine and each individual that was part of that tragedy. Could we see through that six-year-old mindset? Could we slow down? Could we be kinder? Could we connect more?

There are so many different directions that we as a society can go. We choose to stay focused on the message that was Catherine...
When Catherine let her animal friends go, she would whisper a message to them: "Tell your friends I am kind." That kindness is Catherine's legacy to the world.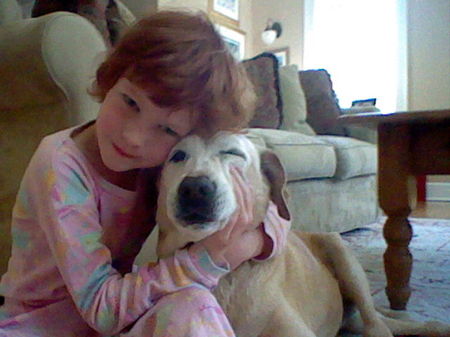 Photo courtesy of Matt and Jenny Hubbard

Learn more about Catherine's legacy and CVH animal sanctuary here.
Related
Popular in the Community