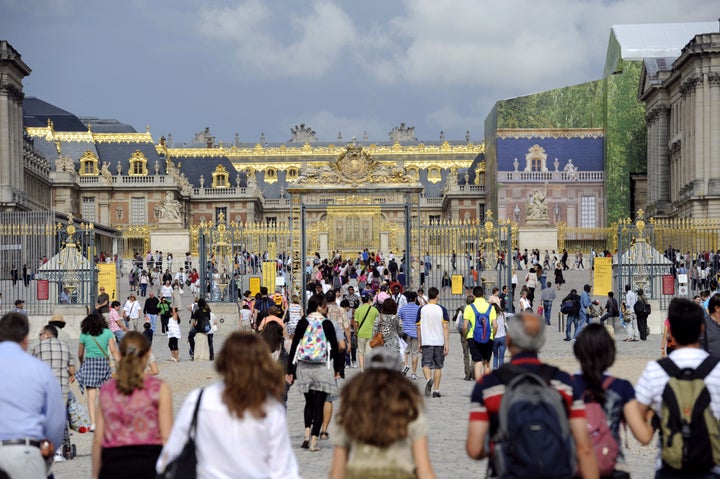 As one of France's foremost tourist attractions, the Palace of Versailles is subject to careful scrutiny; it comes as no surprise that French President Nicolas Sarkozy's appointment of a new director has become so controversial. Political journalist Catherine Pégard was appointed this week as Director of the Palace of Versailles, despite months of the French media questioning her lack of cultural credentials. Pégard has previously worked as an advisor to Sarkozy and as the editor-in-chief of the topical news magazine, Le Point, but has not had the experience in the arts or cultural heritage generally expected in such a position.
"The fact that Sarkozy wants to reward his colleague is in the natural order of things, but not with Versailles," Jean-Christophe Castelain, editor of Le Journal des Arts, said in an editorial. "Her appointment is a mistake... Thirty years in political journalism and a stint in the presidential cabinet does not equip her to run a complex site which employs 1,000 staff, has visitor figures of 3.5 million and a budget of €80m."
Her perceived lack of cultural affairs experience has lead some critics to believe that this is an unchecked display of political favoritism. Laurent Gervereau, President of the Museums of Europe Network, said in an editorial, "When the social elevator is broken...," he remarked, "to offer the rewards to courtisans is deplorable." Francois Krug of Rue 89 asks, "Did [Sarkozy] violate his promise of a 'perfect democracy' in which nominations would be made 'based on competence?'"
Xavier Darcos, a former minister, was expected to be the successor to the previous director, Jean-Jacques Aillagon, but has since run into problems with a government policy that states French civil servants must retire after 65. "The fact that Aillagon cannot extend his tenure beyond the age of 65, in spite of numerous exceptions to the rule, is one thing," said Didier Rykner, the editor of La Tribune de l'Art website, as quoted in The Art Newspaper. "But the appointment of Pégard is something altogether more outrageous."
The move came during a transitional period for Versailles. Under Aillagon, a controversial new program began, attempting to bring contemporary art to Versailles. Despite criticism from traditionalist groups, the initiative has brought the likes of Jeff Koons and Takashi Murakami to Versailles, with Portuguese artist Joana Vasconcelos slated for spring 2012. However, a exhibition of works by Maurizio Cattelan, also scheduled for 2012, is now in the hands of Pégard, who remains silent in the press after the appointment.
Calling all HuffPost superfans!
Sign up for membership to become a founding member and help shape HuffPost's next chapter