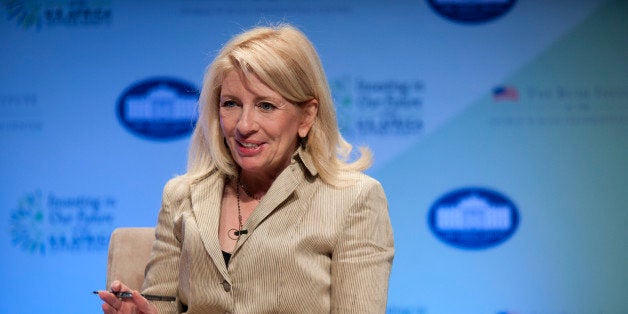 One way to increase the global gross domestic product, cut poverty and create jobs?
For Catherine Russell, the U.S. ambassador-at-large for global women's issues, there's an easy answer: Employ women around the world at the same rate as men.
"It comes down to understanding that gender equality isn't just good for humanity, it's good for business," she said at the U.S.-China Women's Leadership Exchange and Dialogue (WE-LEAD) forum Tuesday, citing that the U.S. GDP alone would increase by 5 percent if that were to happen.
WE-LEAD, which was sponsored by the State Department, brought together Chinese business leaders, representatives from Goldman Sachs and McKinsey & Co., and renowned female entrepreneurs to discuss how to effectively tap into one of the last underutilized resources: women.
Russell's kickoff remarks for the forum also touched on the second prong of her approach to tackling global female empowerment: combating domestic violence.
"There's... research that shows that domestic violence costs economies approximately 2 percent of GDP -- that's the same amount of money that most governments spend on education," she pointed out.
The Huffington Post sat down with the ambassador to talk strategy and the future of gender equality.
Tell us what your personal highlights of the WE-LEAD conference have been so far.
We spend a lot of time thinking about how we can work together with China, but the truth is when we get together and we talk about these issues, we have so many similarities in the experiences that women are facing in China and in the United States, and indeed everywhere in the world.
But to have us come together and have those discussions really personalizes it and makes it very concrete and real for us. Women in particular, I think, have a very great number of shared experiences. And just having an opportunity to discuss those in a relaxed forum like this is really helpful to us.
What are your top priorities for the Office of Global Women's Issues this year?
We have three broad priorities. And that's putting aside our overarching [priority] to integrate gender into everything the State Department does, and that's a huge endeavor. One is economic empowerment, and that's really a broader effort on women's participation, so that's participation in the economy, participation in the political and civic lives of countries, participation in things like peace negotiations -- all of those places where we want women to participate more fully in their countries.
Two, we do a lot of work on gender-based violence. When you think about just the cost, the personal cost, the individual cost, the violence. But also the cost to these communities in these countries is enormous. It's hard to really get a handle on that but to have those numbers really does illustrate just how dramatic that is. Obviously we see it in conflict settings, but we also just see it in homes.

From my perspective when I look at those girls, they embody everything we are trying to do here, every bit of potential that we are trying to embrace and enhance.

And then the third area where we are doing work is on analyzing girls. And that is a little bit of a new area for the State Department and for our office. Born really of what I've seen when I traveled, which is that you see girls at this sort of cusp where life can go one of two ways. And I see this all around the world. They can get an education, they can move into the workforce, they can make decisions about when and how often they're going to have children.
Or they can get married off early, end up in situations where they don't have control over their lives, where they are abused, where they are at higher risk of HIV, where their lives are just truncated, their opportunities are truncated, and all that potential is wasted. And for me that is the most compelling challenge that we have got to figure out, which is how can we make sure these girls have the opportunities that they deserve so that they can contribute fully to their societies.
Women invest at higher rates back in their families than men do overall. That means that their children get educated, they get immunized. So it's a good investment. From my perspective when I look at those girls, they embody everything we are trying to do here, every bit of potential that we are trying to embrace and enhance.
The office has been around for six years and you have been at its helm for two. What do you see as its future?
The president had a clear idea when he came in that women and girls are important and he wanted that priority represented in foreign policy, which is why he set up the office. Now we are at a little bit of a different phase, which is really applying some strategic coherence to the work that we are doing. And I think people are starting to understand pretty widely that they will be more successful... ultimately if they include all voices in their efforts, and that certainly includes women and girls.
So I think we're now at the stage where the argument has been made, the argument is largely understood, and now we're at the implementation stage. We're trying to do it in a coherent way. We're trying to do this in a more comprehensive way that recognizes that you can't just solve gender violence in and of itself. You have to look at all the issues that impact this.
So for example, you have to make sure the girls are staying in school, that they are participating in the political world in their countries, that they have economic opportunities. If you do things just as one-offs, they may be successful in doing what they're trying to do. Maybe you can write a law about gender-based violence. But if you look at it in a more comprehensive way and really try to address these issues holistically, you're going to be much more successful, and that's really the coherence and sort of focus that we're trying to bring to these issues at this point.

Of course, everyone is impatient for progress. That's what we all want, desperately. And we're pushing as hard as we can to get there.

Going forward, we want to continue to integrate gender, women and girls into the work of the department and into the overall United States government. My sense of this is certainly the president is a strong supporter of that.
I haven't found anybody who doesn't understand in our government. No one... says to me, "This is a waste of time." No one thinks that. Everyone understands that it's important. The question is just how do you do it. And it's not easy, but I firmly believe the way to do it is as comprehensively as possible.
World leaders have called for gender equality by 2030. What do you think this office is hoping to bring to the table for that movement?
Look, ideally we get to 2030 and people say, "Wow in the last 15 years we've made tremendous progress; women and girls are now equal, we're all set here!" But I think that the milestones are important because they put us in a situation where we stop and reflect on what we're doing. And it's an opportunity to stop and kind of reassess and say, "Are we headed in the direction we need to be headed in?"
Of course, everyone is impatient for progress. That's what we all want, desperately. And we're pushing as hard as we can to get there. But we are very mindful of the fact that there's no easy answer to these problems. We're going to keep pushing and keep trying and keep working on it until we get it resolved.
But look there isn't a country in the world where you have full equality of men and women. You don't have it in the United States. So to expect that we're going to have it in places that face much bigger challenges is a little unrealistic at this point. But it's certainly the place where we are all trying to move because countries are recognizing that they are ultimately not as successful as they would be.
But I think as countries move in this direction, we're all going to be better off. And I think it'll make the entire world more stable because countries will be doing better because they'll be invested in a secure and stable and peaceful future, and that's ultimately to everyone's benefit.
If you had one thing that you wish people knew about your office, what would it be?
I would like them to know that we are very interested in any ideas, thoughts and concepts that people are interested in sharing with us. Different ideas and solutions and proposals come from all walks of life, and we love hearing them.
People can engage with the Office of Global Women's Issues by emailing the ambassador at AmbCatherineRussell@state.gov, following @AmbCathyRussell on Twitter or signing up to get the office's quarterly newsletter.
This interview has been edited for clarity and length.
REAL LIFE. REAL NEWS. REAL VOICES.
Help us tell more of the stories that matter from voices that too often remain unheard.
BEFORE YOU GO
PHOTO GALLERY
First Ladies' Charitable Causes