The so-called "Hot Dog Hooker' was boiling mad at her recent court appearance after being arrested again for alleged prostitution.
Catherine Scalia, 47, earned her moniker after she was arrested in 2012 for allegedly selling more than just hot dogs out of her food truck in Long Island, N.Y. At her arraignment on Saturday, Scalia unleashed an angry tirade against police for targeting her, according to the New York Post.
"They keep framing me!" she told Judge Colin O'Donnell. "There was no money exchanged! I did it for free. I'm broke, I'm jobless."
Scalia's bail was set at $10,000.
MyFox New York reports that Scalia allegedly, "drove her vending truck to a hotel in East Garden City on Friday where she offered to engage in a sexual act with an undercover officer."
The amount of money purportedly agreed to was not disclosed, according to the station.
Scalia was arrested in May last year and pleaded guilty to prostitution charges, CBS New York reports. Despite her plea, she insisted she was just stripping for men as well as selling hot dogs.
"To the mothers and children out there, I will be selling the hot dogs in my bikini," Scalia said at the time of her 2012 arrest. "To all the guys, I'm gonna wiggle those weiners, we're gonna have a good time."
Before You Go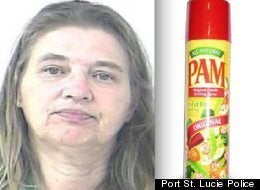 Bad Sex
Popular in the Community