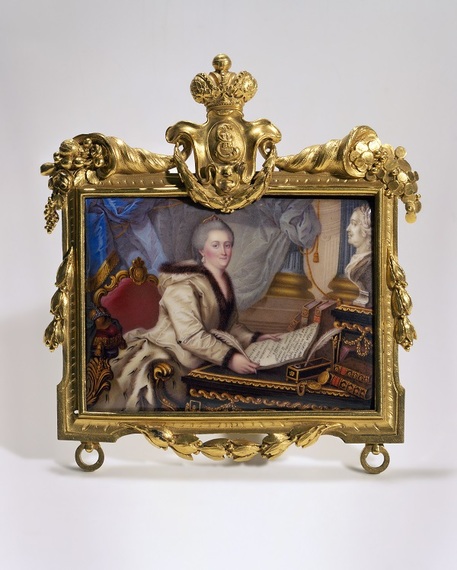 Unidentified Russian master, Miniature with a portrait of Catherine the Great, 1765-70, © State Hermitage Museum, St Petersburg
Though she preferred posterity to be her judge, Catherine II acquired the moniker 'Great' during her remarkable 34-year run as empress. Under her watch, Russia became a global superpower and St. Petersburg a sophisticated cultural capital. "Catherine, the Greatest. Self-polished Diamond of the Hermitage" at the Hermitage Amsterdam explores how a teenage bride from Germany seized the Russian throne and reinvented herself as Europe's most powerful ruler (June 18 to January 15, 2017).
Organized thematically, the exhibition traces Catherine's extraordinary life -- from her eighteen years as Grand Duchess and 1762 palace coup to her political savvy, foreign conquests, and consuming passion for art. Many of the show's 300 objects are packed with personal and political meaning, like the silk dress Catherine designed after a regimental uniform and a cobalt snuffbox with gold bees flying from a diamond beehive, representing her formidable work ethic.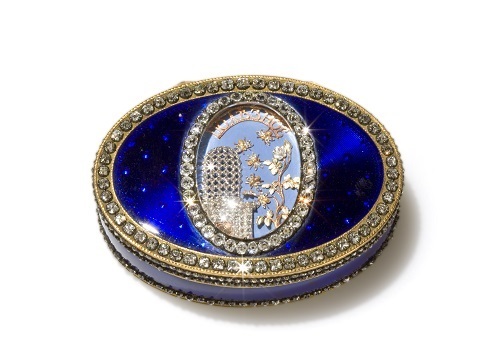 Snuffbox with the Device Useful, St Petersburg, Johann Gotlieb Scharff, 1780 © State Hermitage Museum, St Petersburg
A portrait gallery introduces us to the colorful cast of supporting actors, starting with her parents, her imbecilic husband Peter III, his jewelry-loving aunt Empress Elizabeth, and Catherine's sons. We also meet Catherine's "favorites" like Stanisłas August Poniatowski, her puppet King of Poland, and military strategist Gregory Potemkin, who she may have secretly married. But the most telling portraits are those Catherine commissioned of herself to fashion an enlightened image.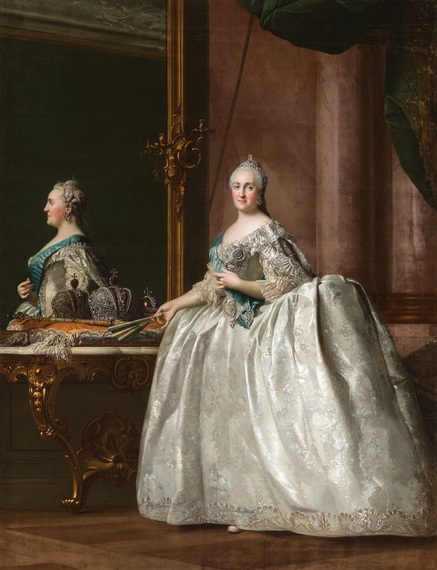 Vigilius Eriksen, Portrait of Catherine II in Front of a Mirror, c. 1763 Oil on canvas © State Hermitage Museum, St Petersburg
In Vigilius Eriksen's Portrait of Catherine II in Front of a Mirror, a charming Catherine stands before us in a silver embroidered dress, head tilted, holding a fan. In contrast, her reflection in the mirror captures the steely ruler who will wage war with the Turks, annex the Crimea, and partition Poland out of existence. Catherine's charming public persona lulled rivals into a false sense of security. As Prussia's Frederick the Great observed: "She's a living reproof to all those drowsy monarchs on their thrones who have no comprehension of the plans she is executing."
As part of her cultural campaign, Catherine went on a three-decade building spree. She embraced neoclassicism, the new design style inspired by antiquity. A series of aquatints, engravings, and drawings of ruins by France's Charles-Louis Clérisseau give us a sense of her obsession with architecture, which she described as "a devilish affair." Catherine also bought art by the boatload. With help from connoisseurs like French philosophe Denis Diderot and Russian diplomat Dmitry Golitsyn, she snagged entire picture galleries and commissioned works from Europe's leading artists. A sampling from her thousands of paintings and drawings are on display, including paintings by Anthony Van Dyck, David Teniers the Younger and Jean-Baptiste Greuze, and drawings by Paolo Veronese, Nicolas Poussin, and François Boucher. Combining energy and passion with a seemingly unlimited budget, Catherine went from a self-described "glutton" for art to the highly knowledgeable founder of the Hermitage Museum.
Catherine lavished many of her lovers with art. Examples of her largesse include seven pieces from the Sèvres Cameo Service she ordered for Gregory Potemkin. It took the illustrious French porcelain maker eight redesigns before the Empress finally signed off. Presented with the astronomical bill, equivalent to about $40 million today, Catherine negotiated an installment plan. Also on view is part of Catherine's gift to her beloved Alexander Lanskoy -- 15 pieces from an elaborate table decoration designed by Roman goldsmith Luigi Valadier for Baron de Breteuil. The neoclassical ensemble featured miniature Roman buildings and monuments in gilded bronze, marble, agate, and other gemstones.
Occasionally, Catherine's favorites reciprocated with their own gifts. As a thank you for his stunning porcelain service, Potemkin gave Catherine an angora cat she called "he of the velvety paws" and "the cat of all cats." Dashing Alexander Dmitriev-Mamonov caught Catherine's "gem disease" and carved her portrait in agate as Minerva, goddess of war and art. Catherine described her obsession with carved gems a "species of gluttony that spreads like scabies." By the end of her reign, she'd amassed a staggering 10,000 cameos and intaglios. Several dozen are on view, including Renaissance sardonyx portraits of Philip II of Spain and England's Elizabeth I. Pieces from the Berlin Dessert service, a diplomatic gift from Frederick the Great, feature scenes from the Russo-Turkish War.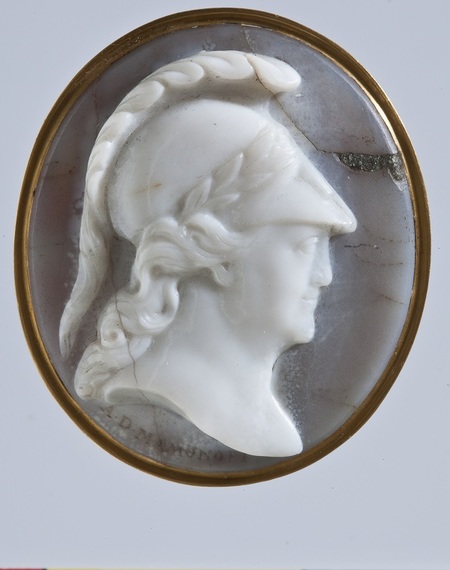 Cameo showing Catherine the Great as Minerva, Alexander Dmitriev-Mamonov, 1786-89 (?) © State Hermitage Museum, St Petersburg
Catherine spared no expense as she turned Russia's victories against the Ottoman Empire into an art genre, commissioning sculptures, paintings, and decorative works. To add authenticity to Jacob Hackert's Destruction of the Turkish Fleet at the Bay of Chesme, the naval battle was recreated by blowing up an old Russian frigate loaded with gunpowder in Livorno harbor. Also on view are an etching and a painting of Catherine's most successful propaganda project - the equestrian statue of her grandfather-in-law and role model Peter the Great. Unveiled in St. Petersburg for the centenary of Peter's coronation and twentieth anniversary of Catherine's accession, the tsar and his rearing horse stand atop a huge plinth bearing the inscription "To Peter I from Catherine II."
To some observers, it was Catherine the Great who stole the show. "I could not avoid during this ceremony," wrote England's envoy to Russia, "reflecting on how impossible it was that any successor of Her Imperial Majesty, who might...erect a statue in commemoration of Her great Actions, ever should be so much superior to Her, as she Herself is superior to Peter the Great, both in the art of governing, and in that of making Her People respected and happy."
Susan Jaques' biography, The Empress of Art: Catherine the Great and the Transformation of Russia was published in April by Pegasus Books.
Calling all HuffPost superfans!
Sign up for membership to become a founding member and help shape HuffPost's next chapter