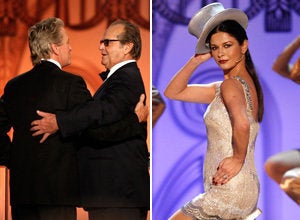 Michael Douglas received the 37th Annual AFI Lifetime Achievement Awards at Sony Pictures Studio Thursday night for his role advancing the art of film.
In addition to friends and colleagues like Sharon Stone, Warren Beatty, Annette Benning, Hugh Hefner, Tobey Maguire, Jane Seymour, Melanie Griffiths, Kathleen Turner, Kiefer Sutherland and Jack Nicholson, his 92-year-old dad Kirk Douglas came.
Wife Catherine Zeta Jones did a dance for her husband and the father of her two children. The Oscar-winner for "Chicago" reprised her Velma Kelly role onstage in a flapper dress and a white top hat.
Bob Dylan also performed.
Popular in the Community