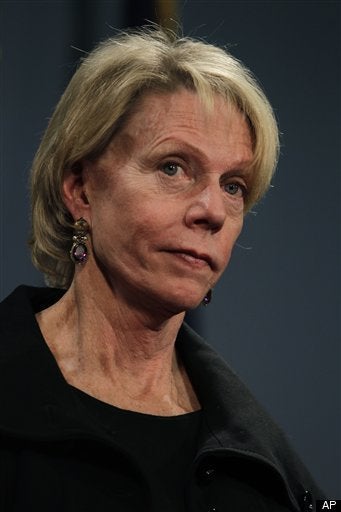 Cathie Black was greeted by a chorus of boos at Wednesday night's Panel for Educational Policy meeting in Fort Greene.
The loudest heckling was heard when Black mentioned her boss, Mayor Bloomberg, who was also booed on Monday during his Martin Luther King Day speech.
The meeting's chairman tried to quiet the jeering with a plea for "civility," but the crowd could not be silenced.
Parents of students at the mostly minority John Jay High School in Park Slope voiced their opposition to a plan to cram an "elite" new high school inside John Jay's building.
The proposal lead more than one resident to wonder if John Jay was about to go apartheid with funding going to a separate school that catered to white students rather than being invested in John Jay's existing mold-, asbestos-, and minority-filled classrooms.

"You are saying that our school isn't good enough for Park Slope residents," said Kwaesi Laguer, an 11th grader at John Jay. "Why don't you use the money to help make our schools better?"
The panel voted unanimously to bring the new school to John Jay.
Black spoke about what she'd learned on her tour of successful schools and also outlined her top priorities, including crafting a strong teacher evaluation system and putting more power in the hands of principals.

"I'm seeing what makes an effective school leader and how a strong school culture can contribute to learning," Black said.
Related
Popular in the Community