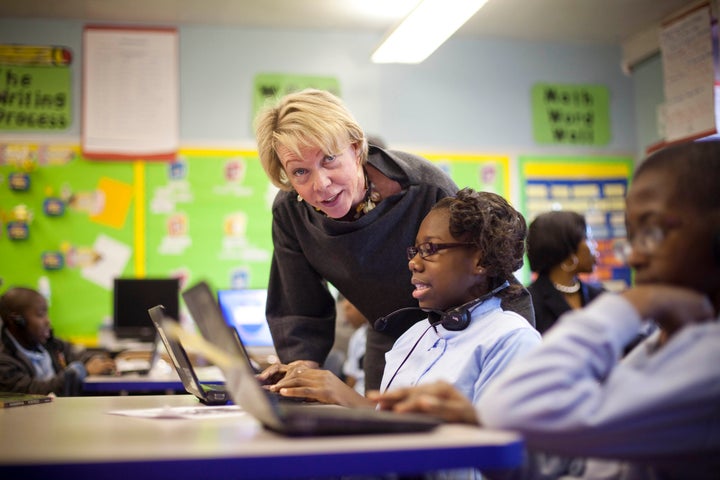 NEW YORK -- It was a day of tumult for the leadership that presides over New York City's classrooms.
Cathie Black, New York City's Schools Chancellor, is leaving just as quickly as she came.
On Thursday morning, the senior staff of the city's Department of Education gathered for an emergency meeting. Similar to an identical gathering held in November, when Black was announced as then-Schools Chancellor Joel Klein's replacement, news of her departure again came out of left field.
Word quickly spread. At an 11:30 a.m. press conference, New York City Mayor Michael Bloomberg announced that former publishing executive Black was out and longtime deputy mayor Dennis Walcott was in, pending a waiver from the state. Walcott held court over his new staff at an open-press meeting later in the day.
Later on Thursday, it was revealed that New York State Education Department Commissioner David Steiner was also stepping down from the post he's held since 2009. Steiner told the New York Times that the timing of the two announcements was merely a coincidence.
While the infrastructure of the city's schools was jolted to its core, it's unclear whether Bloomberg's missteps will have larger national implications. The appointment of Black, who had no prior experience in public education, baffled many both inside the New York's classrooms and across the country.
It has proven to be one of the most public embarrassments of the Bloomberg administration, now in its controversial third term. "It hasn't worked out as either of us hoped and expected," admitted Bloomberg, who said it was a time to look forward and not back.
Further, the events surrounding Black's departure may foretell the limits of mayoral control.
"We're seeing in the last year or so that the silver bullets are starting to lose their luster -- charter schools, merit pay and mayoral control," said Randi Weingarten, president of the American Federation of Teachers and a major figure in the country's debate about the role of teachers' unions in public education.
Despite Walcott's emphasis that he will continue executing Klein's policies and Bloomberg's vision for his 1.1 million students, Weingarten sees the shakeup as an opportunity to "reset the clock."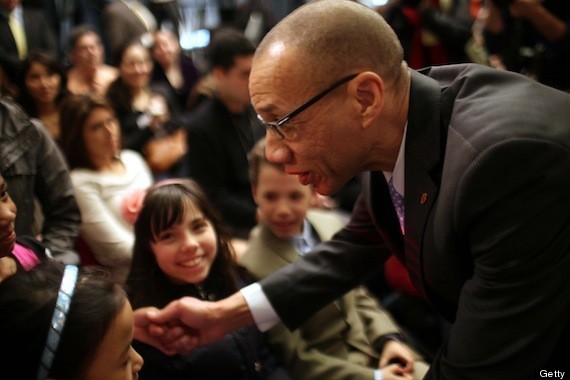 Bloomberg's follies might cause other cities on the hunt for a new schools chief to think twice before tapping someone with, for example, little experience in the classroom. Currently, Chicago, Atlanta, Providence, Detroit and Newark are seeking education leaders.
"What happens in New York always has repercussions elsewhere," said Diane Ravitch, a New York University education historian and former U.S. Assistant Secretary of Education who has since become a critic of what she sees as the corporatization of education policy.
"The superintendents come and go with great rapidity," she added.
Black and Steiner aren't the only ones who have fled New York City's school system.
Since Bloomberg appointed Black, roughly half of the city's education officials have left their jobs. Just yesterday, Deputy Chancellor John White also announced his exit. White is headed to New Orleans, where he'll succeed the departing Paul Vallas as head of the Recovery School District.
Added to the list of the recently departed: Eric Nadelstern, the former deputy chancellor for the division of school support and instruction, Photeine Anagnostopoulos, the finance director, Elizabeth Sciabarra, the admissions and school choice advisor and Santiago Taveras, a deputy chancellor.
David Bloomfield, who chairs the education department at the College of Staten Island, was not the only education expert who likened the exodus of Black's knowledgeable support staff to rats deserting a sinking ship. "This will go down in history as Bloomberg's education blizzard," he predicted.
Bloomfield joined others in viewing Black's resignation as long overdue. "The day Cathie Black was appointed, I was hearing from insiders that people were planning on getting out as quickly as they could," said Aaron Pallas, a professor of sociology and education at Columbia University's Teachers College.
Nadelstern, 55, said he left his post to spend more time with his family, for a more reflective job at Teachers College and to access his pension. He added that Klein's striking reforms brought attention to the district and its personnel, allowed White, for example, to be poached by another large city. He also noted that having eight deputy chancellors at one time was the result of formerly generous budgets.
"I don't think Black was in the position long enough for us to understand what she might have been capable of," said Nadelstern of his former boss.
Michael Casserly, executive director of the Council of the Great City Schools, recently met with Black and was taken with her charisma. At the time, he said she had every expectation of sticking around for the long haul.
At the afternoon gathering Thursday, Walcott said he intends to work with Black in whichever way she desires. He will become chancellor once Steiner signs a waiver allowing him to serve despite his lack of official state superintendent certification.
This time around, securing Steiner's go-ahead is likely to be less controversial than it was for Black because no one disputes Walcott's classroom credentials.
Walcott has long been a trusted aide on education policy, having served in the Bloomberg administration for nine years. He formerly taught kindergarten and was C.E.O. and president of the New York Urban League. A veteran of city's public school system, he graduated from Francis Lewis High School in Queens. Further, Walcott has two master's degrees -- one in education from the University of Bridgeport and another in social work from Fordham University.
Walcott's nomination figures in stark contrast to Black's Park Avenue address and public perception as an elite outsider.
"I'm just a guy from Queens, I'm just a city guy," said Walcott at Thursday's press conference.
Some wondered why Walcott hadn't first been appointed, allowing Bloomberg to avoid the Black debacle altogether.
"Rather than pick a darling of reform movement, Bloomberg has chosen someone that doesn't have to come in and learn the city," said Jeffrey Henig, a professor of political science and education at Teachers College. "He's thinking about it more clearly than he had the last time around."
Calling all HuffPost superfans!
Sign up for membership to become a founding member and help shape HuffPost's next chapter