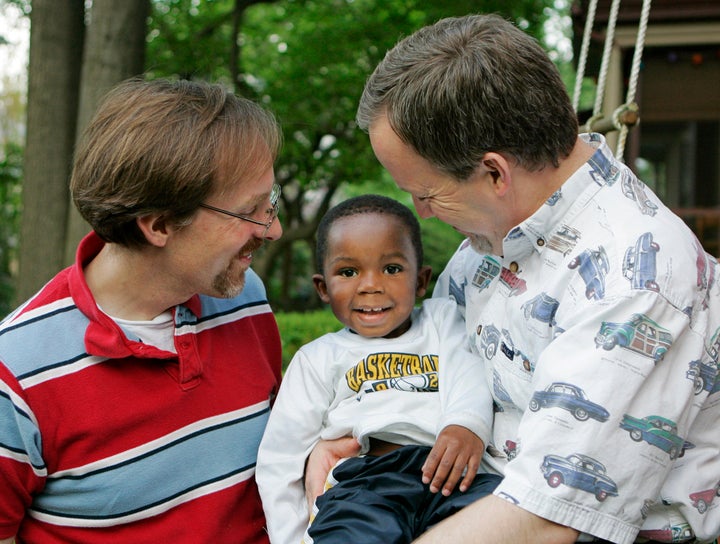 One of the largest adoption agencies in Illinois is threatening to turn away couples with civil unions, despite state law demanding they do otherwise.
Catholic Charities has more than 3,000 children in its foster care and adoption agencies, representing around 20 percent of all such services in the state, according to the Chicago Sun-Times. In recompense, the state pays the organization around $30 million a year.
But when the state's new civil unions law goes into effect on June 1, heads of those agencies are saying that they do not plan to serve gay couples in those unions.
"The Catholic Church is not going to be OK with Catholic Charities processing applications from anyone in a civil union," Trish Fox, the head of the Catholic Charities of Peoria, told Chicago Public Radio. "And all we're asking is that we can continue what we've always done, which is refer cohabitating couples, heterosexual or homosexual, to another agency."
The language of the civil unions law, though, is clear on the subject: if an agency receives state dollars, it cannot discriminate against same-sex couples -- that is, it must treat people in civil unions as it would treat married couples.
Anthony Martinez, Executive Director of The Civil Rights Agenda, said in a press release that it's as simple as that.
"If an organization receives state funding, they must serve all residents of that state equally," Martinez said. "I don't want my tax dollars to fund discrimination in any form, and that is exactly what the Catholic Charities are asking for: the right to discriminate."
Catholic Charities is hoping for an amendment to the civil unions bill allowing exemptions for faith-based organizations, allowing them to pass adoption applications to gay-friendly organizations without penalty.
If the state stops funding the agency, though, Matheson worries about the fate of the 1,500 children it has currently placed in foster homes around the state. "If we are forced out it is the children that are going to be affected, it's the families that they are currently with, it's going to disrupt their lives," she said.
Who would be to blame for such a crisis, apparently, depends on who you ask.
Calling all HuffPost superfans!
Sign up for membership to become a founding member and help shape HuffPost's next chapter