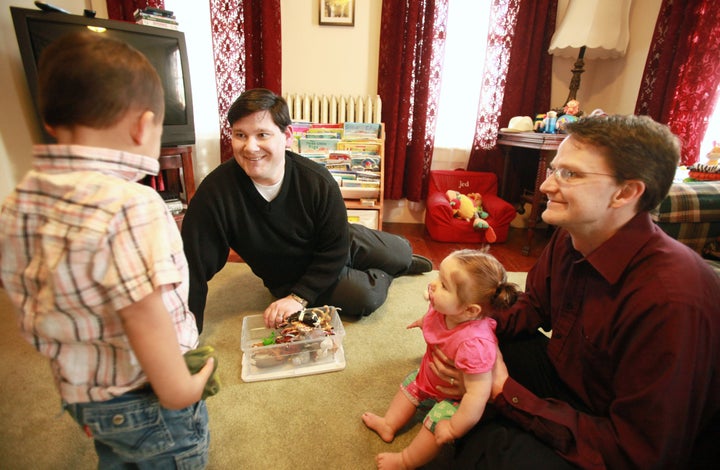 When the law was passed, Catholic Charities and other religious and conservative groups pushed for an amendment that would allow faith-based organizations to "decline an adoption or foster family home application" to a couple in a civil union if "if acceptance of that application would constitute a violation of the organization's sincerely held religious beliefs." A Senate committee voted down the amendment in April, and a House committee did the same this week.
"The law of our land has always guaranteed its people freedom of religion," Penny Wiegert, the Rockford Diocese's director of communication said in a statement. "Denying this exemption to faith-based agencies leads one to believe that our lawmakers prefer laws that guarantee freedom from religion. We simply can not compromise the spirit that motivates us to deliver quality, professional services to families by letting our state define our religious teachings."
Catholic Charities of Rockford handles about 350 foster family and adoption cases, according to the Rockford Archdiocese. They work with 11 counties in northern Illinois and have a state budget of $7.5 million. Today, the Diocese announced that they would transition out of their current contracts and terminate 58 employees when they drop the program.
Anthony Martinez, executive director of the Civil Rights Agenda, said this is a "sad day" for the foster families and parents involved with Catholic Charities.
"This is a sad display of bigotry by Catholic Charities, and their bigotry will now be harming children in their care," Martinez said in a statement. "It is equally sad that they would invoke 'Freedom of Religion' as they make this announcement. That freedom is granted only when the religious agency is not funded by taxpayer dollars, and they are well aware of that."
The Illinois Department of Children and Family Services, which has been following the case closely, will make sure the displaced children are taken care of, according to DCFS spokesman Kendall Marlowe.
"We are confident that we will be able to transition these cases to other private agencies," Marlowe said, adding that DCFS works with 45 other agencies that handle foster and adoption cases under contract.
DCFS handled about 1,000 former Catholic Charities cases in 2007 when the Archdiocese of Chicago lost its insurance and could no longer provide the services due to a $12 million lawsuit payment. The 2001 lawsuit alleged that Chicago's Catholic Charities had licensed foster parents who went on to abuse three children placed in their care.
So far, only the Rockford Archdiocese has announced the decision to stop its foster care program, but statewide Catholic Charities handles about 2,500 cases.
"The Catholic Church is not going to be OK with Catholic Charities processing applications from anyone in a civil union," the head of Peoria's Catholic Charities told Chicago Public Radio earlier this month.
If the Catholic Charities in Peoria, Joliet, Springfield and Belleville decide to drop their programs, DCFS will have a much larger caseload to pick up.
Fortunately, Marlowe said, Illinois has a "strong, private sector child welfare community" and--thanks to people like Jane Addams--has some of the oldest child welfare agencies in the country.
Martinez told HuffPost Chicago he was confident DCFS would "be able to quickly put those children into agencies that treat all citizens of Illinois equally."
Related
Popular in the Community