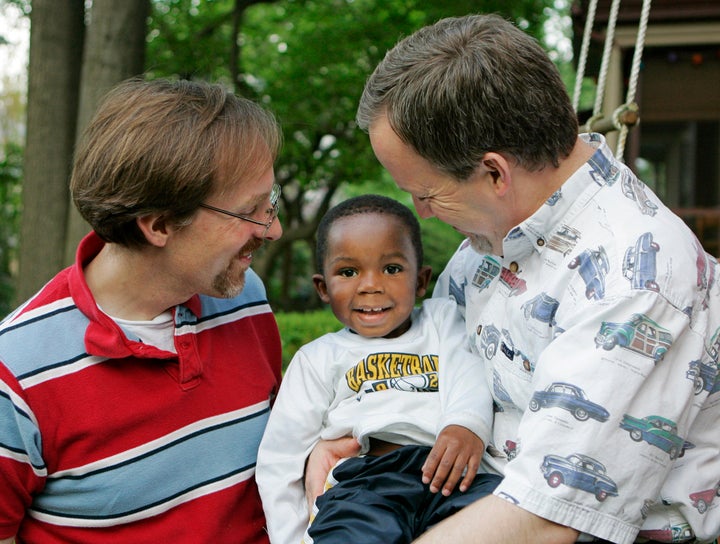 The battle between the state of Illinois and Catholic Charities escalated Tuesday, as lawyers for the charitable organization took legal action against the state in order to continue handling foster care and adoption applications their way.
Since Illinois Governor Pat Quinn signed Illinois' civil unions law, Catholic Charities has been working to get the legislation amended, allowing faith-based organizations to "decline an adoption or foster family home application" to a couple in a civil union "if acceptance of that application would constitute a violation of the organization's sincerely held religious beliefs." A Senate committee voted down the amendment in April, and a House committee did the same in May.
On Tuesday, attorneys from the Thomas More Society -- a pro-life, non-profit Chicago law center focusing on abortion-related issues -- filed a petition in a downstate court on behalf of Catholic Charities. The filing asks a judge to rule definitively on whether their foster care and adoption agencies could continue to turn away unmarried parents, including those in civil unions, despite receiving funding from the state. It targets the Illinois Attorney General and Department of Children and Family Services, who said they plan on enforcing new policies that would ban faith-based agencies from discriminating against same-sex or unmarried couples.
Peter Breen, executive director and legal counsel for the Thomas More Society, told HuffPost Chicago Tuesday that Catholic Charities is hoping the judgment will bring some clarity, and allow them to "operate in the same way that they've been operating for decades."
"Catholic Charities believes that it is fully in its legal rights to be doing exactly what its doing, and so now we need a court to definitely declare that," Breen said. He added that Catholic Charities does not receive any state funds until a child is actually placed with a couple, and the application process is paid for by the agency itself.
DCFS spokesperson Kendall Marlowe declined to comment on the specifics of the newly filed lawsuit but said his agency is currently in the midst of transferring the 350 some displaced foster children from the Rockford's Catholic Charities to other agencies.
Marlowe said his agency is open to exploring any options "in the short-term" that would help prevent any disruptions in the lives of children who may be displaced from Catholic Charities agencies. Currently, just under 2,500 children throughout Illinois are under Catholic Charities' care, approximately one-sixth of the state's total of 15,600 children currently under substitute care.
But in the long-term, he added, "there is no room for discrimination in child welfare." He said it is ultimately up to the state Attorney General to interpret the legality of the agencies' policies, a process which has been underway since at least March when the office began its review of the agencies' practices with relation to the state's non-discrimination laws.
Robyn Ziegler, spokesperson off the state Attorney General's Office, issued the following statement to HuffPost Chicago: "It's the role of the Attorney General's office to ensure that all organizations in the state follow the law, including the civil rights laws. Organizations that receive taxpayer funding to provide public services must comply with the law. Unfortunately, instead of working with the state to ensure compliance with child protection and civil rights laws, the dioceses have opted to go to court."
She added that the Attorney General's Office received letters from each of the associated dioceses' attorneys requesting to meet and discuss the issue earlier in the year but that the agencies did respond to subsequent attempts to schedule those meetings. Breen, however, said Catholic Charities requested meetings with the Attorney General's Office, but never heard back from them. When the civil unions law went into effect on June 1, he said they were left wondering what to do next--which is why the turned to the court for a straight answer.
While Breen said faith-based agencies are acting within their rights, critics say that declining adoption or foster care applications to unmarried couples is against the law.
"The most important consideration is what's in the best interest of the children who are wards of the state," said Benjamin Wolf, associate legal director of American Civil Liberties Union Illinois, which has been active in the ongoing quarrel involving Catholic Charities and two other faith-based agencies' policies on the issue. The Evangelical Child and Family Agency and Lutheran Child and Family Services have yet to formally announce whether they will continue to license foster and adoptive parents for the state.
"The agencies have done some wonderful work helping children live in safe, stable homes but this action deprives them the opportunity to live in the best place they can," Wolf added. "We're not asking anyone to solemnize, officiate or religiously recognize a civil union. The primary issue ought to be the children and not peoples' religious views."
Veteran Chicago gay activist Rick Garcia had several blunt words on the issue. He described the lawsuit as "absolutely enraging on so many levels" and targeted at gay and lesbian families in particular.
"They're fighting this not because they care for those children, they're fighting it because they are anti-gay to the core," Garcia said. "Maybe instead of Catholic Charities suggesting they shouldn't have to leave their faith at the door, maybe they ought to reflect on leaving their bigotry at the door."
Breen said his clients are not targeting gay couples, but are trying to adhere to their religious beliefs and continue providing a valuable service.
"That's not the focus here," he said. "We've got kids, they're being served well. ... [There are] plenty of places for [unmarried couples] to go. Not one unmarried couple is being denied through this process."
Calling all HuffPost superfans!
Sign up for membership to become a founding member and help shape HuffPost's next chapter