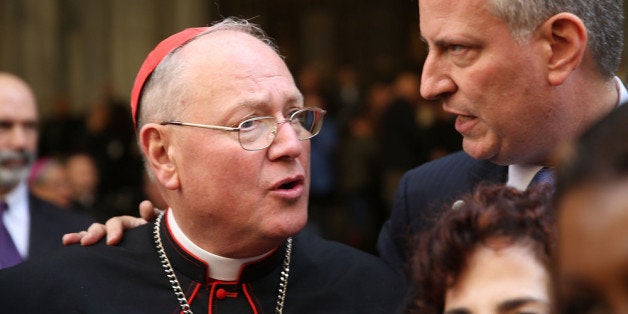 WASHINGTON -- Cardinal Timothy Dolan of the Archdiocese of New York said Sunday that Pope Francis' recent remarks on same-sex civil unions should not necessarily be interpreted as an endorsement of those unions.
Rather, said Dolan, the pope was suggesting that the Catholic Church should seek to understand why there is growing support for recognizing same-sex unions.
"If I saw the reports accurately, he didn't come right out and say he was for them," said Dolan in an interview with David Gregory of NBC's "Meet the Press." "Once again, in an extraordinarily sincere, open, nuanced way, he said, 'I know that some people in some states have chosen this. We need to think about that and look into it and see the reasons that have driven them.'"
The pope, said Dolan, was arguing that "rather than quickly condemn" civil unions, "let's just ask the questions as to why that has appealed to certain people."
Gregory asked Dolan whether civil unions would make him "uncomfortable."
"It would," said Dolan. "Marriage, between one man and one woman forever leading to life and love, that's not something that's just a religious, sacramental concern … It's also the building block of society and culture."
"If we water down that sacred meaning of marriage in any way, I worry that not only the church would suffer, I worry that culture and society would," he said.
Gregory also asked about Michael Sam, the University of Missouri football star who recently came out. "How did you view it?" Gregory asked Dolan, a native of Missouri.
"Good for him. I would have no sense of judgment on him. God bless ya," said Dolan. "Look, the same Bible that tells us, that teaches us well about the virtues of chastity and the virtue of fidelity and marriage also tells us not to judge people. So I would say, 'Bravo.'"
REAL LIFE. REAL NEWS. REAL VOICES.
Help us tell more of the stories that matter from voices that too often remain unheard.
BEFORE YOU GO
PHOTO GALLERY
SCOTUS Decisions On Prop 8, Defense Of Marriage Act