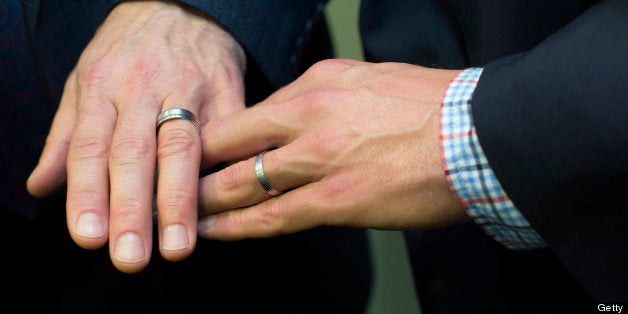 There will be a lot of celebrating this year at Pride events throughout the country especially in light of the Supreme Court's recent ruling on gay marriage. But can Catholics celebrate? Yes -- and they should.
Not surprisingly, the Catholic Church has already begun to soften their position on same-sex unions. But does that mean the Catholic Church will one day recognize same sex marriage as a sacramental marriage? Hopefully -- and for hope's sake, let's celebrate. As Catholics, we can and ought to celebrate committed relationships of love between persons. We can and ought to celebrate life-giving relationships of love, physically, emotionally and spiritually between two people. And in the words of Cardinal Christopher Schonborn, we ought to "respect long-term, committed relationships between people of the same gender."

Having said that, it is time to recognize that God's love is infinitely capable of growing and fostering a loving relationship between persons of the same sex. One of my favorite definitions for love comes from Pope John Paul II's theology of the body: "The communion of persons means existing in relationship of mutual gift."
As a mutual gift, each person has to be free to give of themselves to the other, and each person has to be free to receive what the other person gives. This is what creates unity. If I'm not willing to give of myself or receive what another person is giving, then there can be no unity. It is what St. Paul tries so hard to convey in his writings about becoming the one body of Christ. There can be no unity if I won't receive the gift of another. If I place conditions on which persons I receive in love, then I foster disunity and division rather than oneness. In committed relationships of love, two persons, regardless of orientation, freely and mutually give themselves to each other and receive in turn what the other person gives. This is what God intended, a mutual relationship of love, a gift of self freely given, relationship. Homosexuality is not a curse and it is not a cross -- it is as God meant it to be, a gift, an opportunity to love and to share one's life in love with God.
I realize that the hierarchy is a long way away from celebrating same-sex marriage as a sacrament. But we can hope that the spirit will continue to guide us and lead us and that one day we will celebrate as our county is celebrating - that God's love can be expressed and shared in life-giving relationships physically, emotionally and spiritually between two people.
In 2011, I attended my first Pride Fest, and if I had to sum up my experience in two words they would be: loud and proud. It was an amazing experience to witness, tens of thousands of gays and lesbians and their supporters being precisely that. Having lived for so long in a hierarchical atmosphere of silence and shame, it was liberating to be loud and proud -- albeit only for a moment and in another city to avoid being recognized.
That was in 2011 -- but things are different now that I have broken the silence that has been part of my life for so long. With that in mind, I have decided to march in this year's Pride Parade in NYC with the hopes that this experience will allow me to continue to move from a culture of silence and shame to loud and proud.
Calling all HuffPost superfans!
Sign up for membership to become a founding member and help shape HuffPost's next chapter