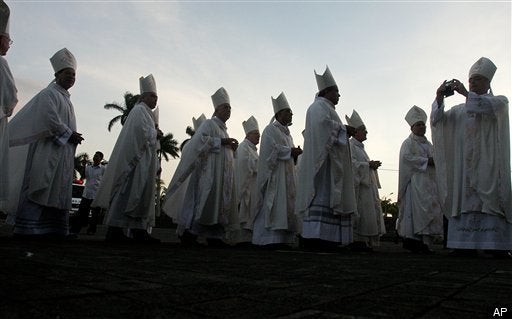 A few days ago, I wrote about Goldman Sachs's transition from a bank holding company into a public relations disaster machine. I argued that Goldman's CEO, Lloyd Blankfein, has been behaving like he wants to be attacked by a ferocious mob.
Now, it appears the Catholic church is determined to unseat Blankfein in the "Inexplicably Evil Organization Most Disconnected From Real People" category.
The Catholic Archdiocese of Washington said Wednesday that it will be unable to continue the social service programs it runs for the District if the city doesn't change a proposed same-sex marriage law, a threat that could affect tens of thousands of people the church helps with adoption, homelessness and health care.
Yup, that's right. If gay folk can marry, the Catholic church refuses to feed the homeless.
Well, that all seems very reasonable. After all, the state would force the Catholic church to perform gay marriages, and celebrate the beastly unions, right?
Under the bill, headed for a D.C. Council vote next month, religious organizations would not be required to perform or make space available for same-sex weddings. But they would have to obey city laws prohibiting discrimination against gay men and lesbians.
Oh. So this "Please Stop Being An Asshole, You Guys" law is really the thing that has sent the Archdiocese flying off a cliff. The child molestations, and filing sticky-fingered priests from diocese to diocese is all part of God's grand plan, but showing the slightest bit of consideration for gay couples is just too much.
Beyond being simply mean and intolerant, this is just a stupid strategy for the Catholic church to employ. It may be a symbol of religion, but the church is also a business that needs to expand its customer base, or it will become extinct like Greek polytheism or New Coke.
Young people, i.e. potential future Catholics, are very tolerant -- some might say accepting and supportive -- of gays and gay marriage: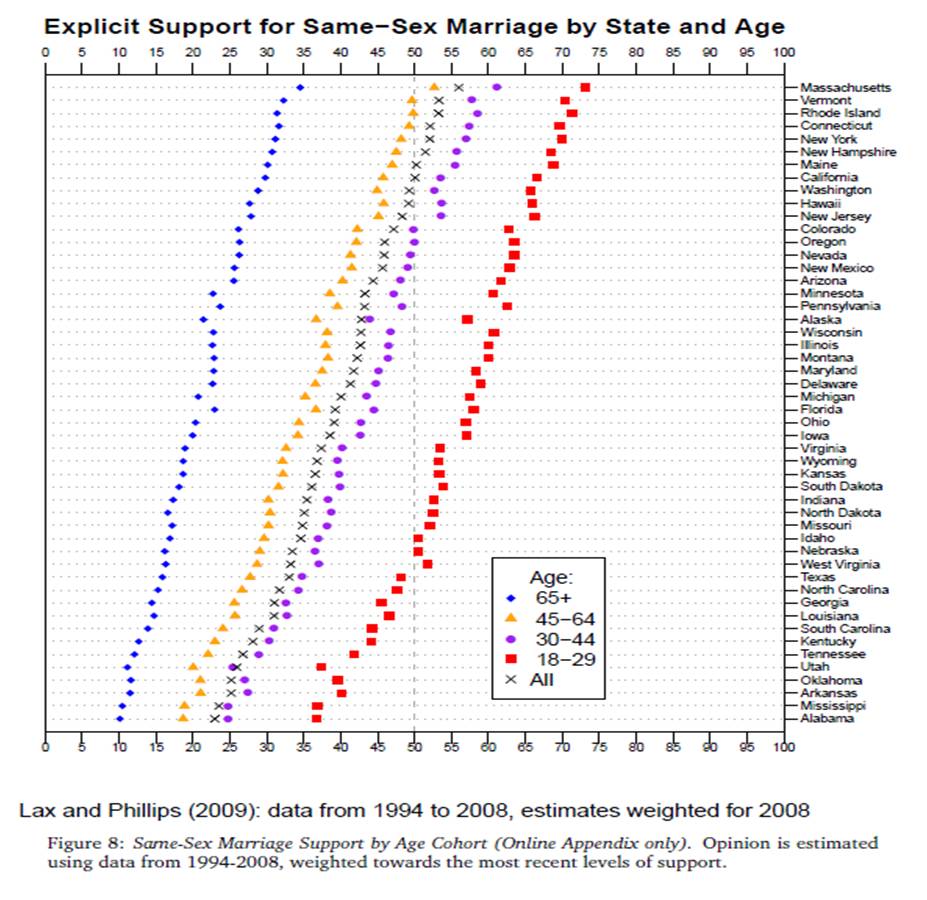 And don't give me that "It's in the Bible so we can't change our beliefs!" crap. Religions stray from the Bible's teachings all the time the second people realize they're being unspeakably cruel to a society's sect. The Bible was used to legitimize slavery, and yet we don't do that anymore, so surely Catholics can make the same jump when it comes to gay marriage.
Yes, the Bible said something that one time about "if a many lieth with a man, he be in really big trouble," or something, but the Bible also says you'll burn in hell for eating shellfish, and I guarantee lobster-eaters crowd the pews every Sunday all across this great land.
Second, non-Catholic Christians are the largest group in the country today: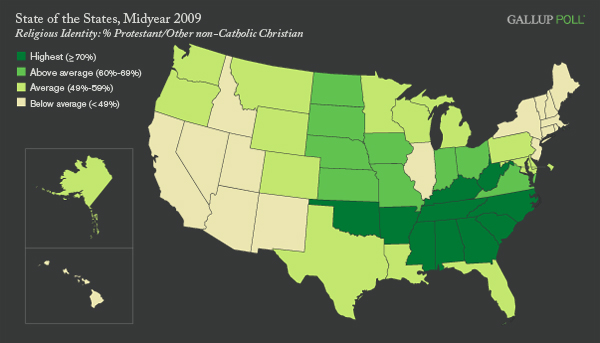 Less than a quarter of all American adults identified as Catholic between January and June of this year.
The Catholic church got so desperate to expand its ranks that it recently offered Anglicans sanctuary under the Virgin Mary's skirt, supposedly to hide from all of the icky gays and lesbians the Anglican church has embraced (in a Christ-like fashion, some might say).
Anglicans passed on the offer. This includes "heads of churches in Africa and the developing world, where anti-gay sentiment is especially strong, as well as in Canada and the United States." The message being: we hate gays, but we still prefer to avoid you guys.
As the Catholic church continues its march toward antiquity, I won't be shedding any tears. In addition to preying on the fears and prejudices of the unenlightened masses, I have no tolerance for tax-exempt pyramid schemes that take money from poor people to build golden houses in Italy for a decrepit former Nazi youth, who now wears a funny hat and occasionally blathers in a dead language about hating gay people, suppressing women, and always -- always -- refusing to wear condoms.
What's so strange is that the Catholic church itself seems determined to perish. Attitudes toward gay people are dramatically changing in this country, and yet the church remains stuck in its corner, fingers in ears, eyes shut, refusing to accept that the tide is turning.
Update
: In the original article, I wrote that Jesus condemned homosexuality
. However, that's not true. The condemning homosexuality bit is written in Leviticus. Sorry, Jesus.
Popular in the Community