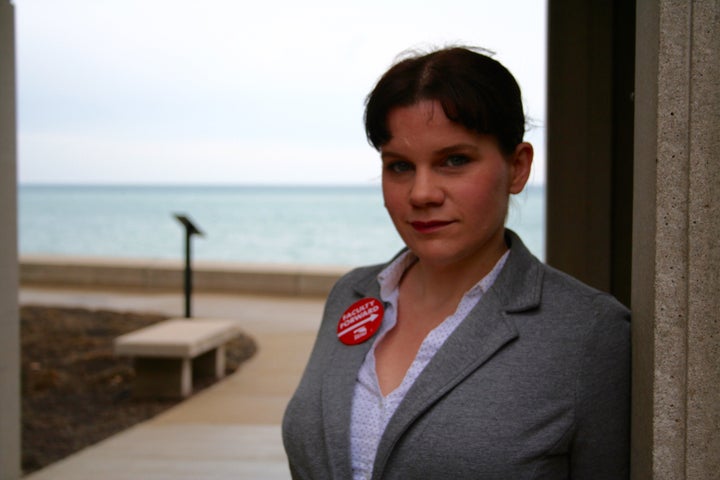 Joseph Fahey cherishes the Catholic Church's teachings on worker rights. "It's really beautiful teaching -- rock-bottom core, Matthew 25 stuff," says Fahey, a Catholic theologian. "A lot of Catholics would tell you that's why they're Catholic."
So Fahey took it as an insult to his faith when the Catholic school where he's taught for 50 years, Manhattan College, tried to prevent adjunct professors from unionizing. He was particularly galled because part-time adjuncts are among "the poorest and weakest people on campus," he says. In September, he dashed off a public letter on the matter, saying the school's trustees should be ashamed of themselves.
"This falls into the context of grave sin. This is serious stuff," Fahey, 76, told The Huffington Post. "They're violating their own mission statement that says the school is supposed to stand up for social justice. If they violate this [teaching], they may as well not call themselves a Catholic school."
Manhattan is one of a gaggle of Catholic colleges now holding up their spiritual mission as a shield against collective bargaining. At least four other schools -- Seattle University; Duquesne University, in Pittsburgh; Saint Xavier University, in Chicago; and Loyola University Chicago -- have recently sought religious exemptions from labor law that would scuttle faculty organizing campaigns.
Since at least the late 1800s, Catholic social teaching has recognized collective bargaining as a tool for social justice. Adjuncts and their allies say the schools are flouting Catholic principles by trying to deny teachers a path to join unions, particularly as Pope Francis rails against income inequality. The schools claim they are merely protecting themselves from government intrusion.
"It does make them squirm," said Daniel Kovalik, a lawyer for the United Steelworkers union, which has been organizing adjuncts at Duquesne. "If you look at their arguments on those issues, they're in a box. Going back to Pope Leo XIII, the Catholic Church has encouraged employers to recognize unions. With Pope Francis, it's even more embarrassing to take a position counter to that."
In a statement to HuffPost, Manhattan said its adjuncts play an "indispensable role" at the school, but it must be able to manage its relationship with them "free of [government] oversight." 
"We believe that it would be irresponsible not to question vigorously the right of the government to insert itself into decisions that directly affect the heart and soul of our institution, not because of opposition to employees or antipathy to the rights of working people," the college said.
Critics of that stance quickly point to Rerum Novarum, the encyclical on capital and labor issued by Pope Leo XIII. In this 1891 open letter to the Catholic bishops, the pope offered a few prescriptions for alleviating the "misery and wretchedness" he saw among the working classes of the Gilded Age. Near the top of his list was the right to free association with groups that can close the gap between rich and poor. "The most important of all are workingmen's unions," the pope wrote.
Just six years ago, in his encyclical Caritas in Veritate, Pope Benedict XVI wrote that his predecessor's appeal for unionism was even more relevant in an age of globalization. Unions, the pope said, were becoming too weak to effectively advocate for the working class. Calls to promote collective bargaining, Benedict urged, "must therefore be honored today even more than in the past."
Such texts aren't convenient to Catholic schools looking to stymie union campaigns, said Gerald Beyer, an associate theology professor at Villanova University who specializes in Catholic social ethics. Beyer recently penned a journal article in which he argued that Catholic universities have "no legitimate reason" for opposing the unionization efforts of their adjuncts, particularly by trying to stake out a religious exemption. If the schools want to avoid government involvement, he notes, they can simply recognize the unions through card check, a process that doesn't require going through the National Labor Relations Board, the federal agency that oversees union elections.
At stake, Beyer told HuffPost, is much more than a few isolated labor disputes.
"If we fail to model the values of Catholic tradition, then we say it's OK to violate it when we don't want to make the necessary commitment," Beyer said. "This [tactic] -- using legal recourse to thwart adjunct unions -- sows confusion and runs the risk of causing scandal. It cheapens the Church's witness to the gospel."
Over the years, U.S. colleges have come to rely on cheap adjuncts to keep costs down. Unlike tenured professors, adjuncts have no guarantee on their courses from year to year. The pay can be paltry and the benefits non-existent, forcing teachers to work at several different schools at once. The treatment of adjuncts became a national story after the sad death of Margaret Mary Vojtko, a longtime French adjunct professor at Duquesne.
Loyola is holding itself to Jesuit principles, but it doesn't seem to be practicing them.

-- Alyson Paige Warren, adjunct professor at Loyola
The discontent among many faculty members has made college classrooms fertile organizing territory for unions. More than 20,000 adjuncts, tenure-track professors and graduate student employees have unionized at more than 70 private and public schools since the start of 2012, according to William A. Herbert, director of the National Center for the Study of Collective Bargaining in Higher Education and the Professions at Hunter College, CUNY. "One element that permeates a lot of these cases is [the idea of] respect, and how the contingent faculty are being treated," Herbert said.
One of the most aggressive labor groups on this front is the 2-million-member Service Employees International Union, better known for organizing the likes of janitors and fast-food workers. SEIU says it has successfully unionized adjuncts and other faculty at at least 30 schools in the last three years. Several SEIU campaigns, including the one at Loyola, include not just adjuncts but non-tenure-track professors as well.
Alyson Paige Warren, an adjunct teaching English at Loyola, said she hopes union representation will give her colleagues a voice with the school administration. Like many adjuncts, Warren teaches at three different schools in order make ends meet. She is paid anywhere from a few hundred dollars to $4,500 per course each semester, without benefits. (Loyola, she said, pays on the higher end compared to other schools.) She said she never knows how many courses she'll have the following semester, or whether it will be enough to survive on. The 35-year-old still bears $60,000 in student debt.
She said she was "shocked" when Loyola asserted that federal labor law has no jurisdiction at the school.
"Loyola is holding itself to Jesuit principles, but it doesn't seem to be practicing them," Warren said.
Steven Christensen, a Loyola spokesman, told HuffPost in an email that the school does support the right of workers to join unions. But Christensen said that as a Jesuit school, Loyola should have the right "to define its own mission" and to do so "free from government entanglement." He said Loyola disagrees with the labor board's criteria for what makes a school a religious one under the law.
"While we agree that employee unionization is both valuable and just, the issue at stake here is about the freedom of 'religious institutions' from government interference with regard to their religious identity and mission," he said.
Two Catholic university groups -- the Association of Jesuit Colleges and Universities and the Association of Catholic Colleges and Universities -- supported Loyola in its petition seeking a religious exemption. The U.S. Conference of Catholic Bishops did not respond to multiple requests from HuffPost for a clarification of its own stance on adjunct unions at Catholic colleges. In a 1986 pastoral letter called "Economic Justice for All," the conference wrote that "no one may deny the right to organize without attacking human dignity itself."
For decades, religious schools of all kinds have sought to exclude teachers from collective bargaining on First Amendment grounds, with mixed success. In a 2014 ruling, the NLRB clarified how a college qualifies for a religious exemption. Not only must the school "hold itself out" as religious in its public image, the board said, but it must also hold out the teachers in question as "performing a religious function." The upshot: A Catholic school that purports to have secular classrooms can't avoid labor law.
Matt Williams, who teaches sociology and international studies at Loyola full-time, scoffs at the notion that he contributes to the school's Catholic atmosphere. Williams is a practicing Buddhist.
"They knew that when they hired me," said Williams. "I talked about it quite openly."
Christensen said Loyola would prefer to deal directly with its faculty, rather than through a union. "It is difficult to imagine how the [union] will be able to assist our deans, chairpersons, and faculty deliver the transformative education in the Jesuit tradition we promise our students," he said.
Not all Catholic schools have taken the hard line against the union that Loyola and Manhattan have. When SEIU submitted a petition on behalf of contingent faculty at St. Mary's College of California in 2014, the school did not seek a religious exemption. Citing its roots as a Catholic school in the Christian Brothers tradition, St. Mary's president said the "decision to unionize or not rests entirely with our contingent faculty and is theirs alone to make." The teachers voted 204-64 in favor of unionizing.
When Georgetown adjuncts began organizing in 2012, the school stayed out of the way. The relatively painless road to unionization stemmed from the school's "just employment" policy. Implemented in 2005, the policy guarantees Georgetown employees and contractors "the right to freely associate and organize" without opposition from the school. Fahey and Beyer say Georgetown's policy should be a model for other Catholic colleges.
The case of Manhattan College is still tied up at the NLRB. On Dec. 28, the labor board ordered an election for the Loyola faculty. Ballots went out this week and will be counted at the end of the month. Christensen said Loyola will "continue to work through the NLRB's process." But the school administration hasn't exhausted its legal options. It could still refuse to bargain with the union after a successful election, sending the dispute to federal court. Herbert said it is "highly probable" that one of the schools seeking a religious exemption will eventually mount a court challenge on the issue.
Williams, the sociology lecturer, said that if the Loyola dispute was really about religious autonomy, the school would have found a way to deal with the union without government involvement. One option would have been to go through a third party to have union cards counted and certified, rather than through the NLRB. But according to SEIU, the school declined to go that route, forcing the process through the federal government.
"It's hard to make sense of it unless you see it as a delaying tactic," Williams said. "Faculty unionizing is a threat to the university administration's power. It's easy [for them] to get caught up in their own little world of administering the university and lose sight of the larger social justice mission."
Correction: The original story misstated the number of adjuncts that have unionized since 2012. 
Calling all HuffPost superfans!
Sign up for membership to become a founding member and help shape HuffPost's next chapter