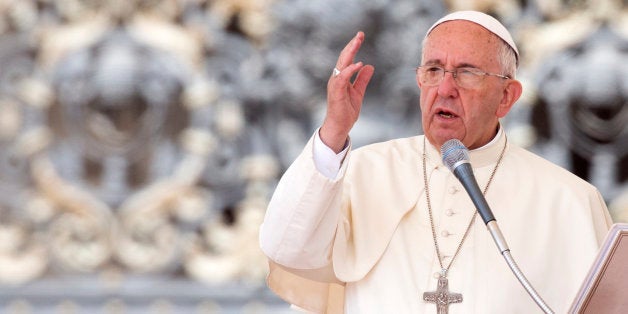 WASHINGTON -- Students at Catholic universities across the United States are hoping the pope's encyclical on the environment, which lays out a moral argument for addressing climate change, will help them persuade their schools to drop investments in fossil fuel.
"We know that technology based on the use of highly polluting fossil fuels -- especially coal, but also oil and, to a lesser degree, gas -- needs to be progressively replaced without delay," Pope Francis wrote in his June 18 encyclical. He pointed to an "urgent need to develop policies so that, in the next few years, the emission of carbon dioxide and other highly polluting gases can be drastically reduced, for example, substituting for fossil fuels and developing sources of renewable energy."
Student campaigns for divestment were already underway at the very wealthiest Catholic universities in the U.S. But so far, not a single American Catholic college or university has announced plans to divest in light of the encyclical.
Of the three wealthiest Catholic colleges and universities, only Georgetown has made steps toward divestment from fossil fuels. The school, which has an endowment of $1.4 billion, announced on June 4 that its board had passed a resolution to divest from "companies whose principal business is mining coal for use in energy production."
Georgetown was only the second Catholic university in the U.S. to make such an announcement. The University of Dayton declared its intention to divest from all fossil fuels in June 2014. Dayton's endowment was valued at $518 million as of last year.
The University of Notre Dame has the largest endowment of all American Catholic schools, at $9.8 billion as of last year. Students there have been campaigning for divestment since February 2014, and the group Fossil Free ND has asked the university's president, Rev. John I. Jenkins, to take up the cause.
Notre Dame officials made no mention of the future of the school's fossil fuel investments in their 2014 annual report. Their 2015 report is expected in the coming days.
The university did not respond to multiple requests for comment on its divestment plans, although it has highlighted faculty responses to the encyclical on its website. Ahead of the pope's encyclical, Jenkins wrote an op-ed in the Chicago Tribune arguing that the pope's statement "will be successful if it helps all of us -- whatever our religious convictions -- to progress toward a 'responsible collective answer' to one of the great challenges of our age."
Students with Fossil Free ND have tried to push Jenkins to act before. A representative of the group told HuffPost that they had presented Jenkins with Pope Francis' 2014 letter to the United Nations Framework Convention on Climate Change in which the pontiff encouraged "responsible" dialogue on climate change and cited "a clear, definitive and urgent ethical imperative to act" -- a letter Jenkins later quoted in his op-ed.
But when a student asked the president whether the school would divest from fossil fuels at a town hall meeting on Feb. 17, Jenkins argued it would be hypocritical to divest while fossil fuels were still used to produce energy on campus.
Garrett Blad, co-founder of Fossil Free ND, questions that reasoning. "We stressed the illogical nature of this qualm, but to no avail," Blad told HuffPost.
The group Climate Justice has been organizing to pressure Boston College to curb fossil fuel investments since 2013. But so far, the administration hasn't been responsive. "We respectfully disagree with your perspective, and we do not intend to divest," a university spokesman told the student publication BC Gavel several months after the divestment movement started.
The school has not taken action on fossil fuel divestment since then and did not respond to HuffPost's requests for comment on the encyclical.
Erin Sutton, a member of Climate Justice at Boston College, said the group is hopeful that the encyclical will shift the conversation. "Climate Justice at BC is well known on campus, but I feel as though our group, and divestment itself, have been stigmatized as a 'radical leftist' cause," said Sutton. "Divestment is radical -- radical in the sense that it gets to the root of a large, systemic cause of the climate crisis. But I'm hoping that with the pope's help, divestment and other activism around climate change [can] be seen as the sensible and urgently needed things that they are."
Even Georgetown's divestment decision was just a first step. The university's board of directors elected to divest from coal but not other forms of fossil fuels. Rachel Pugh, the school's senior director of strategic communications, told HuffPost that the encyclical is furthering conversations about what universities should be doing on this front.
"We believe that the energy and excitement that Pope Francis' leadership is bringing to conversations around the environment and how to best care for it will benefit everyone," said Pugh in an email. "And as a university we will continue to engage in this work."
But GU Fossil Free isn't satisfied. The student group, which has been advocating for full divestment since 2013, argues that just as the university uses its Catholic identity to justify not covering contraception under its student health plan, religious ideals should propel divestment.
"This is not just an issue that might concern facts, studies, statistics or data, but this is also an issue that concerns all of us in a deeply moral level," said Aaron Silberman, a member of GU Fossil Free.
The encyclical, Silberman argued, "could not be better positioned as a call to action" for Georgetown and other Catholic institutions "to sincerely engage with systemic change and reformation of every aspect of the university, including its endowment, so that we might be able to live up fully to that call to action that was present in the pope's encyclical."
CORRECTION: An earlier version of this story misstated Garrett Blad's name.
Calling all HuffPost superfans!
Sign up for membership to become a founding member and help shape HuffPost's next chapter
BEFORE YOU GO
PHOTO GALLERY
What Climate Change Just Might Ruin