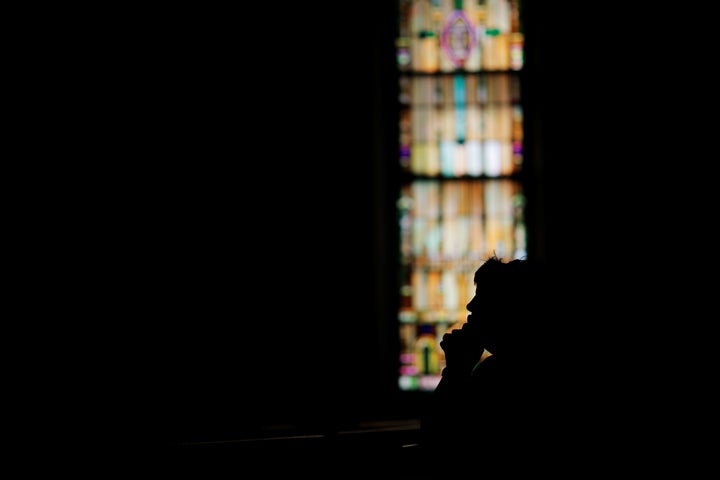 The Trump administration is poised to hand religious conservatives another victory: a slew of new federal rules that would give religious health care providers wide latitude to refuse to treat patients or perform procedures if doing so would violate their religious beliefs.
Some of the most powerful hospital networks in the country have lobbied for these "conscience" rules, claiming they shouldn't fear a legal risk for practicing medicine according to their religious beliefs. But those same hospital networks are already using religious justifications to place women in life-threatening situations with impunity, documents obtained by HuffPost show.
At a hospital owned by Ascension, the largest Catholic hospital network in the country and a staunch proponent of a rule that would give nearly any health care worker the right to refuse care, doctors refused to intervene as a woman was undergoing a life-threatening miscarriage because they believed that doing so would be the same as performing an abortion, the documents show. Instead, they carted her out to the hospital parking lot so a relative could drive her to a different emergency room, where she underwent a massive blood transfusion and emergency surgery.
Ascension, which operates more than 150 hospitals according to these same religious principles, also runs a hospital where doctors refused to perform a tubal ligation, even though the patient was at risk of dying if she ever became pregnant again. And at hospitals controlled by Trinity Health, a network that manages nearly 100 care centers around the Midwest, multiple women have accused doctors of withholding emergency medicine because it violated their prohibitions on certain kinds of reproductive health care.
One of the new rules, which the Trump administration proposed in January but has not finalized, would limit patients' and advocates' ability to protest these incidents. The rules would broaden and define the legal right of virtually any health care worker, from surgeons to nursing home attendants to receptionists, to refuse to provide or facilitate medical services that go against their personal religious beliefs or their employer's.
The reach of the new guidelines would be widespread. The American health care system relies heavily on Catholic and other religiously affiliated hospitals. Around 1 out of every 6 hospital beds in the U.S. is located in a Catholic facility, according to a 2016 report. That means for many Americans, the closest hospital is one that might refuse to treat them.
That's what happened on Oct. 25, 2012, when a woman arrived at St. John Hospital and Medical Center of Detroit in an ambulance. The woman was between 17 and 23 weeks pregnant — a point where an infant would not survive outside the womb — and in the midst of a miscarriage. Her condition was life-threatening and indicated that she needed an emergency termination to prevent the risk of bleeding to death, according to a complaint later filed by a medical staffer at another hospital.
"I'm not sure why you're here. We can't help you since you're having an abortion."
Doctors at St. John recognized they would not be able to prevent the death of the woman's fetus. But they refused to offer her emergency intervention.
"I'm not sure why you're here," a doctor at St. John told the woman, according to the complaint. "We can't help you since you're having an abortion."
For a hospital, failing to try to stabilize a patient in a medical emergency is a violation of federal law. St. John broke this rule, then violated regulations again when it failed to transfer the woman to another hospital, federal investigators determined. When the woman left St. John, her heart rate was elevated and she was bleeding so much that staff were constantly cleaning blood off her body, according to documents from the investigation. But instead of calling an ambulance, St. John staff gave her directions to another hospital, placed her in a wheelchair and wheeled her into the parking lot. An unidentified woman then drove her away.
"I think it was her mom or her aunt," one staff member told an investigator. "I just saw her get into a car with a woman. Do you know if she got care at [the other hospital] and if she is OK?"
In fact, once the woman arrived at Hutzel Women's Hospital, she had a miscarriage and underwent emergency surgery to stop a "massive hemorrhage," according to notes from the investigation. The woman had to be hospitalized for three days.
Several weeks later, a staff member at Hutzel filed a complaint about the woman's treatment with the Centers for Medicare and Medicaid for "multiple episodes of poor care." "It seems inconceivable that a major hospital with labor and delivery services lacks the ability to care for a pregnant patient who is having a miscarriage or postpartum hemorrhage," wrote the staff member, who is unidentified in the documents. "I believe that further investigation into these events is warranted to determine... why she received improper management of her life-threatening condition. She is interested in understanding also."
In an interview with a federal investigator, a St. John staff member said, "We are a Catholic institution and we do not perform abortions here if there are fetal heart tones." All of Ascension's hospitals adhere to a set of ethical guidelines written by the U.S. Conference of Catholic Bishops that bans abortion services or "material cooperation" in an abortion. The guidelines do allow doctors to perform certain procedures as long as the primary goal is not to terminate the pregnancy but to save the life of the mother. But in practice, many Catholic hospitals place a blanket ban on any procedure they consider an abortion.
Ascension is not the only Catholic health care system pressing the Trump administration to protect it from consequences for risking patients' lives. Trinity Health, which has lobbied the Trump administration to dismantle an Affordable Care Act rule prohibiting gender discrimination, owns and operates several hospitals that have been accused of violating federal laws requiring hospitals to provide patients with basic care. One woman accused a Trinity hospital of refusing to remove her intrauterine device, which had been dislodged when she fell down, causing her weeks of pain.
Mercy Health Partners in Michigan, which Trinity owns, risked the lives of five women who were having dangerous miscarriages by failing to offer a kind of medical intervention the hospital considered to be abortion, a whistleblower told federal authorities. All of the women suffered potentially fatal infections for which the typical treatment is to hasten the miscarriage. The whistleblower later reported three more cases where medical records suggested the hospital withheld certain treatment options because of its Catholic affiliation, according to federal records obtained by HuffPost.
A spokesperson for Mercy Health Partners declined to comment. Ascension did not respond to a request for comment for this story.
Religiously affiliated hospitals already rarely face consequences for refusing to provide treatments. Under former President Barack Obama, the Department of Health and Human Services made a brief and perfunctory threat to suspend St. John's right to participate in Medicare, but dropped it once St. John took "corrective action." Trinity Health did not receive any major citations for breaking any laws after federal investigators received the complaints about Mercy. And courts have dismissed a string of lawsuits against Catholic hospitals for refusing reproductive health care.
With the new rules in place, they could enjoy even more protection.
Popular in the Community