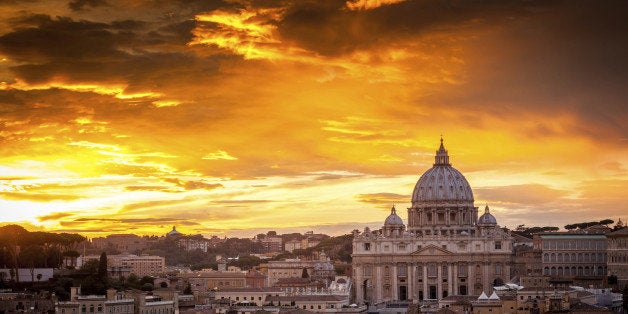 I sometimes think that the most meaningful difference between Catholic novelists today and half a century ago (when Graham Greene, Walker Percy, and Flannery O'Connor ruled the literary roost) is, well, very little. Those writers were not interested in being labeled with their religious tradition (except for O'Connor, who even once called herself a "thoroughly Christianized novelist"); neither are Alice McDermott and Christopher Beha, today.
Other times I think that there are simply Catholic novelists who accept invitations to speak at conferences about being one, and there are those who don't. No one's ever going to find Cormac McCarthy behind a podium at a Catholic university. Nor, I suppose, Dean Koontz, who's surely the bestselling writer of fiction in the world today who happens to be Catholic. Both men occasionally write about fallen souls and the struggle for redemption. See, for example, McCarthy's post-apocalyptic The Road, and Koontz's Brother Odd, in which a monk makes decisions based on unseen influences.
To ask a novelist if he's Catholic is often to provoke him and force a denial. What artist would want to be tagged with an agenda? Witness William Giraldi. He's one of the few novelists today taught in Catholic universities as "Catholic," but he disavowed the label last year in The New Republic. "Confessions of a Catholic Novelist" revealed that he hasn't been a believer since 18. He wrote: "Here's what I know with an almost religious surety: to be tagged a Catholic novelist is to be tagged a failed novelist." Seven years earlier, Giraldi wrote for Believer magazine "A Devil-obsessed Conglomeration of Christian Misfits", in which he quoted St. Augustine from City of God, compared early Protestantism to Renaissance Catholicism on evil, referred to the Salem Witch Trials and Jonathan Edwards, defined biblical terms like Sheol, and quoted from the Book of Daniel. A Catholic imagination is at work despite the denials, and with or without the cooperation of belief.
We still have Catholic novelists and Catholic novels, but curiously, mainstream publishers are hesitant to use the label. Fifty years ago, publishers would market to Catholics a novelist who writes about Catholics. At least one blurb on the jacket, for instance, would quote praise from Commonweal or America. Novels by Mary Gordon and Ron Hansen haven't done this for decades and their sales have likely suffered as a result.
We will never agree on what it precisely means to be Catholic or to write a Catholic novel. And another essay might be written on what it means to read, not so much write, as a Catholic. But in the spirit of Father Andrew Greeley, let me suggest that Donal Ryan is overflowing with Catholic imagination. Ryan is one of the most powerful young novelists today. The Thing About December might restore faith in Catholic fiction even though its author is known as more Irish than Catholic. Born in 1976 in Tipperary, he now lives near Limerick City. There's nothing confessional about Ryan's life or this work. He writes of Catholics and non-Catholics and their faith is never what most defines them. This makes sense to most of the people in the pews I know today; Ash Wednesday is the only day they seem to wear their faith confessionally, and even then, most uneasily. Still, the persistent themes of Ryan's work are the desire for love and forgiveness after tragedy and loneliness. His novels are filled with sin, penitence, and a yearning for grace.
The Thing About December tells a year in the life of Johnsey Cunliffe, a chubby and self-doubting 24-year old, "a lonesome gom," who recalls often how adored he was by his heroic father, dead two years from cancer. Daddy's fondness for Johnsey is getting the lad nowhere, especially as it lives only in memories. "Words could make an awful fool of you.... What was ever achieved with words?" explains the unreliable narrator who seems to be about Johnsey's age and knows him well. The uselessness of words is also a persistent theme, as when Johnsey's widowed mother is described as "a woman who had hardly any words left for the world, only lonesome thoughts and muttered prayers." The word "muttering" recurs often, in fact. Some people have trouble speaking, while others, simply don't want to.
Johnsey's Daddy grew up with uncles who fought the British in the streets in the War of Independence. English soldiers are remembered for their acts of desecration in Catholic homes, such as when "they'd try to flush the Blessed Virgin down the toilet and they'd take the holy picture out to the yard and fling it on the ground and piss all over Our Lord." At times, Johnsey ponders the confessional, Purgatory, Limbo, eternal judgment, Jesus being tempted in the desert, and the sight of God. He goes to Mass every Sunday. At one point, after being beaten unconscious and waking up half-blind in a hospital bed, Johnsey fantasizes about switching sides and aligning with the devil.
Fenton Johnson is another writer with a Catholic imagination that he can't kick. He's been writing fiction for three decades and yet The Man Who Loved Birds is only his third novel. There have been memoirs in between, including Keeping Faith, about the anger that led him to abandon his Catholicism. Johnson grew up in the diocese of Bardstown, Kentucky, which is not only home to the Trappist Abbey of Gethsemani, made famous by Thomas Merton, but was one of the original five Catholic dioceses in the United States (with Baltimore, Boston, New York, and Philadelphia). It is old Catholic country nestled in the Kentucky woods, surrounded by Protestant America. Fenton grew up familiar with every sort of sacramental, ritual, and piety, and knew several of the monks of Gethsemani. That same monastery is, although unnamed, the setting for this new novel, and The Man Who Loved Birds may just be the book that reconciles Fenton Johnson with his Catholic heart.
And then there is Christopher Buckley, the son of William F. Buckley, Jr., and the former editor of National Review. Christopher Buckley called himself "lapsed Catholic" and "post-Catholic" in an interview for New York Times Magazine in 2008. We know from another interview, in 2009, that Christopher exchanged more than 3,000 emails and letters with his famous father, debating the beliefs, practices, and history of the Catholic Church. There is often homage in irreverence and critique, and now I wonder if Christopher Buckley is still wrestling with the faith in the way he knows best: satire. His new novel, The Relic Master, is masterful, smart, feisty, and fun. He has taken as his subject the most corrupt era of the Church. The novel opens at a relic fair in Basel, as Dismas, an ex-monk and the title character, is selling and buying wares of hair, bone, and Virgin's blood. The year is 1517 and a constipated monk named Martin Luther is lurking in the background, about to blow the Reformation wide open. If you read only one novel this year and want to think and laugh a lot while doing it, choose this one. We're coming up on the 500th anniversary of Luther's great revolt, making The Relic Master timely. And if you need to know that Christopher Buckley is a "Catholic novelist," know that you can't, but I suggest considering what he told an interviewer earlier this year: "I'm a fallen Christian, but I have an open mind and an open heart."