Dozens of students, alumni and faculty from the Catholic University of America are demanding that a dean resign after writing tweets that cast aspersions on women who have accused Supreme Court nominee Brett Kavanaugh of sexual misconduct.
William C. Rainford, dean of the National Catholic School of Social Service, was temporarily suspended from his job Friday after he used an official school Twitter handle to disparage Julie Swetnick, who has said Kavanaugh attended a party where she was gang raped in 1982.
More than 100 people protested Monday on the university's campus in Washington, D.C., saying officials' decision to suspend Rainford for the rest of the semester didn't go far enough. Organizers said on Facebook that they were gathering to "demand dignity for survivors of sexual assault, and to reject victim-blaming in all its forms." 
Rainford aired his opinions about Swetnick in a Sept. 26 post on the @NCSSSDean handle, according to the National Catholic Reporter. 
"Swetnick is 55 y/o," Rainford wrote in the since-deleted tweet, according to multiple media accounts. "Kavanaugh is 52 y/o. Since when do senior girls hang with freshmen boys? If it happened when Kavanaugh was a senior, Swetnick was an adult drinking with&by her admission, having sex with underage boys. In another universe, he would be victim & she the perp!"
Rainford also reportedly made comments about the intentions of professor Christine Blasey Ford, who has accused Kavanaugh of sexually assaulting her at a high school party. 
"Riddle me this. Why would the accuser of Kavanaugh take a polygraph, paid for by someone else and administered by private investigator in early August, if she wanted to remain anonymous and had no intention of reporting the alleged assault?" Rainford tweeted, according to The Washington Post. Blasey said she initially wanted to remain anonymous but decided to go public in a Sept. 16 Washington Post article after news of her allegation leaked to the press.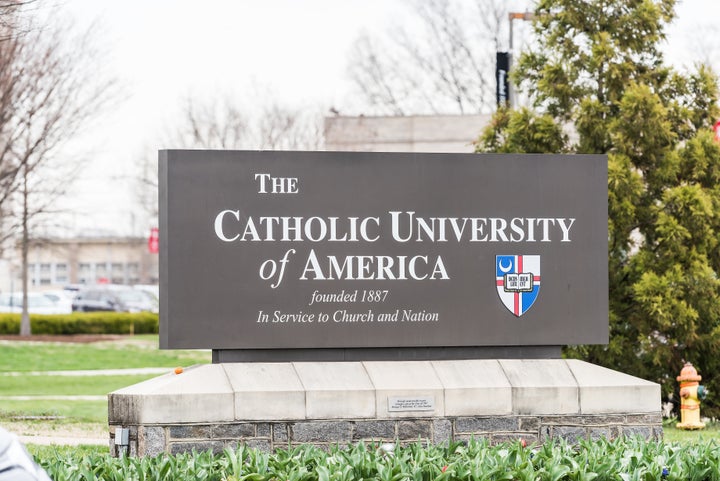 Rainford, who has led the National Catholic Social of Social Service since 2013, publicly apologized for the tweets and called them "impulsive and thoughtless." The @NCSSSDean Twitter account has since been removed. 
Rainford did not responded to HuffPost's request for comment.
In a letter to the university community, CUA President John Garvey said Rainford's comments "demonstrated a lack of sensitivity to the victim" and betrayed a "serious lack of judgment."
Garvey also said in the letter that he hopes Rainford will "continue to lead the school."
Students and alumni of the social work school pointed out that Rainford's comments contradict its principles.
"Our message was his comments were unacceptable and we want him to resign," Ellen McSweeney, a graduate social work student, told Religion News Service.
"Many social workers go on to work with sexual assault survivors in their professional lives," she added. "One of the things you're taught about dealing with sexual assault survivors is start by believing them."
CUA's media relations office on Tuesday declined to offer an update on whether the school plans to take additional action against Rainford. 
"We encourage discussion and dialogue on campus and look forward to the review process to identify where improvements in our social work school can be made," the university said. 
REAL LIFE. REAL NEWS. REAL VOICES.
Help us tell more of the stories that matter from voices that too often remain unheard.
BEFORE YOU GO
PHOTO GALLERY
Brett Kavanaugh Testimony