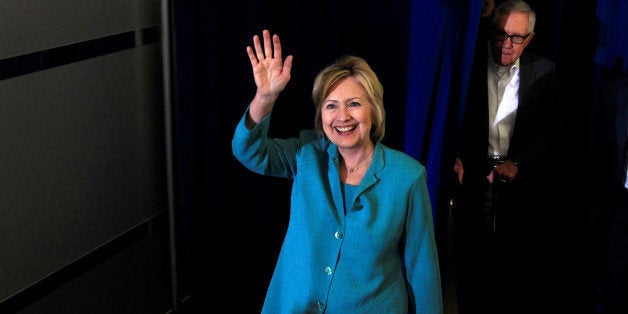 For decades, Democrats proudly claimed to be a big tent party. This big tent, in which opposing views are acknowledged, respected, and coexist, is the very essence of liberalism. After the Democratic Party convened in Philadelphia to nominate Hillary Clinton as their presidential candidate, one has to wonder if this big tent still exists.
On issues such as war, abortion, the working-class, and religious liberties, some Catholics who identify with the Democratic Party may be experiencing a certain degree of exclusion or marginalization. That a party which once prided itself on inclusion and free thought has now stifled ideological dissent. Is this true? And if so, can this exclusion and marginalization be mended?
At certain points of the convention, I witnessed delegates shout "no more wars" only to be drown out by chants of "USA" or "Hillary." Among Catholics, there's a debate raging on the morality of the just war theory. Recently in Rome, the Pontifical Council for Justice and Peace and Pax Christi International urged Pope Francis to renounce just war theory and replace it with "just peace." As the fallout from the wars in Afghanistan and Iraq have shown, winning a war can be easy, winning the peace isn't.
Also prevalent throughout the convention were anti-Trans-Pacific Partnership protesters.
This indicated to me that some delegates feel the Democratic Party has lost touch with working-class America. That elitism, not working-class values, shapes the economic policies of the Democratic Party. Secretary Clinton candidly admitted Democrats need to do a better job reaching out to and understanding the concerns of the working-class. When three fifths of Americans have no college degree, economic policies can't focus mainly on the college educated. Nor should a narrative be pushed that suggests a college degree means a good job and success while a high school degree means a bad job and failure. Democrats should borrow inspiration from Pope Francis, who has rightly called on those in government and business to promote the dignity of work for all and reject an economy that excludes.
If you drove down I-95 South past the Wells Fargo Center, you may have noticed a sign claiming one third of Democrats, an estimated 21 million people, identify as pro-life. This begs the question, can Catholic and others with the Democratic Party feel free to express their pro-life views without condemnation and marginalization?
To be clear -- too many pro-lifers I talk to are simply pro-birth and not truly pro-life. More people in the pro-life movement need to embrace pro-life policies like greater maternity rights for women and increased investments in early childhood education. In fact, one of the primary reasons women seek an abortion is because they don't believe they can afford or properly care for a baby. Economic and social policies must be crafted in the pro-life movement to combat this mindset.
Virginia Senator Tim Kaine, the Democratic Vice Presidential nominee and Jesuit-educated Catholic, admitted he's personally against abortion but won't "weaken or subvert the basic holding of Roe v. Wade." Perhaps Kaine is hoping that through his personal example, less Americans will choose abortions and that the pro-choice movement will work with pro-lifers to lower the number of abortions. Otherwise, continued militancy on both sides of the abortion issue will likely ensure further loss of innocent life.

Last but not least is an examination of LGBT rights in relation to religious and civil liberties. Whenever discussing LGBT rights, I make a clear distinction between religious and civil liberties. I can't force the Catholic Church to change their official stance on the LGBT issue any more than the Church can impose their beliefs on a pluralistic civil society. Still, through persistent encounter and dialogue and an open heart and mind, I hope the Church will come to find God in all things -- including our LGBT brothers and sisters.
In my own analysis of Archbishop Chaput's guidelines, I outlined some of the noticeable shortcomings and blatant hypocrisies of the Church on the LGBT issue without resorting to attacks on someone else's Christian faith. Furthermore, I contend change within the Church isn't going to happen from high profile individuals like Pope Francis, Archbishop Chaput, or Mayor Kenney, but from everyday rank and file Catholics.
At the end of the day, Democrats like Mayor Kenney, however well-meaning, can't impose their social views on Archbishop Chaput and the Church anymore than Archbishop Chaput and the Church can impose their religious views on a pluralistic civil society. All either side can really do is learn and grow from each other through continued encounter and dialogue.
As a Catholic, I've largely crafted my political beliefs through my Christian sense of morality, justice, and mercy. I understand and accept my Catholic beliefs will sometimes conflict with America's pluralistic civil society. At times, I even disagree with stances the Church takes and let my views be known. In the final analysis, can the supposed big tent of the Democratic Party accept and embrace the kind of liberalism which truly acknowledges, respects, and coexists with Catholics who genuinely hold a variety of opposing viewpoints?
Calling all HuffPost superfans!
Sign up for membership to become a founding member and help shape HuffPost's next chapter