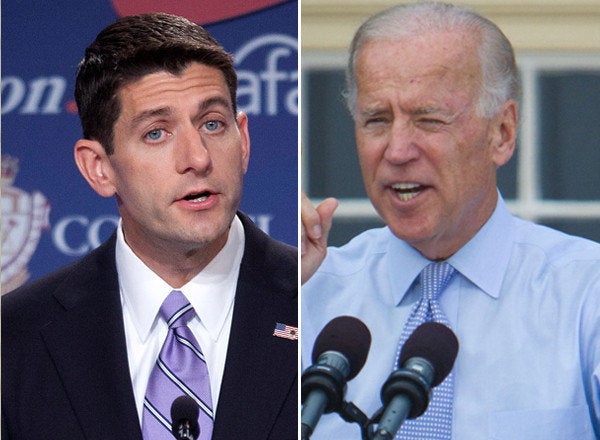 As Vice President Joe Biden and Republican vice presidential nominee Rep. Paul Ryan prepare for their debate Thursday night, more than a hundred Catholic theologians and a coalition of Catholic nuns have called on the Catholic candidates to heed the church's social teachings.
"America is at a tipping point where the traditional commitment of our government to protecting and advancing the common good is in very real danger of being dismantled for generations," says an open letter titled "On All of Our Shoulders."
The letter in particular targets Ryan, who the theologians say has misinterpreted Catholic teachings to defend his budget plan that makes deep cuts to food stamps, health care for children, and social programs to help the disabled. The signees include professors at the University of Notre Dame, Fordham University, the Catholic University of America, Dominican University and Georgetown University.
"We do not question Paul Ryan's faith. We are concerned however, that defenders of Ryan have gone beyond highlighting the aspects of Catholic moral teaching with which his political positions are laudably consistent, to argue that his Ayn Rand 'inspired' individualist and anti-government vision and the policies they inform are themselves legitimately Catholic," the letter states. "They are not."
Meanwhile, a group of Catholic nuns has launched a 1,000-mile bus tour through Ohio to visit social service agencies sponsored by the church that could be hurt by federal budget cuts. The nuns are asking Republicans and Democrats to support "a faithful budget that affirms the life of all God's children — not just the wealthiest few," according to the group's website.
The tour is a continuation of the national "Nuns on the Bus" campaign led earlier this year by Sister Simone Campbell, the executive director of the nuns social justice organization NETWORK. Hailing "crucial government programs ... helping individuals overcome these great obstacles in their lives," Campbell kicked off the five-day tour Wednesday in Cincinnati at Working in Neighborhoods, a nonprofit that focuses on community education, neighborhood organizing and homeownership preservation.
Ryan, who has cited Rand and the Catholic Church as influential to his politics, has said the author "did a fantastic job of explaining the morality of capitalism, the morality of individualism" and in 2005 credited Rand as "the reason I got involved in public service. (In April, he said that he "rejects (Rand's) philosophy," which he called "antithetical to my worldview.")
Ryan has said his budgetary ideas come from the Catholic principle of subsidiarity, meaning that decisions should happen at the smallest level of government that can handle them most effectively -- often individuals -- instead of big bureaucracies.
"Simply put, I do not believe that the preferential option for the poor means a preferential option for big government," Ryan said in a speech at Georgetown University in April.
Popular in the Community